British Council partners with FilmLab: Palestine to send five Palestinian delegates to this year's Sheffield Doc/Fest.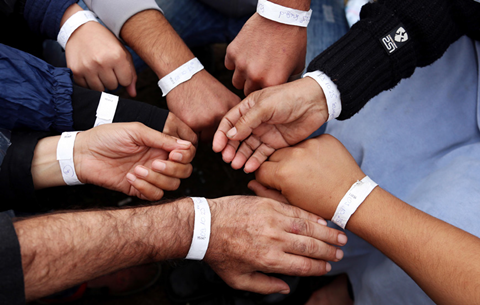 "We aim to support new voices and younger talent," notes Suha Khuffash, Arts Programme Manager, British Council Palestine.
"We hope inspire a new generation of Palestinian filmmakers to get involved and to see the potential of film as a possible career, expand their horizons and inspire others. Sheffield Doc/Fest is the ideal platform for the Palestinian delegates to network and develop their film projects."
One Sheffield attendee, filmmaker and FilmLab founder Hanna Atallah, told Screen, "It's really important for Palestinian filmmakers to participate in an international film festival, to support and strength the film industry in Palestine and to provide opportunities for joint cooperation between filmmakers in Palestine and internationals. In addition to developing the capacities of filmmakers, and exposing them to international modules."
After the bilateral film co-production treaty was signed between the UK and the Occupied Palestinian Territories (OPT) in 2012, the British Council has helped energise and train the film sector to take full advantage of the international opportunities that the treaty has stimulated.
For the past few years, British Council has also been working closely with the European Audio Visual Entrepreneurs (EAVE) with an intensive training programme for teams of film directors, writers and producers working on the production of five Palestinian films. It also supported two film producers to join EAVE's Producers Network Scholarship during 2015 and 2016.
FilmLab: Palestine participants at Sheffield Doc/Fest 2016
Hanna Atallah
Founder and Artistic Director of FilmLab: Palestine, Hanna Atallah is a filmmaker, producer and cultural art manager whose experience includes fiction and documentary projects as director. With FilmLab: Palestine aimed at boosting Palestinian film production and cinema culture, one of the first activities he initiated was Days of Cinema to create an international meeting point for the film industry in Palestine.
Olivia Furber
A film and theatre producer and director, Olivia Furber is at Sheffield Doc/Fest representing Ramzi Maqdisi's Inana And The King, which she has worked on as assistant producer since 2015. As co-artistic director of theatre company ivo, she travelled to Palestine to build connections with artists in the West Bank. This year, they toured nationally with In The Vice Like Grip Of It, a new play exploring invasive government surveillance.
Laura Hawa
Working in film production since 2003, Laura Hawa is at Sheffield Doc/Fest representing Salim Abu Jabal's Yusra And Dorothy. She has worked as line producer on Maha Assal's Cannes title Personal Affairs and as production manager on Hany Abu Assad's Omar, among others. Alongside her film work, Laura works and volunteers to promote social values through visual projects.
Dima Yaseen
Writer and filmmaker Dima Yaseen is at Sheffield Doc/Fest with her next directorial project Balfour: 100 Years To The Declaration. She received her Masters degree in Film and TV Production from the University of Bristol in 2003, and co-founded independent production house Collage Productions, based in Palestine. Dima's projects include My Palestine, First Love and The Church Of The Holy Sepulchre.
Rafia Oraidi
Rafia Oraidi has worked with news channels such as CBS News and ZDF, as well as being an associate producer of Salim Abu Jabal's award-winning feature documentary Roshmia. She is at Sheffield Doc/Fest representing Khaled Jarrar's Destination Berlin [pictured] which is now in post-production. Rafia's other credits include Emtiaz Diab's Nun Wa Zaytun and Aid But Not State by Dr. Sabrina Dittus.