The Shanghai-born filmmaker talks about his semi-autobiographical drama, A Family Tour, which follows an exiled Chinese filmmaker reuniting with her family.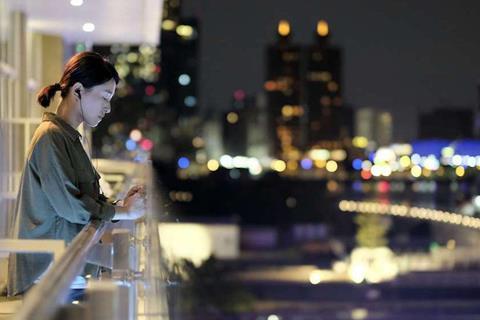 In 2012, Ying Liang's When Night Falls was awarded best director and best actress for Nai An's performance at Locarno film festival. But the controversial film, about the real-life execution of a young man charged with murdering several police officers, also landed the Shanghai-born director in hot water with the Chinese authorities.
A Family Tour is Ying's first feature film since moving to Hong Kong where he has been living in exile. The Taiwan-set, semi-autobiographical drama is about an exiled Chinese filmmaker who reunites briefly with her sick mother from China only when both of them travel to the Taiwanese city of Kaohsiung. The daughter checks into the same hotel and trails behind her mother's strictly regulated tour group so they can spend time together at various tourist spots.
Chinese actress Gong Zhe (You And Me) plays the daughter while the mother is played by Nai An, who in addition to winning best actress at Locarno for When Night Falls, is also known as Lou Ye's long-time producer. Malaysian musician-actor Pete Teo also stars.
After receiving its world premiere in Locarno competition, A Family Tour has played at Vancouver and New York film festivals. It will make its Asian premiere in Busan and close the Kaohsiung Film Festival in November. Hong Kong-based Golden Scene handles international sales.
Ying has won many accolades for his earlier work from the 2000s such as Taking Father Home, The Other Half and Good Cats, which are mostly set in Sichuan province and filmed in the local Zigong dialect. A Sunny Day, with Hong Kong's Umbrella Movement as the backdrop, was named best short film at the Golden Horse Awards in 2016.
A Family Tour stems from your short film, I Have Nothing To Say, which features the same main cast. Why did you decide to make a feature-length version?
It started as a short film. Some Taiwanese filmmaker friends, after reading the treatment, encouraged me to make a feature as well. I consider the short and the feature one whole project. It all happened very fast. The idea came to me suddenly in August 2016, and by the time we started shooting in June 2017, we'd gone through eight drafts for the short and 11 for the feature. My wife Peng Shan and novelist Chan Wai are my co-screenwriters.
We filmed both the short and the feature together in a total of 15 shooting days and wrapped in July 2017. They tell the same story. The short was shot in black-and-white and from the mother's point-of-view, while the three generations all have their voices in the feature, which is in colour and more realistic.
This is your first feature film shot outside China, with Kaohsiung as a primary filming location. What brought you to this southern city in Taiwan?
I came across Kaohsiung Film Festival's application for short film projects and a prerequisite was for the story to take place mainly in Kaohsiung. This reminded me of our family tour to Kaohsiung in 2015. Just like what's portrayed in the film now, we travelled from Hong Kong to Kaohsiung to meet our family from China. The project was conceived with this coincidence. Apart from the opening scene shot in Hong Kong, and an outdoor scene shot in Tainan, Kaohsiung was the main location for the film.
The film is semi-autobiographical. Which are the most personal scenes for you?
Making this film is a highly emotional journey that allows me to look back at my life over the past few years. Every scene carries special meanings to me, including the props and wardrobe. For example, the tote bag and T-shirts for the female protagonist are real memorabilia from now defunct film festivals in China, as if these items were in exile too along with her.
Although it's my personal account, the protagonist is a woman as the film is not meant to be just about myself. Many exiled families have done similar reunion tours. It's not just my life story, but a collective experience for those who have gone through the same.
How did you work with your cast?
I started casting in October 2016 and conducted six workshops with the actors between March and June 2017, with each workshop lasting three to five days. Back then we were yet to find enough money for the film, but I put aside worries about the budget as I considered writing and working with the cast very much the core of the creative process and my responsibility as a director.
Nai An and Gong Zhe, who play the mother and the daughter respectively, are from Beijing. Pete Teo, who plays the husband, and the little boy are from Malaysia. I live in Hong Kong and I can't enter China. The film would be shot in Taiwan. As the costs in Hong Kong and Taiwan are very high, I conducted the acting workshops in Malaysia.
We would watch films together, conduct rehearsals and simply get to know each other to prepare them as family members in the story. They are very fine actors. We've achieved a lot in the four months of preparations. All that was reflected in the actual shoot.
Compared to your previous independent art films shot on a shoestring budget, this is by far your biggest production. How did you get the film financed?
It was difficult as this kind of film has no real commercial value. We struggled for nine months until early May 2017 before we secured enough money to almost cover the shoot (excluding post-production) and hire a reliable production team in Taiwan.
The money comes from a variety of sources including Taiwan's broadcaster Public Television Service, Kaohsiung Film Fund and Golden Scene from Hong Kong. Some came from film companies in Singapore and Malaysia as well as private investment and money I borrowed from friends. The total budget is HK$2m ($255,000).
You've been living in Hong Kong for the past six years. Looking ahead, where do you see yourself?
A very good question. I knew very well that I would have detached myself further from China even if nothing had happened with When Night Falls simply because I couldn't see the reason for me to continue working and living there.
Even before I left, I worked outside the system making independent films in a marginalised way. It's already a kind of exile from the mainstream society. You can say that part of me was outside China before the punishment handed down to me.
I was working in Hong Kong for one year before I made When Night Falls. After the shoot in China, I returned to Hong Kong for the edit and it was during this time that things happened. It then became a point of no return for me.
The husband character is what Hong Kong is to me: a selfless supporter one cannot live without. He's a messenger between Hong Kong and Sichuan. All he wants is to make this family tour possible, but he doesn't really understand the feelings of his wife and his mother-in-law, just like he doesn't understand China or Chinese people very well.
After living in Hong Kong for several years, I don't think much about where I will end up. Wherever freedom is allowed is my spiritual home. It doesn't matter where I am physically.