From stories of modern romance in Beijing to a Chinese-language rom-com scripted by Justin Lin and the controversial Crouching Tiger sequel, Liz Shackleton previews some of the hottest films coming out of China.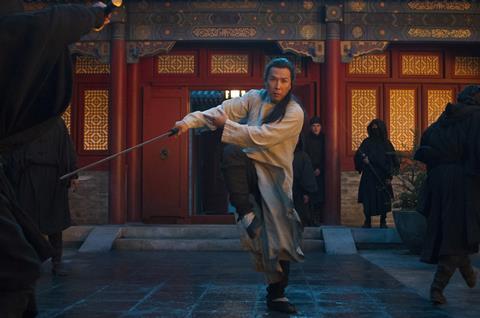 The first half of 2014 was slightly quieter for local productions compared with 2013, which saw a string of mid-budget domestic films, often with nostalgic or romantic themes, become huge hits at the China box office.
Chinese films had a market share of 48% in the first six months of 2014, compared with 59% overall in 2013. Films that were both critical and commercial hits in the first half included Chen Sicheng's romantic drama Beijing Love Story, Zhang Yimou's Coming Home and Leste Chen's mystery thriller The Great Hypnotist, the latter signalling a fresh trend toward high-quality, genre-oriented fare.
Over the summer, youth-oriented films such as Tiny Times 3 and road movie The Continent provided competition for Hollywood blockbusters. Both films are directed by film-makers with large online followings, which helped propel them to huge box-office results. Tiny Times 3, the latest film in a popular franchise directed by YA novelist Guo Jingming, grossed $82m. The Continent, the directing debut of blogger and rally driver Han Han, took more than $100m.
Local productions look set to win back further market share in the fourth quarter; hits over the recent National Day holiday period (October 1-7) included Peter Ho-sun Chan's child kidnap drama Dearest and Ning Hao's road trip comedy Breakup Buddies. Meanwhile, Roy Chow's Rise Of The Legend, starring Eddie Peng as martial artist Wong Fei-hung, is scheduled to open on November 21.
In addition, three highly anticipated big-budget films are scheduled to open in December: John Woo's star-studded romantic epic The Crossing (December 2); Jiang Wen's Gone With The Bullets (December 18), set amid a courtesan pageant in 1920s Shanghai; and Tsui Hark's 3D spy movie The Taking Of Tiger Mountain (December 24), about the battle of wits between a small military unit and a gang of bandits in 1940s Manchuria. China-France co-production Wolf Totem, directed by Jean-Jacques Annaud, has been pushed back to early next year.
While some local films are making mega-bucks, the market remains concentrated around a relatively small group of blockbusters. According to a recent China Film Association report, around half of the 600-plus films produced in China each year never reach the big screen.
Although many film industries around the world might envy the money flooding into Chinese film production, it has also resulted in rapidly rising costs and projects that start shooting before they've been properly developed. However, as the list below demonstrates, a growing number of local productions are achieving technical excellence and tapping into local, as well as international, market tastes.
Crouching Tiger, Hidden Dragon: The Green Legend
Dir Yuen Woo-Ping
Michelle Yeoh has returned to star in The Weinstein Company's sequel to Ang Lee's Crouching Tiger, Hidden Dragon, based on the same series of Wang Dulu novels as the original film. The project recently created a storm of controversy when Netflix announced the film would premiere simultaneously in Imax theatres and on its platform in August 2015. Currently in production in New Zealand and China, it was scripted by John Fusco and also stars Donnie Yen. The Weinstein Company is co-producing with China Film Group and Pegasus Taihe Entertainment.
Contact TWC; international@weinsteinco.com
Dragon Blade
Dir Daniel Lee
John Cusack and Adrien Brody star alongside Jackie Chan in this $65m epic action film, inspired by historical records of a missing legion of Roman soldiers that travelled to China. The film has been touted as the most expensive Chinese production of all time and has pulled together financing from companies including Sparkle Roll Media Corp, Huayi Brothers, Shanghai Film Group, Home Media & Entertainment Fund, Tencent Video and China Film & TV Capital. The film is now in post-production and is being readied for release across Asia on February 19, 2015.
Contact Clarence Tang, Golden Network Asia; clarence@goldnetasia.com
From Vegas To Macau 2
Dir Wong Jing
Chow Yun Fat is reprising his role as a legendary gambler in the sequel to Wong Jing's From Vegas To Macau, which grossed $85m in mainland China over Chinese New Year. The film also stars Nick Cheung, who plays an IT expert and accountant for the mob; Shawn Yue, replacing the film's original co-star Nicholas Tse; and Carina Lau as the love interest. Andrew Lau (Revenge Of The Green Dragons) is also returning to produce the sequel, which is in post-production and scheduled for release over Chinese New Year 2015.
Contact Angela Wong, Mega-Vision Project Workshop; angelaolwong@mvphk.biz
Hollywood Adventures
Dir Tim Kendall
Justin Lin, the Taiwan-born director behind the last four Fast & Furious films, wrote and produces the Chinese-language romantic comedy set in Los Angeles. Huang Xiaoming and Tong Dawei star as two best friends competing for the affections of a woman played by Vicky Zhao Wei. Currently in production, the film is co-produced by Beijing Enlight Pictures and Seven Stars Entertainment.
Contact Zhang Yamin, Enlight Pictures; zhangyamin@ewang.com
Love On The Cloud
Dir Gu Changwei
Angelababy and Chen He star in this romantic drama that revolves around a group of aspiring film directors and actresses, and examines the impact instant messaging and social media are having on modern romance in Beijing. Produced by Huayi Brothers, the film is being readied for release in December. Gu Changwei previously directed Aids-themed romantic drama Til Death Do Us Part (2011) and arthouse dramas And The Spring Comes (2007) and Peacock (2005).
Contact IM Global; info@imglobalfilm.com
Monster Hunt
Dir Raman Hui
After gaining fame as a supervising animator and lead character designer for films such as Antz and the Shrek franchise, Raman Hui is making his Chinese-language, live-action feature directorial debut with this $30m 3D fantasy adventure. Bai Baihe, Kai Ko, Eric Tsang and Sandra Ng head the cast of the film about a monster king who tries to bring about unity between monsters and humans. Edko Films is producing and the crew includes production designer Yohei Taneda (Kill Bill: Vol 1) and costume designer Yee Chung Man (Curse Of The Golden Flower).
Contact Julian Chiu, Edko Films; chiujulian@edkofilms.com.hk
Mountain Cry
Dir Larry Yang
In production in China's Shanxi province, the feature debut of young mainland Chinese film-maker Larry Yang is based on Ge Shuiping's award-winning novel set in a remote village in the Taihang Mountains. When a husband and father who is new to the village dies suddenly, the villagers get to know his mute widow, who has the power to tell her story wordlessly. Co-produced by Hairun Pictures and Village Roadshow Pictures Asia, the film stars Lang Yueting and Wang Ziyi, who both appear in Johnnie To's upcoming Design For Living. The script won the prize for best artistic potential at Beijing International Film Festival's Pitch and Catch event.
Contact Victoria Hong, Hairun Media; victoria@hairunmedia.com
The Sword Master
Dir Derek Yee
Hong Kong director Derek Yee's first 3D project is based on wuxia novelist Gu Long's classic work about an elite swordsman who is haunted by his skill and forced to fight a challenger who is determined to take his place at all costs. Bona Film Group and Yee's Film Unlimited are producing with another leading Hong Kong film-maker, 3D pioneer Tsui Hark, on board as producer. Lin Gengxin, Peter Ho, Jiang Yiyan and Jiang Mengjie head the cast. The film is scheduled for release in the second quarter of 2015 and the property is also being developed as a TV series.
Contact Virginia Leung, Distribution Workshop; virginia@distributionworkshop.com
Women Who Flirt
Dir Pang Ho Cheung
Set in Taiwan and Shanghai, the latest romantic comedy from Pang Ho Cheung (Love In A Puff, Love In The Buff) tells the story of a besotted graduate who has lessons in flirting so she can take her friendship with a former classmate to the next level. Huang Xiaoming and Zhou Xun head the cast of the Huayi Brothers production, which is currently in post-production and scheduled for release in late November.
Contact IM Global; info@imglobalfilm.com
Zhong Kui: Snow Girl And The Dark Crystal
Dir Zhao Tianyu
Hong Kong's Peter Pau is serving as producer, DoP and VFX supervisor on this big-budget 3D fantasy adventure starring Chen Kun and Li Bingbing. The film is produced by Desen International Media, which brought on board 3D stereographer Vincent E Toto (Dredd), Weta Workshop for character and set design, and Korea's Macrograph for visual effects. Village Roadshow Pictures Asia, Warner Bros Pictures and Beijing-based Enlight Pictures have also signed on as co-financiers. Release is scheduled for February 19, 2015 over Chinese New Year.
Contact Derek Huang, Desen International Media; dingister@yahoo.com