Ryan Coogler's passion and self-belief convinced Marvel Studios and its president Kevin Feige that he was the right filmmaker to bring Black Panther to the big screen.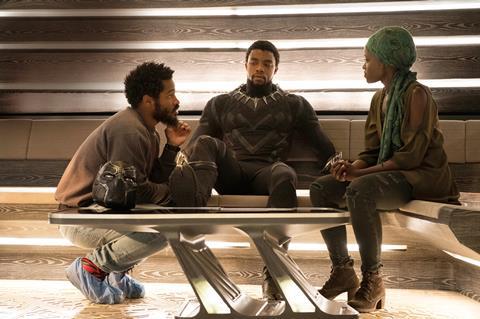 Ryan Coogler discovered an interest in comic books white at middle school. "I used to go to the shop across the street from my school and would ask the gentleman who worked there if they had any comic books that dealt with black characters," says the director and co-writer of Black Panther. "He told me about T'Challa."
That character, the king of the fictitious African nation of Wakanda who goes by the nom de guerre Black Panther, planted a seed in the mind of the gifted dreamer from Oakland, California. Over a decade later, Coogler's feature debut, the police shooting drama Fruitvale Station, won the Sundance 2013 grand jury prize and audience award. Then Coogler stepped into the beloved Rocky franchise with his second film and global hit Creed. Finally, he reached higher than perhaps even he had imagined in a career-defining collaboration with Marvel Studios.
Black Panther, in which the titular character played by Chadwick Boseman is forced by enemies and circumstance to end the isolationist path of the secretive and technologically advanced Wakanda, opened in February and became the biggest hit of 2018 in North America on $700m, and the second-biggest worldwide on $1.3bn.
As the first major studio tentpole directed by and featuring a cast of black talent in almost every key role, it became a cultural phenomenon, flying the flag for representation in a time when Hollywood and those who watch it have been scrutinising diversity more closely than ever.
"There was no guarantee that it would be embraced," says Coogler of Black Panther, which is the first Marvel film to earn a Golden Globe nomination for best drama. "The level at which it was embraced was a surprise to everybody on board."
It began when Marvel Studios' vice president of development and production Nate Moore invited Coogler to dinner in late 2015. The studio had initially courted Coogler's friend and fellow director Ava DuVernay, but artistic visions jarred and they parted ways. Coogler was busy finishing Creed, but didn't think twice about making time for a meeting. "I had a bunch of questions," he says.
In fact, Coogler was so curious that Marvel Studios' president Kevin Feige — viewed by comic-book fans the world over as something of a pop-culture demi-god, laughs when he recalls an early encounter. "I've said this before, although Ryan would never put it this way — the truth is even just a few minutes into our meeting with him, I realised he was interviewing us more than we were interviewing him."
By the time Coogler and Feige met, Boseman had already been cast as T'Challa and had shot scenes for Captain America: Civil War, which would open in May 2016. The Marvel brain trust had wanted to bring Black Panther to the big screen from the early days of the company's history. "If you look closely," says Feige, "you can see we start seeding ideas of Wakanda even in Iron Man 2, but it certainly was in the lead-up to Civil War that we started seriously saying, 'Now is the time.'"
Marvel's idea was that Black Panther would tip the hat to the espionage genre. "We hadn't done a sort of suave, James Bond-type sequence before and that was something Ryan really responded to because that hadn't occurred to him as he started to think about the movie," says Feige. "He then turned round and brought infinitely more things to it than had initially been on the table."
Coogler's vision was crystal clear. "I wanted to look at the film in the context of African identity in its various forms," he says, referring to a common theme that runs through his body of work. "Specifically with a view to the African diaspora, and the effects of colonisation, specifically European colonisation."
A life-changing experience
The young filmmaker's passion and self-belief dissipated any concerns Feige may have had about his readiness to step up to a Marvel project. An offer went out and Coogler took time to consider before finally agreeing. "Then he did two things," says Feige. "He went to his local comic shop and took a picture of himself holding a Black Panther comic standing in front of the comic shop, which he sent to me. The very next thing was to say, 'I need to go to Africa for three weeks before I can start writing.'"
Feige chuckles politely. "That's very unusual. We will obviously do location scouts once a script is written and once a film is prepping. But never before had we have a writer/director say, 'I need to go on a three-week scout now before I even write one word.' He said, 'I'm not going to write a movie that takes place on the continent if I've never been there.'"
Feige sanctioned the trip around southern Africa in August 2016, adding that when Coogler returned he brought with him "almost every­thing that ended up being in the movie, from terrains and the snow-covered peaks of the Jabari and M'Baku's kingdom, the Border Tribe, the thematics of what it means to be an African-American to go to Africa — a lot of Erik Killmonger's [the villain played by Coogler regular Michael B Jordan] storyline, T'Challa's struggle with being in a wealthy isolationist country, and having responsibility to those around you."
Feige adds: "I really believe those three weeks he spent in Africa should go down in history as one of the most important journeys a filmmaker has taken before making a monumental production. There are dozens of examples of very personal experiences that he had there that he turned around and put right back into his film."
Coogler wanted to work with his preferred heads of department and key collaborators, including Hannah Beachler and Michael P Shawver, the production designer and editor, respectively, who have worked on all his films, as well as costume designer Ruth Carter, and Rachel Morrison, with whom he had worked on Fruitvale Station. The latter went on to become the first female cinematographer to earn an Academy Award nomination for Mudbound in 2018.
"We said, 'Okay, we're not sure if they'll be right but happy to meet with them and give them a chance,'" says Feige. "And every one of them came in and blew us away."
The Marvel Studios chief acknowledges it was "a learning curve" for Coogler and his collaborators on the $200m production, but he believes the results speak for themselves. "On a film like this you attack it with an army and I had incredible generals," says Coogler, who brought along his wife Zinzi Evans and brothers and collaborators Keenan and Noah to the set in Atlanta.
An inspired approach
After months of prep, production ran from January 9 to April 19, 2017. The majority of sets designed by Beachler and her team were constructed on soundstages in Atlanta, including the Tribal Council, the Wakandan Design Group, the research lab run by T'Challa's sister Shuri, the subterranean Hall of Kings and the ceremonial heart of Wakandan tradition — Warrior Falls.
The falls set on a backlot north of Atlanta required intricate teamwork between the art department, the special-effects department led by veteran special-effects producer Daniel Sudick and the visual-effects team under the leadership of Geoff Baumann. Inspired by the Oribi Gorge in South Africa, the set gave Coogler and Morrison the ability to let the camera swoop from a birds-eye vantage point to close-ups during fight sequences. The production built a waterfall that looks more than 100ft high on screen. They hand-sculpted industrial-strength polystyrene to build the ancient cliff wall, and used six large submersible pumps to push water through the set at a rate of 30,000 gallons a minute.
Coogler says those scenes were the toughest to shoot. "Those Warrior Falls sequences had more moving pieces and more complications out of anything I remember doing. This movie was crazy, how intricate everything was." He pauses. "They were all hard. Even the scenes where there were a couple of characters talking in a room. This was a movie where there were no easy days… It was crazy, how intricate everything was."
One scene involving Killmonger, T'Challa's most dangerous foe, was particularly demanding. "When Killmonger goes back and has the ancestral dream," says Coogler, "we had to tear the top off the set and we shot everything twice from different sides and from two different eye-lines because we cut back and forth between Michael B Jordan and the actor who plays the younger version of himself."
Similarly taxing were the sequences involving Ulysses Klaue, played by Andy Serkis, the international criminal with a weaponised, prosthetic arm who is hellbent on tapping into Wakanda's vibranium mines, the source of the fortifying element in Black Panther's suit and the metal used to build Captain America's shield.
"You can't use his arm because it would have to be digitally removed," says the director. "That was really tricky stunt- and performance-wise, because when he's tripping and falling… each time you have to come in and do a repeat photography pass for the effects editors to replace everything that is supposed to be where his arm is swinging. It was a nuts movie, man."
Coogler considers this and laughs. "Every day had levels of that — that's the nature of the business when you're making art on a timeline. It's like a constant state of feeling slightly overwhelmed. Every day was like that, but it was balanced by moments when I thought I might be on to something."
The storyline relocates to South Korea for an early sequence in an underground casino that is worthy of any world-class spy franchise, and spills out into a pulse-pounding car chase. The casino action shot on a soundstage in Atlanta, while Coogler filmed the chase in Busan at sites including the Jagalchi Market and Gwangandaegyo Bridge.
"We wanted the film to have this epic, globe-trotting feel to it and those bridges and those streets and cityscapes of Busan are wholly unique and we knew it would feel much more authentic if we did it there," notes Feige, adding that planning took months. "The local authorities were extremely helpful in making that happen."
Emotional moments
The climactic battle in Wakanda shot on the Atlanta soundstages, with surrounding locations doubling as Wakandan fields, and helicopter shots from southern Africa filling out the deep background. Feige estimates the final battle took up roughly one-third of the 75 days of principal photography and a large portion of pre- and post-production.
"What everybody remembers from that sequence is not just crashing Wakandan aircraft and armies clashing on the hills," he says. "It's the moment between Daniel Kaluuya [W'Kabi, former chief of security in the Border Tribe] and Danai [Gurira, who plays Okoye, head of Wakanda's all-female elite guard]; it's the moment of Shuri being endangered by Killmonger; it's the king himself walking out of the wreckage and declaring himself alive. These are the emotional moments that people cheer for that Ryan is so adept at weaving."
Black Panther was the 18th Marvel Cinematic Universe film to be released (by the end of 2018 the tally stands at 20, including Avengers: Infinity War and Ant-Man And The Wasp).
Feige admits that it can still be daunting, but the pay-off is worth it. "The success of the movie is wonderful for a number of reasons, not the least of which is encouraging more representation on the big screen in big films that play around the world," he says.
When Coogler looked up at the TV screen as a youngster, the rare example of a black superhero character was Storm in the animated X-Men series. He says making Black Panther was a privilege, and while he declines to comment on reports that he will reprise his role for a sequel, he is aware it could inspire greater diversity in front of and behind the camera. "I can't predict the future… But I certainly hope that it does."