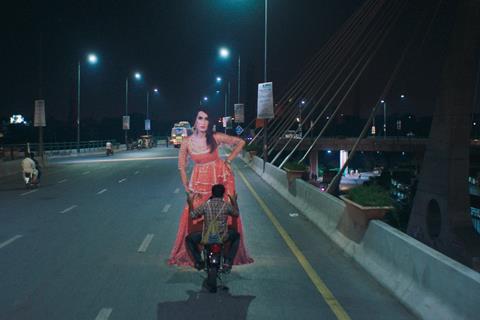 Director Saim Sadiq had a huge birthday surprise on March 28 when he received a message from Cannes, just three days after submitting his feature debut. Joyland is now set to premiere in Un Certain Regard as the first Pakistani film ever picked for the festival's official selection.
The story follows a young man from a patriarchal family who secretly joins an exotic dance theatre as a background performer and falls for a trans actress, while his wife is expecting their first child.
"It's not my own story, but still a personal film because of its portrayal of the patriarchy, desire and intimacy, all of which I've been struggling with," says Sadiq, who was born and raised in Lahore.
The filmmaker first explored the world of trans dancers in Darling, his 2019 MFA thesis film at New York's Columbia University, which won best short in Venice's Horizons section and special jury mention at SXSW before being acquired by Focus Features. It marked the start of his collaboration with trans actress Alina Khan, with whom he reunited for Joyland.
Like his short, Joyland was filmed in the Mehfil Theatre in the old city of Lahore, which had been a cinema decades previously but now stages exotic dance. "There are about 10 such theatres in Lahore, about the same number as movie theatres," says Sadiq. "They always run to packed houses, with thousands of seats filled every day. But there's a moral judgment about these places, which some people consider vulgar."
It provided the perfect setting for the story that he wanted to tell. "It's full of contradictions that desire, a taboo in a right-wing conservative society, is no longer a taboo at the dance theatres," says the filmmaker. "But once the audiences leave, they don't talk about it, repressing their desire. Besides, performing onstage are usually women who are allowed to act sexually as objects of desire, but they don't enjoy the same privilege over their body and their sexuality at home."
Shooting brief
The film was shot over 40 days in 2021 during the pandemic. Apart from the theatre, another major location was Lahore's oldest amusement park, Joyland, from which the film took its name and where a key scene between two sisters-in-law takes place. "It is popular with children, but women can also get on the rides and scream their hearts out, something that's unacceptable at home or in other public places," Sadiq explains.
The short film Darling was publicly screened in several cities – Lahore Karachi and Islamabad – across Pakistan over a few months after the Venice win. One of the organisers was the National Arts Council. "The response was overwhelmingly positive, far better and far more accepting than I had anticipated," Sadiq recalls. "That really strengthened my belief that audiences can often surprise you and prove your fears and assumptions wrong in a wonderful way."
He hopes Joyland will generate a similar response and find its way to local cinemas, even if it is not the version shown in Cannes. "I am against censorship, but I would rather show the film with a few cuts — minus some intimate scenes — than not show it at all," he says.
The feature is a rare US-Pakistan co-production, with about 95% of the financing from the US. The main producers are All Caps' Apoorva Charan, an India-born Los Angeles-based firsttime feature producer and Sadiq's MFA classmate at Columbia; Khoosat Films' Sarmad Khoosat, a well-known actor and director whose Circus Of Life was Pakistan's entry to the Oscars in 2021; and Astrakan Film's Lauren Mann, whose credits include Swiss Army Man and The Card Counter.
International sales are handled by Film Constellation while WME Independent represents North American rights.
"It's the first Pakistani film ever to be an exclusive US co-production," says Sadiq. "For so long, European funds have been the only way for films from cinematically lesser-known countries. But Joyland is a great case study as another way for young filmmakers to make their films happen. It is a sign of changing times that an Urdu-language Pakistani film got the backing of so many wonderful American production companies."
Sadiq was previously involved in a legal dispute over an in-development project Gulaab, which was selected for Locarno Open Doors in 2018. He filed a case against producer Sabiha Sumar and her company Vidhi Films in July 2021. When asked if Gulaab and Joyland were one and the same story, Sadiq says: "I filed for a case to preserve my copyright as a writer over a different script. Joyland has nothing to do with it. I can't comment beyond that since it's a pending legal matter before the court." The case has since been dropped at time of writing.