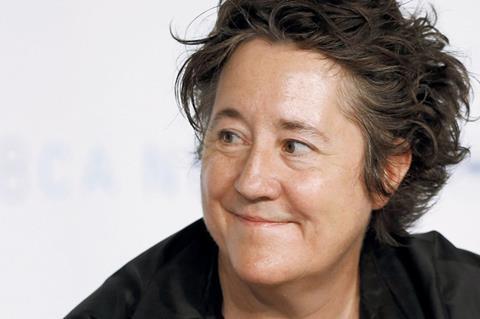 The blissful ignorance of youth allowed Christine Vachon to turn up at her first Sundance Film Festival in the late 1980s with a small suitcase suspiciously light in warm clothes.
"It didn't occur to me I needed to dress for the snow," she recalls now. "I just didn't know much about the place."
Vachon was in a "cold and wintry" Park City with some short films she had directed and smiles now to say, yes, she was warmed by the chance to watch films all day long.
She went on to win her first Sundance award for producing Todd Haynes' Poison in 1991, when it picked up the festival's grand jury prize. It heralded the beginning of a great love affair between Vachon and Sundance, and an incredible creative partnership with Haynes. Vachon went on to found New York-based indie film outfit Killer Films with Pamela Koffler in 1995 through which she has produced modern-day classics such as Haynes' Carol and Wash Westmoreland's Still Alice.
Back in the early 1990s, there was far less focus on the feverish deal-making for which Sundance has become known. That was soon to change. Vachon talks of the famous "2am negotiations with millions of dollars changing hands" as the decade progressed.
"But one of the things I've always felt so strongly about Sundance is that it never lost its sense of a place where movies are discovered and where truly original talent is discovered, regardless of its potential place in a commercial marketplace."
Outside the festival, she points out, the Sundance Labs have also "set so many movies on their way," including some from Killer Films.
"We are making more movies than we ever have"
As she prepares to give the keynote speech at Sundance London (June 9-12) this week, Vachon is resolutely pragmatic about the future of indie cinema in the face of the growing primacy of the streamers and the popularity of high-end TV drama.
"If the question is, 'What is going to happen to theatrical filmmaking and theatrical film viewing?' I don't really know," she admits. "All I can gauge is what I like to do and where I like to watch films and I know that we [at Killer] are making more movies than we have ever made."
Vachon sees this as a period of "great disruption… and out of great disruption comes great opportunity".
Killer Films worked with HBO over a decade ago on Haynes' 2011 Mildred Pierce TV series adaptation. Last year the company made Halston starring Ewan McGregor for Netflix. Its coming-of-age romance Anything's Possible directed by Billy Porter will stream on Amazon Prime. "A lot of our filmmakers are figuring out ways they want to tell stories on TV, so that has been exciting."
Her experience with Apple TV on Haynes's Velvet Underground documentary and Cannes selection last year showed her you can work with the platforms and still show your films on the big screen. "[Apple] supported the film completely. They allowed it to have an international festival run," she says. "You know, look, it's hard when you work with a streamer to get actual numbers. I can't tell you how many people saw the film but I do know it seemed to make a tremendous impact in many, many countries around the world."
As for her long-standing professional relationship with Haynes, Vachon says they have "a very strong base of friendship" and that they trust each other completely. "I really understand what he is trying to accomplish creatively and I do my best to make sure that I create an atmosphere on every level that allows him to do his best work."
Vachon's next film with Haynes, May December, is due to shoot in the autumn. "We're still hammering out the actors' availability," she says of the drama to which Julianne Moore and Natalie Portman are attached and which Rocket Science is selling.
Vachon has multiple projects with UK partners in the pipeline, having worked with Elizabeth Karlsen and Stephen Woolley of Number 9 Films on Haynes' Carol.
Over 30 years into her remarkable career, the producer brings an energy and an enthusiasm to indie filmmaking and for the festivals that showcase that filmmaking, that burns as bright as it did that first chilly Sundance.
"It's that French proverb, the more it changes, the more it stays the same," Vachon says of the pandemic-accelerated upheaval of the 2020s. "It is easy to go back 15 or even 25 years and find lots of essays written by people who are still in the business about the death knell of independent film. This business has re-invented itself many, many times."