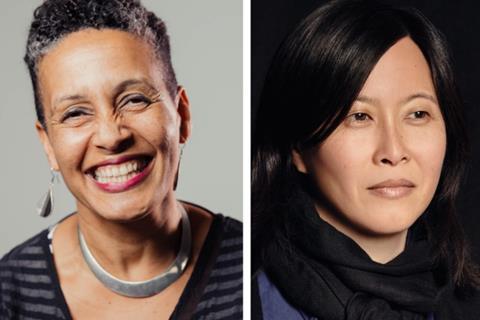 Tabitha Jackson is stepping down as Sundance Film Festival director after leading the event for two editions and will depart Sundance Institute after the imminent Sundance London (June 9-12).
No reason was given for Jackson's departure following her short tenure as festival director, although there had been some talk of internal disharmony. Nonetheless the announcement by Sundance Institute CEO Joana Vicente comes as a surprise.
The British-born industry veteran joined the Institute in 2013. She became the first woman, the first person of colour and the first person from outside the United States to serve as director when she was appointed festival director in February 2020, replacing longtime incumbent John Cooper.
Jackson assumed the reins one month before the pandemic triggered lockdowns, which forced her and the senior team to reconfigure the festival as a mostly online event for her two editions in charge, 2021 and 2022.
Under her watch Coda sparked the biggest festival deal in history when Apple paid $25m for worldwide rights in 2021 to the eventual best picture Oscar winner.
Vicente made Tuesday's (June 7) announcement and will lead festival development and planning in the interim as well as the search for a replacement.
Director of programming Kim Yutani will join the senior leadership team of the Institute. Yutani joined the festival in 2006 and will also manage festival industry and artist relations. She will work closely with Vicente in the planning of the 2023 edition alongside senior programmers John Nein, who leads strategic initiatives, and New Frontier chief curator Shari Frilot.
Jackson joined the Institute as director of the documentary film programme where she championed initiatives and resources in support of non-fiction filmmakers around the world, working among other things with form-breaking filmmakers on the Art Of Nonfiction Initiative centred on the artist rather than the project.
The dramatic restructure of the festival due to the pandemic resulted in the acclaimed festival platform and a metaverse platform for New Frontier, as well as the Satellite Screen programme partnering with arthouse organisations across the US.
Vicente said Jackson helped transform the festival for the future while remaining loyal to independent creators, adding, "She leaves us with the festival never more vital than during this time of great change in our industry and in a place to continue to make a meaningful contribution to culture."
Of Yutani and the "exceptional" team of programmers team Vicente said, "The strength and experience of our existing festival leadership and programming team means there is no shortage of talent to continue forward with the work we are doing for next year's Festival."
"Being part of driving forward the mission and purpose of the Sundance Institute has been a deep privilege and a profoundly meaningful part of my life," said Jackson. "This incredible organisation has only increased my unshakeable belief in artists as a transformative societal force and, in this complex and challenging historical moment, a force more necessary than ever. Going forward, working with and for artists and their freedom of creative expression will continue to be my guiding light."