Abdulla Al Kaabi talks to William Mullally about his debut feature, which received its world premiere in the Muhr Emirati competition at this year's DIFF.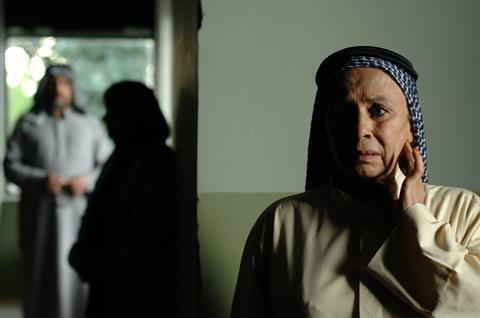 Emirati film-maker Abdulla Al Kaabi may be premiering his first feature at this year's Dubai International Film Festival (DIFF), but he is no stranger to the UAE's film scene.
His short film The Philosopher, starring Jean Reno, screened at the festival in 2010, while his second short, Koshk, won two prizes at Abu Dhabi Film Festival in 2014.
His debut feature, Only Men Go To The Grave, tells the story a family coming together after their blind mother's sudden death, and touches on themes including feminism and transgenderism.
What was the inspiration for this film?
One day, I was sitting next to a blind lady, and saw her reach for her bag in a way that was quite strange. She read something and I thought, 'This woman is pretending to be blind.' That stayed with me.
What were you looking to achieve through the idea?
We have a saying, houses are full of secrets. A lot of people can relate to this partly because most Arabs live double lives where they have a persona in the house that is completely different from the persona in their social settings among friends or the outside world. They become experts in leading double lives.
I wanted to bring that across. In the story, you have a woman who pretends to go blind to see who her children really are. I wanted to show that family love is different from the restrictions society places on us, because it's human. I wanted to show the human condition of motherly love.
How did you finance the film?
The film has been financed privately, it's self-financed. That gave me the freedom to shoot my story. If it were financed through the conventional means of financing in the region, I'm not sure I would have the same freedom.
Do you expect to find distribution in the Middle East?
I'm quite confident it will be distributed after DIFF. I will tour the film around festivals, as it explores hot topics and I believe it will garner a lot of interest in the Western cinema scene. We have applied to other festivals and we were selected in a huge festival that I hope will be revealed in January.
Do you expect to be met with pushback in the region for the controversial topics it explores?
I don't know. I'm tackling these issues, and I'm from here. Born and raised. This is my culture, and my heritage — I know who I'm talking to, and who I'm trying to portray these characters to. I think it comes across in the movie, and that's why I think many people who saw it before its premiere really didn't think it was offensive. That was important to me because you don't want to make a movie to offend someone — you want to make a film to open a dialogue.