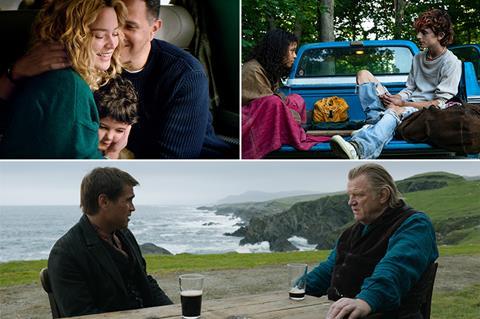 The line-up for the 79th Venice film festival (August 31-September 10) was unveiled today by artistic director Alberto Barbera and Venice Biennale president Roberto Cicutto.
Among this year's talking points is the powerhouse competition line-up, the heavy presence of streamers, and the "modest but mighty" UK showing.
Barbera woos the arthouse A-crowd
Drilling through the entire Venice 79 line-up and forming a bedrock for the festival is the outstanding calibre of the directors involved. That steely framework will stand, long after the stars have been and gone and the films turn out to be better/worse/or exactly as expected/hyped – to the festival's credit, as it increasingly looks like the first choice for the world's auteurs.
The sense of status is palpable before even considering the competition. It starts with the short films, which include works by Sally Potter and Lucrecia Martel, and moves onto TV, where the long-silent Danish talents Lars von Trier and Nicolas Winding Refn premiere their anticipated projects, particularly with von Trier, who has chosen to sign off on his Kingdom project at the Lido.
That roll call continues into some very important documentary features, including Evgeny Afineevsky's Freedom On Fire, an 'instant movie' from the Ukraine frontline, according to Venice chief Alberto Barbera.
Undoubtedly Barbera and his team benefit from allowing streaming service access to competition slots, and that helps – but festival programming is highly competitive and Venice isn't the only one to do so. It does mean, though, that he can programme Blonde by Andrew Dominik, Bardo, False Chronicle Of A Handful Of Truths, by Alejandro Inarritu, and open the festival with White Noise by Noah Baumbach, for example (all Netflix titles).
Long relationships with directors such as Frederick Wiseman, Darren Aronofsky, Luca Guadagnino and Martin McDonagh also help, and they are back this year with A Couple, The Whale, Bones And All and The Banshees Of Inisherin respectively.
That's not all of it though. Landing the imprisoned Iranian director Jafar Panahi's film No Bears is an important coup on many levels, and other prestige projects have fallen into line. Even out of competition, other festival programmers would have begged for Kim Ki-duk's final film, Call Of God, Paul Schrader's Master Gardener or even Ti West's Pearl, the cool prequel for X.
Filmmakers whose names aren't quite so familiar can premiere their films within this frame of artistic credibility, their status automatically raised by being in the same line-up. While the press celebrates the Lido's celebrity bling, the red carpet rolls from here to awards, and, it's clear, everybody both knows it and wants to be on it.
Studios and streamers make their presence felt
The studios and streamers will, once again, have a strong showing at Venice, with many hoping to position their films as major awards contenders after debuting at the festival. Both the studios and streamers returned in a big way to the Lido last year, after a soft 2020 due to the pandemic. Netflix in particular is out in force again. The streamer is confirmed with four productions which will each be looking to launch their awards careers on the Lido: Baumbach's White Noise, starring Adam Driver and Greta Gerwig; Dominik's Blonde, with Ana de Armas as Marilyn Monroe; Iñárritu's Bardo, a comedy centring on a Mexican journalist; and French filmmaker Romain Gavras's action thriller Athena.
Last year, Netflix had two titles at Venice: Jane Campion's The Power Of The Dog (which went on to secure 12 Oscar nominations) and Paolo Sorrentino's drama The Hand Of God (which was nominated in the international feature category).
Amazon is also at Venice through its studio acquisition MGM, which is distributing Luca Guadagnino's Bones And All starring Timothée Chamolet. Amazon Studios' first Argentinian original, Argentina, 1985 by Santiago Mitre, also plays in competition.
Warner Bros will be in town with Olivia Wilde's out of competition film Don't Worry Darling, which stars Florence Pugh, Harry Styles, Wilde herself, Gemma Chan and Chris Pine. Last year, Warner Bros launched Dune at the festival, with the film later securing 10 Oscar nods.
Meanwhile, Searchlight Pictures is the distributor for Martin McDonagh's The Banshees Of Inisherin, while Todd Field's Tár, starring Cate Blanchett, is distributed in the US via Focus Features, and worldwide via Universal Pictures.
A24 is behind two competition films: Darren Aronofsky's The Whale and Johanna Hogg's The Eternal Daughter. Sony Picture Classics has US rights to Florian Zeller's The Son.
Welcome stand with Ukraine and Iran
"Festivals are like windows on the world; from Venice, we see things we would prefer not to see."
So said artistic director Alberto Barbera in his opening address. The festival has chosen to engage with what it sees through that window. Barbera directly called out Russian president Vladimir Putin, saying his "imperialism" has "forced Ukraine to defend itself and European democracy". There are no Russian titles in the festival, although this is presumably on artistic grounds, with the festival having confirmed earlier this year that it would not be boycotting Russian filmmakers.
Two Ukrainian documentaries will play out of competition. Evgeny Afineevsky and Alex Kashpur's Freedom On Fire: Ukraine's Fight For Freedom, about the war, began filming after the Russian invasion on February 24 and is still in production now; while Sergei Loznitsa's The Kiev Trial focuses on the 1946 trial of Nazi officials, held by the Soviets over the events which took place in his film Babi Yar: Context.
In addition, Antonio Lukich's Luxembourg, Luxembourg, about twin brothers with differing opinions of their dying father, plays in Horizons.
Barbera has programmed Iranian director Panahi's No Bears in a Competition slot just two weeks after he was arrested in Tehran, with the acclaimed director since ordered to serve the six-year jail sentence he was given in 2010. Barbera offered the festival's solidarity with Panahi and his fellow detained directors Mohammad Rasoulof and Mostafa Al-Ahmad, as well as Turkish producer Cigdem Mater, who was sentenced to 18 years in prison in April on dubious charges of "attempting to overthrow the government".
By including four features from Iran, Venice is helping to shine a light on the current autocracy. Vahid Jalilvand's third feature Beyond The Wall joins Panahi in Competition, with Houman Seydei's World War III in Horizons and Arian Vazirdaftari's thriller Without Her in Horizons Extra.
Barbera said there will be "initiatives" organised during the festival related to these political issues. "Festivals are not produced in a bubble, excluding contemporary reality," he added. The sight of one of the industry's major events standing against totalitarian regimes is a welcome one.
Venice gets its bling on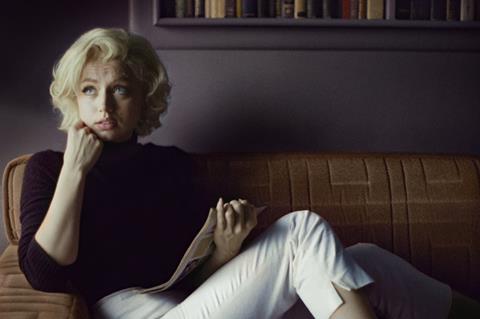 With its gondolas gliding through charming canals, Venice is perfect for creating eye-catching content with major film stars that can be used in promotional film campaigns.
This year's event is one of the starriest yet, with faces to appeal to all tastes and generations. A-list names expected to attend include (deep breath) Harry Styles, Timothee Chalamet (whose attendance last year for Dune caused red-carpet commotion), Penelope Cruz, Javier Bardem, Cate Blanchett, Hugh Jackman, Adam Driver, Ana de Armas, Greta Gerwig, Colin Farrell, Tilda Swinton, Adrien Brody, Chris Rock (perhaps a mock-punch in front of the Palazzo?), Chris Pine, Sigourney Weaver, Willem Dafoe, Christoph Waltz, and many, many…. many more.
There is an appeal to the younger crowd too: as well as Styles and Chalamet, TV breakouts Sadie Sink from Stranger Things and Aimee Lou Wood from Sex Education should be in Venice, for Aronofsky's The Whale and Oliver Hermanus's Living respectively.
Established French quartet Virginie Efira, Noemie Merlant, Isabelle Huppert and Laure Calamy all appear in films this year. Further international guests should include Italian music star Elodie, in Horizons title Ti Mangio Il Cuore, and Ugandan politician, singer and actor Bobi Wine, the focus of non-fiction doc Bobi Wine Ghetto President, who Barbera confirmed will be making the trip.
Previous actors from Screen's own Stars of Tomorrow showcase appearing in Venice 2022 films include Florence Pugh, Jessica Brown Findlay, Barry Keoghan and Vanessa Kirby.
Crowds will also hope to catch a glance of a returning star. US actor Brendan Fraser has largely eschewed the spotlight since his late 1990s heyday. But his lead turn in The Whale is exactly the kind of comeback the industry, and the awards season, loves.
The question is whether the barrier erected to keep the public from having sight of the red carpet during the pandemic will be retained.
Five women edge in
Of the 23 films selected for competition, just five have been directed by a woman. This is the same number as a) last year and b) Cannes a few months ago. There are two French directors: doc filmmaker Alice Diop makes her fiction feature debut with Saint Omer, starring Kayije Kagame and Guslagie Malanda as a novelist and the woman whose trial for the murder of her child she is observing, and Rebecca Zlotowski's Other People's Children starring Belgian actress Virginie Efira as a woman who forms a strong bond with her boyfriend's daughter. Diop is the first Black filmmaker to be selected for competition since Steve McQueen's Shame in 2011.
From Italy, Chiara by Susanna Nichiarelli is about a wealthy young woman who becomes a nun after hearing St Francis of Assisi preach; Margherita Mazzucco stars. UK director Hogg brings The Eternal Daughter, starring Tilda Swinton and newcomer Carly-Sophia Davis as a mother and daughter confronting past secrets.
The only documentary in competition is All The Beauty And The Bloodshed, US director Laura Poitras' film about Nan Goldin, including her fight against the infamous Sackler family, the philanthropists and pharmaceutical clan which created and marketed the highly-addictive pain drug Oxycontin in the US.
Olivia Wilde's Don't Worry Darling, one of the most anticipated films of the year, plays out of competition, a possibly strategic move for a commercially-minded film that is opening wide in many markets in late September.
UK showing is modest but mighty
As per recent tradition, the UK has a modest presence in the line-up but this year's titles are particularly intriguing and will likely make their mark on the Lido and on into awards season. This year, once again five UK titles have made the cut, with three in competition.
Iain Canning and Emile Sherman's UK-Australia production outfit See-Saw Films is returning to competition after The Power Of The Dog, produced out of the company's Australian branch, played last year. French filmmaker Florian Zeller's follow-up to The Father, The Son, is co-produced by See-Saw out of the UK (alongside Zeller and The Father producer Christophe Spadone), and co-financed by Ingenious and Film4, with Embankment Films again handling sales on the follow-up.
The second UK title in competition is by Joanna Hogg, who was a member of the jury in 2020. She reunites with The Souvenir star Tilda Swinton for The Eternal Daughter, a UK-US co-production, which shot in Wales. Element Pictures produces with JWH Films, with BBC Film and A24 backing.
UK-Ireland director Martin McDonagh returns to the Lido after winning the best screenplay prize for Three Billboards Outside Ebbing, Missouri five years ago. The Banshees Of Inisherin is an Ireland-UK-US co-production, reuniting In Bruges' Brendan Gleeson and Colin Farrell. McDonagh and his frequent collaborators Graham Broadbent and Peter Czernin of Blueprint Pictures produce for Searchlight Pictures and Film4.
South African filmmaker Hermanus' Living is also playing out of competition, following its Sundance premiere. The Bill Nighy-led title is produced by the UK's Number 9 Films, and backed by Film4 and Ingenious.
The Hanging Sun, a UK-Italy co-production directed by Francesco Carrozzini about a hitman on the run, plays out of competition, and will close the festival. It is produced by Italian production companies Cattleya and Groenlandia, alongside Sky Studios for the UK.
MENA region comes into its own
In 2021, six directors of Arabic or Middle Eastern origin featured in the Venice line-up. This year, that number has risen to 10, with three in competition – up from last year's two. (During the press conference, Barbera singled out Alessandra Speciale for thanks; she heads up Final Cut, the Venice Production Bridge initiative that supports films in post-production from African and the Middle East nations of Iraq, Jordan, Syria, Lebanon and Palestine, which will hold its tenth edition at this year's festival.)
Roschdy Zem – a French director of Moroccan descent – tells a personal story in Our Ties, billed as the first French film about a bourgeois Maghreb family. Algeria-born Rachid Hami returns to the Lido with For My Country, after La Melodie played at the festival three years ago.
Two filmmakers from Israel are in the line-up. Guy Davidi's Innocence is the only documentary in Horizons, and explores the number of suicides among young recruits in the Israeli army, based on direct testimonies. Michal Vinik's second feature Valeria Is Getting Married, about an arranged marriage between an Israeli man and a young Ukrainian women, is in Horizons Extra.
Iraqi Ahmed Yassin Al Daradji's debut Hanging Gardens explores the sexuality of youngsters living in Baghdad, following its win during Venice's 2021 edition of Final Cut.
Syrian Soudade Kaadan returns to Venice after her fiction debut The Day I Lost My Shadow premiered in Horizons in 2018, with Damascus-set coming-of-age story Nezouh.
Although not from a director of MENA origin, Portuguese title The Bride was shot in Iraqi Kurdistan. The drama is about the lives of the wives of Jihadi soldiers, and is directed by Brazilian-born filmmaker Sérgio Tréfaut.
Four Iranian film also made the list (see above).
Plus one?
The reveal of a 'pre-opening' film, playing on August 30 before the festival officially opens the following day, was one of the surprises of today's conference. Screen understands the film has a connection to New York's Museum of Modern Art, which tweeted about the pre-opening shortly after the announcement. Further details are still to come.
As it falls outside of the official festival dates, this screening will most likely be open to the public, and not for accredited industry guests – many of whom may not arrive in town until the day after the film screens.