In making the move from film to television, Empire creator Lee Daniels has found an opportunity to tell groundbreaking stories and nurture new talent.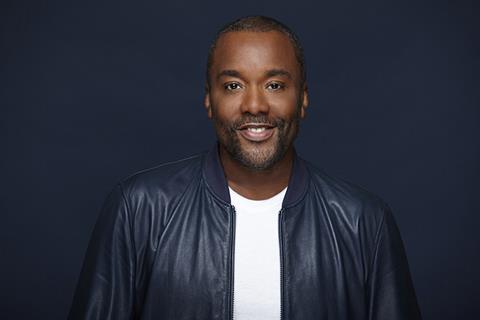 Film and television creator/producer Lee Daniels has reached the point in his career where polite appearances no longer matter much to him. "I'm in a different place now than when we did Monster's Ball [his first film as producer], when I had to fight," he says. "Now, I can make sure that everything is perfect."
And Daniels no longer second-guesses himself when deciding which projects to pursue. "When you get a quasi-name for yourself, you're thinking about what's right for the brand. Now I've learned to just go with my heart and say, 'Fuck the brand.'"
Daniels, who grew up in Philadelphia, Pennsylvania, came up through the world of independent cinema. He rose to prominence producing Monster's Ball, for which Halle Berry won an Oscar for best actress, and later directed the film Precious, which won the Grand Jury Prize at Sundance Film Festival in 2009 and netted Daniels Oscar nominations for best director and best picture.
Empire strikes
After achieving success in the film world, Daniels started to look to television. "I really wanted to jump into television. I had been doing film all my life and I wanted to try something different," he says.
Alongside Danny Strong, producing partner and screenwriter of Daniels' The Butler, he created the record-breaking musical drama Empire. In its debut season on Fox in 2015, the show became the highest-rated drama in seven years across all broadcast networks, achieving the rare feat of growing ratings with each telecast.
Initially, Strong presented Daniels with the idea of doing a hip-hop dynasty story "sort of like King Lear", Daniels recalls. "We had that in common; we both love King Lear."
The 1968 Katharine Hepburn and Peter O'Toole film The Lion In Winter was also an influence. "We flip it and make it black," he says. Initially, the plan was to develop a film based on these two sources, but the director was not interested in doing another big-screen project at the time and the idea for the show was born.
Armed with the knowledge he would be directing the pilot, Daniels knew the characters had to be people he understood and identified with. "We had to turn the characters from King Lear into the people I knew that were in the world, a world I knew, so I could believe them," he recalls.
Arguably, the most well-known and quoted character from the show is Cookie Lyon, the family matriarch played by Oscar-nominated actress Taraji P Henson. Cookie is based on elements of the strong women Daniels knew from his childhood, but is inspired by his grandmother.
"She was the ultimate sort of gangster, with nine kids. She did what she had to do to survive," he says.
In addition to Cookie, the main characters are Lucious Lyon (Terrence Howard), family patriarch and music mogul, and their three sons, Jamal (Jussie Smollett), Hakeem (Bryshere Y Gray) and Andre (Trai Byers), each with their eyes on the proverbial throne.
Jamal was based on Daniels' experience growing up in the inner city as a young gay black man. Hakim was a combination of Daniels' younger brother and his son, while Lucious was based on the strong men that Daniels knew from the streets.
Andre, the Ivy-League educated outlier in the family, is based on Daniels' second cousin, a pioneering paediatric surgeon in the US. He could not get into medical school at home so he moved to Germany, learned the language and was accepted into a German medical school, then came back to work in the US.
"He doesn't come from us, yet he was one of us," Daniels says. "That's where Andre was bred. To show there's a mixture — even from that world rises a phoenix and a history-maker."
This speaks to something Daniels has witnessed throughout his career — that African-American characters in film and television are thin, one-dimensional caricatures: "For so long, I've watched a specific African-American and only that African-American; from a doctor to a drug addict. They were just one-note. Other than the Cosbys, I don't recall a diverse African-American world."
He and Strong set out to change that with Empire. In addition to showing wide-ranging, multi-dimensional black characters, it was important they were so complex that they became universal. "It wasn't just about the African-American experience, but about the American experience and a family experience told through music, which had not been done before," he explains.
Creative choices
Empire, produced by Imagine Television in association with 20th Century Fox Television, revolves around music. It is what keeps the story moving forward and, in many ways, informs the plot. Daniels is involved in choosing the music for each episode, although that does not mean the executive producer is always thrilled with the choices.
In the first season of the show, there was an arsenal of tunes but, when it became a breakout hit, that success made things a little more difficult. "You're under the gun and you have to write. The clock is ticking and they can't wait," Daniels says. "So you have to move quickly and get the best [music] that you can live with. You have to be able to nod your head to it. Some stuff I'm not over the moon about. It's feeding the beast.
"Some songs I really love, and then some songs are about serving the story, because the story comes first," he adds.
While the importance of story is as key on the small screen as the big, coming from film to television posed a particular set of challenges for Daniels — for example, learning how to work with executives and other collaborators. "In the independent world of cinema that I come from, there is often no other opinion but yours," he explains, although he sees that television is a great opportunity for a new world of collaboration.
Following the breakout success of Empire, Daniels signed an overall television production deal with 20th Century Fox Television in 2015 that allows him to develop, write, direct and supervise new television projects through his Lee Daniels Entertainment banner. The first show he created under that deal, alongside Tom Donaghy, is the musical Star — a show set in the same universe as Empire that focuses on a group of three up-and-coming female singers in Atlanta.
As he began to settle into his career in television, Daniels says he became more aware of what his role in the world of TV should be, and that mentoring up-and-coming talent would be a major priority. "This is what's really exciting about my TV career, that I'm here to find talent with experiences that are personal to them and let them give birth to their insights," he says.
He is, however, open to directing a pilot, albeit one for someone else's project that he is currently developing. "There's some great stuff that we're coming out with. If I'm not feeling it, I don't think it's going to penetrate you. But all of it is sort of provocative and thought-provoking. There's a style to it."
Daniels does not rule out a return to the big screen, although he is taking his time. "My experience with television enables me to shut down for a minute and be selective about the material that I want to work with next in cinema," he says.