For the US filmmaking duo, developing their sci-fi nostalgia-trip TV series Stranger Things was the culmination of a well-spent youth.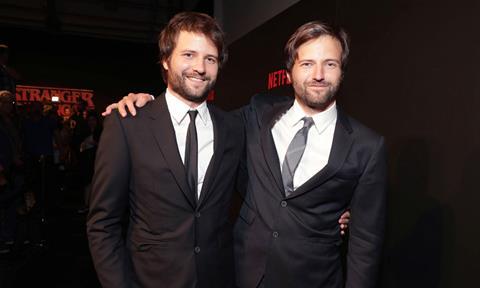 Growing up in North Carolina in the 1980s, twins Matt and Ross Duffer developed a love for genre and sci-fi with a particular passion for Steven Spielberg movies and Stephen King novels.
In a formative life event, echoing the plot of JJ Abrams' Spielberg-inspired Super 8, the pair were gifted a video camera during third grade and began making amateur films.
Relocating to California to study film at Chapman University, the duo graduated in 2007 and immediately began taking steps into the movie business, collaborating on a series of short films and feature screenplays. Warner Bros optioned their post-apocalyptic horror script Hidden in 2011, and hired the brothers to direct Alexander Skarsgard and Andrea Riseborough in the film, which was released in 2015. While that project did not instantly propel them to stardom, the script caught the eye of M Night Shyamalan, who brought them aboard his Fox mystery series Wayward Pines as writer-producers.
After those experiences, the pair began dreaming up Stranger Things, envisioning the sci-fi project as a return to the stories that had inspired them to make movies in the first place. Set during the 1980s in the fictional town of Hawkins, Indiana, the resulting eight-part show follows a group of young boys who attempt to track down their friend after he disappears in mysterious circumstances. During their quest, they encounter multiple supernatural phenomena, including a young girl who possesses telekinetic powers.
The twins had initially pictured the project as a feature film, but the explosion of scripted drama in the early 2010s shifted their focus to the smaller screen. "Matt and I had started to get excited about the direction that television was headed," says Ross Duffer, who talks passionately about being a fan of recent shows including HBO's True Detective.
Initially, however, they found Stranger Things far from an easy sell. "A lot of producers read it, and many didn't understand it," recalls Matt. "It wasn't a show that was targeting kids, yet it starred a bunch of children. That confused a lot of people."
But the pair did find an enthusiastic supporter in the form of Shawn Levy at 21 Laps, whose credits include Night At The Museum (as a director) and Arrival (as a producer). "They [21 Laps] really understood what it was," Matt adds.
With 21 Laps in their corner, the brothers began touting the series around the industry, lining up pitches with major studios. At first they failed to attract many bites. "We were trying to get a studio attached but no one was really interested," Ross recalls. "We had pitched to a lot of companies and they all ended up passing. At that point, we were advised that nobody wanted limited series."
"We got a call from an agent saying, 'It's a special project, we need to find a special home for it.' Those are the calls you don't want to get," adds Matt.
Streaming support
The picture was not looking rosy, but salvation was just around the corner in the form of a rapidly expanding SVoD player with a wealth of funds at its disposal and a hankering for original content. "Somehow Netflix heard about it," says Ross. "One of our agents mentioned it in a meeting about something totally unrelated, and they [Netflix] really sparked to the idea."
The Duffer brothers were invited to pitch the project to a group of Netflix executives — an experience Matt describes as "terrifying" — and, along with 21 Laps' Levy and Dan Cohen, delivered a project outline and a short mood piece that was cut together from movies such as Close Encounters Of The Third Kind, A Nightmare On Elm Street and Halloween. "[It] had movies like ET but with a John Carpenter synth score on it," Matt says. "I watch it back now and it's pretty close to the show. The pitch was probably 60% accurate to what we ended up making."
Two days after the pitch, the pair received the call that Netflix would be getting on board. "The amazing thing about Netflix is that once they make a decision, they're going to make the show," Matt enthuses. "They greenlit the whole first season with no caveats, no strings attached. There wasn't a long development process; we had a meeting with them a week later where we decided on a summer date to release the show. It all happened very fast."
"Maybe it always had to be there," muses Ross. "Netflix is a company at a point where it can take big risks, and this was one of them."
The brothers were determined to have direct control over as much of the series as possible, and Netflix was able to give the pair a high degree of creative freedom. "If you disagree on something, they let you make the decision at the end of the day. They were amazingly supportive," Ross comments.
The twins ended up directing six episodes of the first season, handing over the reins for episodes three and four to Levy. "He became a third brother in a way, and we could completely trust him," says Matt, who adds that filming for television "forces collaboration [and makes you] move fast and not overthink things".
If the old industry adage about never working with children or animals still rings true for some, the Duffer brothers certainly don't buy into it. During the casting process they looked at more than 1,000 children for their lead characters, eventually whittling it down to the core group of four boys — Finn Wolfhard, Gaten Matarazzo, Caleb McLaughlin and Noah Schnapp — along with Millie Bobby Brown for the telekinetic Eleven.
The brothers enjoyed the experience of directing their young cast. "We didn't wring the performances out of the children every day; they brought it themselves, they were that talented," Matt says. "Sometimes they forgot that it was work, they were having so much fun. In a lot of ways they are less trouble than adults. If you want them to hit a mark, you can literally just grab them and move them."
Working with kids did come with its particular challenges, however. "From a production standpoint, you have limited hours with them," Ross says. "That was one of the reasons we built it around three generations; it would have been impossible to do the show with just kids."
Another issue came when Matarazzo, who plays the loveable Dustin, found his voice breaking after the shoot, meaning they had to hire a stand-in to record additional dialogue in post-production.
The full series of Stranger Things was released in one block worldwide on Netflix on July 15, 2016, receiving immediate critical raves and spawning a cult following. Surprisingly, fans latched onto the relatively peripheral character of Barb (played by Shannon Purser), setting up fansites, forums and a dedicated Twitter hashtag, #ImWithBarb, devoted to the misfit character.
While Netflix does not release viewing figures, US private equity firm Symphony Advanced Media used software that tracks viewing habits to estimate that, within 35 days of release, the show averaged an impressive 14.07 million adult viewers between the ages 18-49 per episode in the US. Since then, the show has been clocking up the accolades, including the ensemble prize at the Screen Actors Guild Awards and the episodic television drama prize at the Producers Guild of America Awards.
Chapter two
At the time Screen International spoke to the Duffer brothers, they were close to wrapping the shoot of Stranger Things season two, with seven episodes of nine in the can. The pair face a brisk editing job to be ready for the air date of October 31, 2017, again on Netflix.
Season two will contain one more episode than the first, which was simply a case of fitting the runtime to the story. "We wrote the season with our writers and felt that eight [episodes] was going to be too tight and 10 was going to be luxurious, so we ended up with nine, which is a weird number," Matt comments. "Netflix didn't really care. They give you as many episodes and hours as you need to tell the story."
The positive reception to the first series has afforded the duo a slightly bigger budget this time, meaning more visual effects, but they are not getting carried away. "It does feel a bit bigger, but not extravagantly so," Ross says. "There's more spectacle than there was last time."
The brothers are once again acting as showrunners on the series, but have opted to direct just four of the nine episodes. Levy has returned to direct two, while Rebecca Thomas (who helmed 2012 Berlinale selection Electrick Children) is directing one.
The remaining two episodes are being directed by a surprising name. Virtually out of the blue, Andrew Stanton, two-time animated feature Oscar winner for Wall-E and Finding Nemo, contacted the Duffer twins and pitched himself as a director for the series.
"Andrew contacted Shawn as a big fan of the show and asked if he could get involved," Matt recalls. "I think he knew we were looking for directors. We were like, 'Um, yes!'
"We taught ourselves to write screenplays by watching Toy Story [which Stanton co-wrote], over and over," he adds. "He's an incredible storyteller and we aligned with him really nicely. He's still shooting a Stranger Things episode but he's bringing his own sensibilities to it."
Netflix is making sure details of season two stay largely under wraps, but it is known the primary cast will be returning (with a few additions), and that events take place a year after the culmination of season one, with the town of Hawkins attempting to return to normality.
"It's a little bit more dense and complex, there are more storylines going on. The episodes are also going to be a bit longer — up to 60 minutes," Ross says. "In terms of tone, it goes to some pretty dark places. There's definitely stuff in there that's scarier and more disturbing."
Looking ahead, the duo are already thinking about season three, revealing that "a lot of concepts from season two got kicked further downfield" and are being considered for the next instalment.
While they maintain they did not originally envision Stranger Things as a long-running series, they are accounting for the possibility. "This season, we're laying the groundwork for future seasons… however many that will end up being," says Ross. "Once we start moving to season three, we're going to figure out how long it's going to be. We already know what the endgame is."