In the peak TV era, novels and TV series are a match made in heaven. Key creatives on Killing Eve, The Little Drummer Girl, Sharp Objects, Catch-22 and The Spanish Princess tell Screen about the relationship between page and screen.
As the TV industry's output of scripted drama continues to climb, novels — with their carefully crafted plots, fully formed characters and, in many cases, built-in audience awareness - have become an important source of inspiration and IP. And prestige drama series, with their three-to-ten-hour running times and binge-ready audiences, have proved to be a better format for novel adaptation than time-constrained feature films.
The results of the match-up have often been impressive. Over recent years, novel-based series and mini-series such as Patrick Melrose, The Alienist, The Night Manager, Roots and Wolf Hall have grabbed awards season attention, and helped keep their networks on the prestige TV map.
Over the past four years, in fact, six of the eight winners in the Primetime Emmy best drama series and best limited series categories have been adapted from popular or literary fiction: Olive Kitteridge began as a book of interrelated stories by Elizabeth Strout; Big Little Lies was originally based on Liane Moriarty's Australian bestseller; Margaret Atwood's classic tome was the basis for The Handmaid's Tale; and three-time Emmy winner Game Of Thrones, of course, had its origins in George RR Martin's A Song Of Ice And Fire fantasy novels.
The adaptation process does not always run smoothly, however. And writers and producers on some of the latest crop of prestige novel-based series have faced plenty of challenges turning literature into television.
With its 500-page bulk, 40-odd characters and jumbled chronology, Catch-22 had challenged screenwriters back in the 1970s, when it was made into a coolly received Mike Nichols feature and a TV pilot that was never picked up. To turn Joseph Heller's 1961 classic about Second World War bombardier John Yossarian and the absurdity of war into a six-episode, George Clooney-produced Hulu series, writers Luke Davies and David Michod had to make some tough choices. "Early on, we made a decision that we needed a coherent structure that allowed the stories to play out in real time," Davies explains. The 1970 feature "made the mistake of trying to imitate the kaleidoscopic structure of the novel. We made it our task to find a way of structuring it so that you had a journey of mounting panic, rage and loss that you could anchor Yossarian and the other characters to."
While the writers "very reverentially respected a handful of critical scenes and dialogue," they also, says Davies, "realised we had to invent a whole lot of stuff that was not in the book. Because the book, with its third-person narration, is really tightly held inside Yossarian's head."
By reconstructing the timeline and expanding on parts of the text — sometimes getting half an episode out of half a paragraph of Heller's prose — the writers tried to give the series a sense of "shared global anxiety", says Davies. "It feels very contemporary in that sense, even though it's very period authentic."
Multiple sources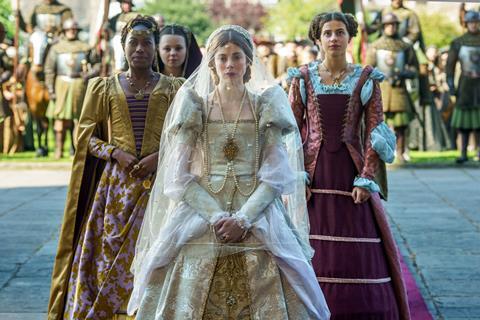 Dealing with multiple sources was part of the challenge for Emma Frost and Matthew Graham, writers of eight-episode Starz series The Spanish Princess, about the young Catherine of Aragon and future English king Henry VIII. A follow-up to earlier series The White Queen and The White Princess, The Spanish Princess is based on two novels by Philippa Gregory: The Constant Princess and The King's Curse. Because each of Gregory's novels — also the bases for the earlier series — relates historical events through the eyes of a single character, combining them becomes a necessity "to spin our own dramatic narrative", explains Frost, who also worked on the earlier series. But, she adds: "I have always augmented Philippa's books with other history. I bring my own invention and other historical facts in as I think is necessary to make the best TV show."
In this case, in the years since Gregory's novels were written "historical research has thrown up some fantastically exciting new finds about the nature of people of colour in Tudor England," reports Graham. "One of the things that came to light was the more diverse ethnicity of Catherine's entourage."
As a result, Graham and Frost wrote a subplot for the series that was not in Gregory's books, about an Iberian-African lady-in-waiting to Catherine and her love affair with a Moor soldier guarding the Spanish royal. The addition was in line with an ethos that Frost says informs all the Gregory-based series. "We always stand on the baseline of the novels," she says. "We can't do the show without them. But we increasingly have to allow the show to have its own internal logic. We're keeping one eye firmly on what is relevant to a 20th-century audience."
The Little Drummer Girl, the AMC/BBC six-part series based on John le Carré's 1983 spy novel, was an adaptation that was something of a family enterprise — it was produced by The Ink Factory, the company headed by the author's sons Simon and Stephen Cornwell. According to writers Claire Wilson and Michael Lesslie, the family connection was a boon as they worked to turn the globetrotting novel about a young British actress and a team of Israeli spies into the series (a follow-up to The Ink Factory's Emmy-nominated le Carré-based limited series The Night Manager).
"It gave us a direct line to the author in a way that we might not have had otherwise," says Lesslie. "Le Carré could help out when he wanted and also stay back when he wanted. Because Simon and Stephen are so close with their dad, it was more privileged and more intimate at the same time."
"He was always very open to being involved," adds Wilson, "but never in an oppressive way; more in an inspiring way." In particular, both writers report le Carré provided input on how to compress sections of the sizeable novel into newly created screen sequences (like Catch-22, The Little Drummer Girl was decades ago turned into an unsuccessful feature film — George Roy Hill's 1984 version starring Diane Keaton).
"In elision there's always addition," Lesslie suggests, "and le Carré sometimes himself came up with brilliant new scenes that would distil hundred-page sections of the book into a single scene of drama. He recognises that when something is being adapted it needs to become its own beast. He recognises that a faithful adaptation doesn't have to be a literal one."
In a similar vein, the novelist behind Sharp Objects was not just accessible, she was in the writers' room. HBO's eight-part limited series about a troubled reporter covering the murder of two pre-teen girls in her parochial American South hometown was created by showrunner Marti Noxon but based on the 2006 debut novel by Gillian Flynn who, in 2014, turned her own subsequent novel Gone Girl into the hit feature film.
"We talked about my bigger-picture ideas even before she was OK with me getting the rights to it," recalls Noxon of the development of Sharp Objects. Flynn's involvement — she wrote one episode of the series herself and co-wrote two with Noxon — "was a given because she understood the process, she had been through it and she was really generous about making changes. She had written other novels by that time, including Gone Girl, which was a gigantic success, and I think she welcomed the chance to revisit her very first novel."
Sometimes, says Emmy-nominated writer Noxon, a novel needs to be treated as "a cookbook, meaning there are good ingredients and now you're going to remix them for television." With Flynn's book, however, "even though it has a lot of internal monologue, it's also a story that's extremely well suited to television. It's a potboiler mystery, so the bare-bones mechanics were already there."
What Noxon and Flynn did for the television version was expand parts of the novel — in one case turning a single paragraph into a whole episode touching on the town's Civil War history — and flesh out certain characters. In the novel, for example, male characters take the supporting roles typically filled by women. "So to give them a little bit more to do, we shone a light on the fact they were playing these supporting roles," Noxon explains.
Making a killing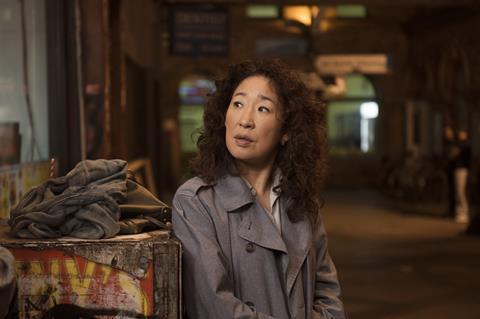 When a novel-based series hits big, the writers can face a fresh and potentially tricky challenge — how to extend the story beyond what has been provided by the underlying fiction. Having just ended its second season on BBC America and been ordered for a third, Killing Eve, originally based on four novellas — later published together as Codename: Villanelle — by Luke Jennings, faced the problem sooner than most.
"We actually ran out of story quite quickly," explains Sally Woodward Gentle, executive producer of the show, which recently won Bafta's best drama series prize. "We had to write the episodes quicker than Luke could write more stories."
That necessity, though, allowed the series, about smart but bored MI5 officer Eve (played by Sandra Oh) and mercurial killer Villanelle (Jodie Comer), take on a life of its own, under successive seasons' lead writers Phoebe Waller-Bridge, Emerald Fennell and, for the upcoming third run, Suzanne Heathcote.
"Luke had created something that felt quite fresh and modern because it had these two women at the centre of it," says Woodward Gentle. "But Phoebe gave it a tone that was above and beyond those original books. So in a way what you're doing is moving forward, honouring the tone of the series rather than the tone of the books. That tone comes from understanding the characters that have been created and making them deeper, making the relationships more complex, making the lives more complicated."
Now, the books and the series "are running in parallel", says Woodward Gentle (Jennings published sequel novel Killing Eve: No Tomorrow earlier this year). "At some point they might come back together again, but I do like whoever is the lead writer to have the creative freedom they need. Because [the series and the novels] are different disciplines and they're serving different purposes."
The adaptations boom shows no sign of slowing. Although HBO's Game Of Thrones — which, like Killing Eve, began to move beyond the narrative of its literary source in the sixth of its eight seasons — has just ended its run as probably the most successful novel-based series of all time, plenty of other adaptations are in the pipeline.
Later this year, BBC and HBO will launch the first season of His Dark Materials, their adaptation of the Philip Pullman fantasy novel series. A second series has already been ordered. Elsewhere, The Angel Of Darkness, based on Caleb Carr's follow-up novel to The Alienist, has been ordered by TNT and The Spy Who Came In From The Cold, a third John le Carré adaptation from The Ink Factory, is in the works for AMC and BBC. In development for global streamers Netflix and Amazon are, respectively, potential blockbuster TV versions of The Chronicles Of Narnia and The Lord Of The Rings.
If high-end peak TV continues to expand its appetite for scripted drama programming, the relationship between novels and television series looks set to last a very long time.