Switching the focus of the Watchmen comic books from Reagan-era Cold War paranoia to the pandemic of institutionalised racism in contemporary America was an inspired choice by Damon Lindelof, the showrunner behind HBO's nine-part adaptation.
The eruption of protests across the US and many parts of the world in response to the killing of George Floyd by a white police officer in late May cemented the timeliness of a show that aired from October to December 2019. And – dare one say it – many agree the show does not require familiarity with Alan Moore and Dave Gibbons' beloved source material.
Pilot episode director and executive producer Nicole Kassell herself admits she did not read the original until she landed the gig. Not so Lindelof, the revered, self-styled comic-book geek who explored alternative realities in cult TV shows Lost and The Leftovers.
"My father handed me Watchmen when I was 12 or 13," he recalls of the 12-part graphic-novel series. "I had the hubris and the narcissism of the adolescent mind and felt like it was written just for me. This was when I first fell in love with this idea of a serialised, world-building density."
Lindelof revisited the graphic novel many times, unearthing new treasures on each occasion. Yet he said no when rights­holder Warner Bros and HBO initially approached him shortly after Zack Snyder's 2011 feature version came out and proposed he create an episodic adaptation of the comic books. "'You just did this'," Lindelof recalls saying. "'I don't think people want to watch a 10-episode history show where they knows who's done what already.' And frankly I was just super intimidated by the material." (For the record, Moore wanted nothing to do with any adaptation and has always maintained that stance.)
A couple of years later, the suits tried again. This time they wanted Lindelof to explore the Minutemen, the 1940s vigilantes who predated the central characters of Watchmen. DC had published a series of comics called Before Watchmen. Did that hold any appeal? By that time Lindelof was working on The Leftovers for HBO. "Guys, just leave Watchmen alone," he told them. "It's so good. Just leave it be."
Third time, however, proved the charm. It was late 2016, and Lindelof was finishing the third and final season of The Leftovers. This time the message from the studio and network was: this is your last chance, take it or leave it, if you say no we'll ask someone else. Lindelof still did not think there was an idea worthy of Watchmen. Yet the thought of someone else making the show felt nauseating.
"I just started asking myself, what would the world that they left back in '85 look like over 30 years later? It would be beholden to the canon­ical storylines in the first 12 issues, but maybe there's a way to introduce a new story that's kind of tangential to that, but also folds back into it so it can be an original piece of writing and a sequel at the same time."
Race relations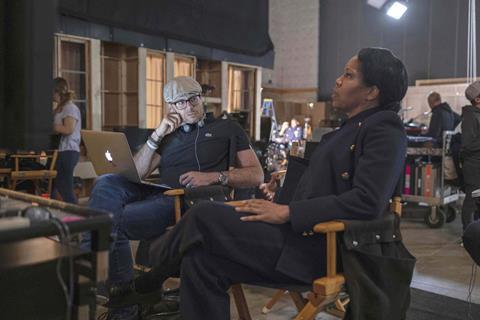 Lindelof had been reading the journalist and cultural commentator Ta-Nehisi Coates, who wrote a piece in The Atlantic magazine about the Tulsa Massacre of 1921 called 'The Case for Reparations'. The racist pogrom razed to the ground an affluent black community in Oklahoma, and forms the foundational event of the HBO series' timehopping narrative structure.
The showrunner had not heard about the massacre nearly a century ago, and was shocked it was not widely known. He wanted to change that without making the approach too heavy-handed. "If you snuck it into a piece of popular culture, then [audiences] would find out about it without opting in [to a treatment dedicated entirely to the event]. And is there a piece of popular culture that could basically hold that kind of tragic real-world event? You couldn't do it like in an Avengers movie, but maybe you could do it in Watchmen. And then we were off – that was how we got there."
Watchmen is set mostly in present-day Oklahoma, where masked vigilantes led by Regina King's Sister Night (aka ex-cop Angela Abar) battle the insidious threat posed by the Seventh Kavalry, a white supremacist group whose members wear Rorschach masks inspired by the character from the original Watchmen tales. The police, led by chief Judd Crawford (Don Johnson), also wear masks, ostensibly to protect themselves from being identified by the racist terror organisation.
"We were really interested in the paradox of masking – that a mask was a way of hiding your identity while simultaneously revealing it," says Lindelof, speaking at a time when masks have become commonplace in our daily lives. "We wanted masks to be a reflection of character and, even more specifically, as a coping mechanism for trauma.
"[The character of] Looking Glass wears a mirror on his face because he was surrounded by mirrors on the scariest day of his life. Hooded Justice wears a noose around his neck because it is a constant reminder of the forces of white supremacy that want to kill him. This idea is embedded in comic-book tradition – Batman dresses like a bat because it supposedly evokes fear in the criminals he fights, but he's also scared of bats himself as they are inexorably linked to the murder of his parents."
The scope of the show and its central mysteries is vaster than that of the source material. Familiar characters, older yet freshly significant, rub shoulders with new. Jeremy Irons is a gruff, driven Adrian Veidt (aka Ozymandias), while Jean Smart portrays a no-nonsense older Laurie Blake (Silver Specter II).
Watchmen universe newcomers include Tim Blake Nelson as the aforementioned Wade Tillman/Looking Glass, Louis Gossett Jr as mysterious Will Reeves, Hong Chau as Lady Trieu and Yahya Abdul-Mateen II as Cal Abar. All bear watching closely.
Lindelof credits the seamless temporal structure to his writing team, noting that everything was anchored in the "Old Testament" of the source material, which itself played with the fluidity of time. The show mines the past of a marginal black character in the original comics books, a member of the 1940s vigilante group Minutemen whose influence in the show cannot be overstated.
"Our entire story was built around the idea of Hooded Justice's origin story as a response to trauma that had been visited on him as a result of white supremacy," Lindelof says. Hooded Justice's life story shows how trauma can be inherited, and dovetails with the present in a spectacular reveal in episode six that speaks to the tragedy and fury of race relations in contemporary America.
Lindelof is quick to point out his writers pushed Watchmen to go beyond the shock of "a progressive, entitled white person's viewpoint" over incidents like the deadly 2017 car attack by neo-Nazi James Fields Jr on peaceful demonstrators in Charlottesville, Virginia.
"The people of colour that were in the writers room weren't shocked at all by it," he notes. "That's really the space where we wanted the show to live – the naïveté of the shock and the idea of giving voice to this thing that people of colour are experiencing very directly. A lot of white people want to just have their blinders on and ignore, because we consider ourselves to be woke or progressive or we don't want to align ourselves with the baser elements of what our responsibility is in this American experiment. But you have to say those things out loud in order to provoke conversations around them and it's not always easy."
He maintains there was no single incident in the tragic modern history of racist violence that informed the show's unflinching depiction of intolerance. He reels off names of recent victims – Ahmaud Arbery, Breonna Taylor, Mike Brown. "Where do I…" he pauses. "It's every two weeks, this is happening."
One week after this interview, a viral video emerged of Minneapolis police officer Derek Chauvin pinning a handcuffed George Floyd to the ground, his knee pressed to Floyd's neck as the dying man gasped, "I can't breathe."
The Floyd case has galvanised the Black Lives Matter movement and anti-racist sentiment, and imbued Watchmen with a fierce relevance almost a year after it debuted on HBO. Lindelof and his team wrote the show several years ago when there had already been too many contemporary examples of white police officers menacing, harming and demeaning black citizens. How to depict the police, who we discover are led by a member of the Seventh Kavalry, was top of his mind.
"We had more conversations about this in the writers room than almost anything else," says Lindelof, adding that while "the majority of the inter­actions we see with our yellow-masked cops have them behaving violently and without due process", the show was after something else.
"Watchmen is not a text that makes simple moral judgments like 'good' and 'bad'. We were interested in interrogating the idea of why someone would want to be a cop, and the thematic underpinnings of whether police make us more safe or more scared. The answer depends, in the show and in real life, on the colour of your skin."
Heart on the line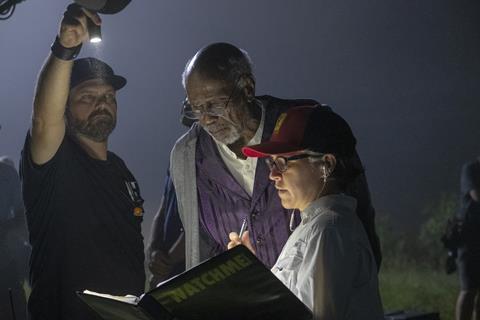 Nicole Kassell had directed two episodes of The Leftovers, thought highly of Lindelof and emailed him when she heard they were looking to shoot a pilot. He sent her the script.
"I just really put my heart on the line," she says. "When I read the pilot, it was the answer of where to put all my political frustrations and thoughts and feelings into a piece of art. Since [Donald Trump's presidential election victory in] 2016 I've been reeling, like many of us, and as an artist and a filmmaker, the landscape was so vast and different and my mind was firing on all cylinders of cinematically what this would be."
The scope of Watchmen appealed to Kassell who, through TV directing gigs such as The Killing, The Leftovers and The Americans, has spent the best part of a decade resetting a professional trajectory that had seemed destined for greatness. The world was her oyster after her feature debut The Woodsman played in Sundance and Directors' Fortnight at Cannes in 2004. Seven years later, her follow-up A Little Bit Of Heaven flopped.
"It crashed, we don't have to be delicate," says Kassell of her career, adding: "It's no secret that you're only as good as your last project. I definitely went into feature jail and it was absolutely devastating."
Kassell only read the Watchmen source material – "the Old Testament" – when she got the gig and recalls being struck by the unusual vertical framing instead of the more conventional horizontal panels. Watchmen offered something unique, something that reminded her of her love of film, and she ran with it. They shot the pilot over 20 days in summer 2018, mostly in Atlanta, and relocated to Penrhyn Castle in Wales for the scenes with Irons as Veidt.
"I got to make at least eight different genre films in the one pilot," she says, referring to segments comprising silent black-and-white cinema, period drama with musical interlude, thriller shootout, and love scenes. On episode two she lamented to her editor, "I don't know how I'll ever have this much fun again."
Kassell threw in a few easter eggs for the edification of die-hard Watchmen fans. There is the shot of Angela turning up to a funeral with a bouquet of red flowers in episode two that mirrored an image of Silver Specter II in the second comic, a sight gag of Agent Blake clutching a blue sex toy in episode three, and a smattering of clocks and owls throughout the show.
Music and imagery
Lindelof knew the attention to crafts would be critical to his show, which airs in the US on recently launched streaming platform HBO Max and on Sky Atlantic in the UK. Production and costume design leant the show an almost hyper-real and fauvist veneer, while the score by Trent Reznor and Atticus Ross – marking their first TV show – imbued proceedings with an icy otherworldliness.
Usually composers come in once production has wrapped, but Lindelof wanted the music in his head before they shot the pilot. He approached their agents, without knowing that Reznor and Ross had heard about the upcoming pilot and by coincidence had already reached out to the show. A week later, Lindelof and the composers hunkered down to brainstorm. A week after that, Reznor and Ross sent over an hour of music.
"They read the script and then they started writing stuff," says Lindelof. "I would sit there in Atlanta while we were shooting, listening to the score – and they had written before the show even existed. And so the music and the imagery started… an apt metaphor is the chicken and the egg."
By turns ominous and vulnerable, the score echoes the mercurial nature of a show that seems to pack in so much while leaving open a door to the future. Yet Lindelof says right now he has no new ideas for a return to the weird and wild world of Watchmen.
Or is he being playful? He said no twice before, and concedes he could wake up in a cold sweat 10 years from now with a new idea. Then again, "I feel like every single cool idea I had went onto the screen and I've got nothing left, but I would be so excited to see another season of Watchmen done by someone else."
First things first, however. He is in lockdown, "learning the lesson" of Covid-19 and pondering his next steps. "I don't want to do a show about a virus; I want to do a show about how we feel in the aftermath of the virus," he says. "And having already done The Leftovers, I think the end of the world is kind of off limits. So believe it or not, I want to do something a bit more escapist and fun. I just don't know what that is yet."