WME and IMG's film and scripted television finance and sales groups were recently brought together under label Endeavor Content, steered by co-presidents and WME partners Graham Taylor and Chris Rice.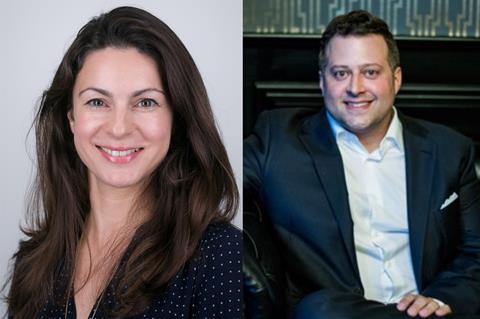 Among newcomers to the group are Negeen Yazdi, former president of international acquisitions at The Weinstein Company, who has joined as senior vice president, film, and Joe Hipps, former svp television for House Of Cards producer MRC, who has joined as senior vice president, television.
Screen got the first interviews with both about their new roles, new projects on and their projections for independent film and TV companies with the emergence of super platforms Apple and Facebook.
What is your role at Endeavor Content and where will you be based?
J: I oversee development and production on the scripted television side of Endeavor Content. I am based in Los Angeles.
N: I am overseeing the film development and production slate at Endeavor Content, and am based in London. Given that Joe and I are functioning as two sides of the same coin (for want of a less annoying metaphor) there's a lot of cross-over between us, and we share information all the time across our respective slates.
This is a change of pace for you. Why did it make sense now?
J: I admired what Graham and Chris were building over at WME and IMG, from both the artists they were working with and the deals they were putting together. The Night Manager represented a big step forward in the co-production arena to me. I wanted to be a part of what they were building.
N: Having worked at a studio and a mini-major, I was excited about the idea of doing something bolder and a little disruptive. I've known Graham and Chris and their teams for years (mainly from trying desperately to buy their product from the other side of the fence!), so I knew it would be a good fit personality-wise.
How are you identifying content for Endeavor and who are you most frequently interacting with in the industry?
J: We try to read, watch and track everything we can. That material comes to us in a variety of ways – through agencies, management companies and producers from across the globe.
Having worked in television for the last decade, I've built up a network of executives, producers and most importantly writers and filmmakers with whom I am always interacting.
N: As Joe says, material is coming from everywhere – scripts, articles, books, remakes – the whole range. It's really encouraging that producers, filmmakers and agents seem excited by what we're doing. So much so that I'm fairly sure I've never read so much material in my entire life. But no complaints everyone – keep them coming please…
What projects are you working on just now?
J: We are in early pre-production on The Eddy for Netflix. Jack Thorne is writing, Alan Poul and Fifty Fathoms are producing and Damien Chazelle is directing. You can't ask for a better project to start with.
N: We are in production on a wonderful coming-of-age drama, Hala, by the talented young Muslim-American female filmmaker Minhal Baig. Overbrook is producing for us. I'm most excited and encouraged by the fact that all of Minhal's heads of department are women – a great achievement and important statement, particularly in the current climate.
What type of stories does the market want to finance today?
J: Global is a word you hear a lot. That can mean a lot of different things, so I think it's our job to try and best figure out what will resonate with a global audience and how to approach this new way of setting up projects .
N: I also think it's our job to create stories for under-served voices and audiences, not just because it's the right thing to do, but because it's also good business.
Negeen, given the growth of Netflix and Amazon and the arrival of super platforms Apple and Facebook, what's the outlook for the independent movie business?
N: The future is bright! The emergence of new platforms with a thirst for content, and who want to be creatively forward-thinking, can only be great news for our industry.
Joe, is the high end TV drama bubble about to burst?
J: I don't think so. This weekend Stranger Things 2 drops on Netflix and I feel like this is the first time a television "opening" rivals the feeling of a movie opening. I think you will continue to see that.
Plus I have no other skill set so I'm really hoping the bubble doesn't burst.
Negeen, you had a successful run at a now troubled company. Do you have any comment on the Harvey Weinstein harassment scandal?
N: Thanks to many brave women, this has created a watershed moment where we are finally talking about these important issues on a real global scale. It's long overdue.
What's the best movie and TV series you've seen in the last year?
J: The Handmaid's Tale was beautifully directed. 13 Reasons was very powerful and I think it opened up the idea of what "YA" means in the marketplace.
Dunkirk, Blade Runner and Atomic Blonde were all very different movies, but all movies that were technically impressive and made a good argument for the theatrical experience.
N: I absolutely loved Luca Guadagnino's Call Me By Your Name. It's so beautiful and moving, and immerses you in a whole new world without pyrotechnics – just good old-fashioned story-telling. When I next get the "which movie do you wish you had been involved with" question, that will be my answer (in addition to Back To The Future and When Harry Met Sally, obviously).
The Handmaid's Tale and Stranger Things are incredible. But if I can cheat and go back a little further than a year, Phoebe Waller-Bridge's Fleabag has got to be up there – hilarious and outrageous in equal measure.