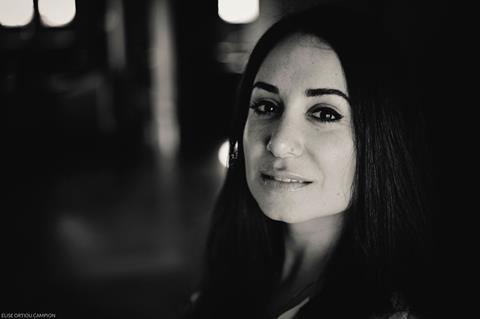 Tunisian-French filmmaker and producer Erige Sehiri cut her director's teeth making community films about the people in the tough outer-city neighbourhood where she grew up on the outskirts of the French city of Lyon.
She moved to her parents' native Tunisia in January 2011 following the toppling of dictator Zine El Abidine Ben Ali, covering the early heady days of the country's popular revolution as a journalist for different international news organisations.
A decade later, Sehiri lives permanently in the country, directing and producing under the banner of her La Marsa-based company Henia Production.
She is participating in Marrakech's Atlas Workshops with the rough cut of debut fiction feature Under The Figs Trees, about a group of teenagers working as fig pickers over the summer, which is in the running for the €20,000 post-production prize.
Taking inspiration from the light-hearted banter found in the work of 18th Century French novelist Pierre de Marivaux, the film captures contemporary Tunisian society and relationships between men and women, through the chatter of the girls in the small spaces they find to have fun, while at work or taking a break.
"The story unfolds in these small moments of freedom," explains Sehiri. "The harvest season becomes a time when they can break out of everyday life and have fun."
The fiction follows her critically acclaimed 2018 feature documentary Railway Men, capturing the working lives of train drivers as they struggle to keep Tunisia's dilapidated rail network up and running against the odds, and sometimes at great personal danger. It screened at Visions du Réel, IDFA and Montpellier's International Mediterranean Film Festival, known as Cinemed.
"It's a fusion of a number of projects I've been turning over in my head," Sehiri says of the new film. "I've always been interested in the work environment and how it defines people and at the same time, I wanted to do something about youth."
With that in mind, Sehiri had embarked on the development of a different film about a group of youngsters involved in a local community radio station, drawing on her experiences helping to set up a pro-democracy radio station in her earlier days in Tunisia.
The idea for Under The Figs Trees came from a chance encounter while auditioning youngsters for the film in a small city close to her father's birthplace of Kesra, a picturesque Berber village in northwestern Tunisia famous for its figs.
"One of the questions I would ask each candidate was, 'What do you do during the summer?' One day, this girl came in. She was a bit of a tomboy. When I asked her the question, she replied, 'I work on a farm, harvesting cherries,'" Sehiri recalls. "I fell in love with her on the spot and decided to change the film."
The girl's response struck a chord with Sehiri's memories of visiting her father's village as a child and teenager. "I would see these girls working in the fields, and think that could have been me," she recounts.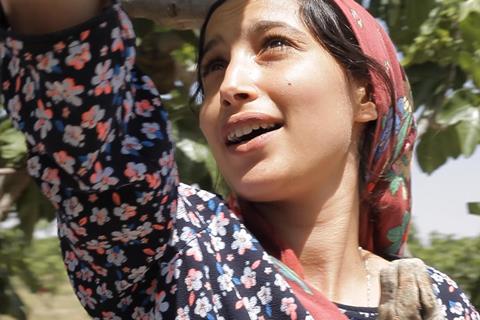 Sehiri would go on to select the girl, Fidé Fdhili, as well as her sister and cousin and a host of youngsters and older agricultural workers from the region for the amateur cast.
Rather than attempting to develop and finance the project in-depth, she decided to get the production off the ground as quickly as possible and shot the bulk of the film, guerrilla-style from June to September 2020 in Kesra.
"I felt this real urgency to get the film made. Fidé and the other girls were between 17 to 19-years-old at the time. A year down the line it would have been too late," explains Sehiri.
The filmmaker was also worried that if too much time passed the girls or their parents, might start thinking more deeply about the implications of being in the film, which would then lead to them dropping out.
This fear was borne out after one cast member was not allowed to return for some extra shooting in September of this year.
"She had gotten married in the meantime and her husband no longer wanted her to be involved," explains Sehiri.
The production was based out of the family home of Sehiri's late grandparents, with the young female cast members sleeping on mattresses on the living room floor.
"The making of this film would make a film in itself," says the director. "It's a shot in a place that has never been captured in a feature film before."
Her myriad challenges included dealing with the village's conservative attitudes towards girls mixing with boys, which was problematic given the storyline also features a number of young male characters; Covid-19 and the sudden arrival of her extended family for a traditional summer, group couscous making session.
"My father was also there but he was upset with me for making a film with no budget and was a bit distant. Then one night, while I was editing, he started watching the footage and got very emotional. The girls look like movie stars in a way and are speaking in the local dialect which he had never heard spoken in a film before," recalls Sehiri. "The next day he rang my mum and said, 'You know, we have a little bit of money put away, let's help Erige with her film'."
A key member of Sehiri's stripped-down crew was Tunisian cinematographer and lighting specialist Frida Marzouk, who has worked on a number of Abdellatif Kechiche's films.
"I love Kechiche's films. Frida was the right person for me and this film. I was afraid about being put in a box or of approaching technicians without a proper screenplay, especially as this was my first fiction. I wanted to work freely without judgement and Frida got this immediately," says Sehiri.
"In the beginning, I'd seen working with a reduced budget as a constraint but in the end, it became the identity of the film. I feel like I liberated myself from all the stories I wanted to tell and found my cinema here," she says.
Palmyre Badinier at Switzerland-based Akka Films and Didar Domehri at Paris-based Maneki Films are co-producing while Fiorella Moretti and Hédi Zardi's Paris-based sales company Luxbox is handling international sales.
Badinier produced Railway Men while Sehiri met Domehri when the latter acted as a mentor at the inaugural meeting of Rawiyat-Sisters In Film, a collective of women filmmakers from the Arab world that began in the summer of 2019.
"Both Didar and Palmyre invested some money in the film and this is very rare. Most producers wait for funds before spending any money on a project," says Sehiri. "This means they believed in me and the film. And this is priceless, especially nowadays."