The upcoming European Film Awards (Dec 7) will celebrate the diversity of European film-making, thanks to a voting body that refuses to follow the crowd. Louise Tutt looks at this year's contenders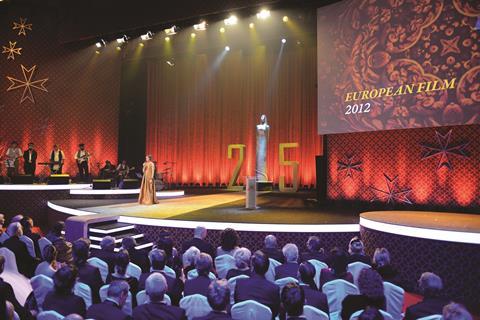 Felix Van Groeningen's The Broken Circle Breakdown leads the pack of contenders with the most nominations ahead of this year's European Film Awards (EFAs) on December 7. Its tally of seven nominations reflects a title feted at the Berlinale earlier this year and one that has been a hit at home in Belgium.
The celebration of this small Flemish-language drama about love, grief and bluegrass music is a great example of why the EFAs are known for recognising a diverse range of films.
It may make for a cheerfully eccentric ceremony (Australia's Naomi Watts in the running for European actress is one of this year's quirks as The Impossible is an entirely Spanish production), but by refusing to follow the crowd, the European Film Academy's 2,900 voting members from across the continent make some fascinating choices that reflect the diversity of European filmmaking.
"Its purity makes it admirable," says Paul Webster, the UK producer of Joe Wright's Anna Karenina, which is nominated in four categories. "It celebrates Europe. So often we look westward here in the UK and it's great to be part of the European film industry."
Back to Berlin
The 26th annual awards, which are jointly produced by the Berlin-based European Film Academy with EFA Productions, are back on home turf this year in Berlin. Every other year the ceremony travels to a different European city — last year it was Malta, next year it is Riga in Latvia — and the awards ceremony receives a financial boost of around $1.4m (€1m) from that year's host city.
This year some 900 guests will be honoured, wined and dined at the Berlin theatre venue, Haus der Berliner Festspiele. The popular German TV presenter and comedian Anke Engelke is presiding over the proceedings for the fifth time. Her wit and irreverence is cited by many as helping to elevate the EFAs above other pan-European shows, such as the campy Eurovision Song Contest.
Along with The Broken Circle Breakdown, the contenders for European film of the year are Giuseppe Tornatore's English-language debut The Best Offer, starring Geoffrey Rush; Spanish director Pablo Berger's silent, black-and- white Snow White story Blancanieves; Paolo Sorrentino's luscious, bittersweet The Great Beauty; Abdellatif Kechiche's Palme d'Or sensation Blue Is The Warmest Colour (known by EFA as Adele: Chapter 1 & 2); and Jan Ole Gerster's German drama Oh Boy!.
The European Film Academy avoids calling this main award the best European film. "We call it European film," explains Marion Döring, European Film Academy director and producer of the EFA awards. "It is difficult to say who is the best as European cinema is so diverse. To be one of the six nominees is like getting an award when you see just how much is being produced and how different the films are throughout Europe."
Comic timing
For the first time in its history, the Academy has introduced a separate European comedy award this year. The inaugural nominees are Pedro Almodovar's I'm So Excited, Riccardo Milani's Welcome Mr President!, Susanne Bier's Love Is All You Need and Vinko Bresan's The Priest's Children.
"It is so important we also award films that have potential with the audience," says Döring. "Many European films are of course great, but sometimes they are very serious."
She acknowledges the knotty issue of a comedy award for a continent's worth of films whose humour may not travel far beyond their own borders. "What is funny in one territory may not be in another," Döring agrees. "The challenge is to identify those comedies that have the potential to travel."
Only I'm So Excited has made a big impact beyond its home territory of Spain, grossing $3.6m in France, $2.4m in Italy and $1.3m in the UK. Bier's Danish romantic comedy Love Is All You Need did respectable business in the UK ($1.3m), Germany ($900,000), Spain ($800,000) and Italy ($800,000) but failed to make a big impression in its near-neighbour Sweden ($400,000). Both The Priest's Children and Welcome Mr President! have been wildly popular in their native territories of Italy and Croatia respectively, but have not been released widely internationally.
Döring says it is too early to confirm whether the comedy category will expand permanently to four nominated films, rather than the planned three when the category was announced. The awards are always being fine-tuned and the Academy board makes all decisions jointly.
The nominations have been chosen from a shortlist of 46 films, representing 32 European countries. All films had to have had their first official screening either at a festival or a cinema after July 1, 2012. The 20 countries with the most European Film Academy members voted one national film directly into the selection list, with a committee of Academy board members and various experts choosing the rest. Since the nominations were announced on November 9, the 2,900 European Film Academy members have been voting for the winners in the European film, director, actor, actress and screenwriter categories.
Crafts excellence
In another first for the EFAs, a seven-member jury comprising professionals from across the European industry has deliberated over the awards recipients in the categories of European cinematographer, editor, production designer, costume designer, composer and sound designer. There are no nominations, only winners (see sidebar, right), who will receive their awards at the ceremony.
"What these people contribute is so important and we want to give them more attention," Döring explains. "We have done this by announcing the winners earlier, by having only a winner and by giving them a platform within the ceremony."
The jury — Finnish composer Tuomas Kantelinen, Italian film-maker Francesco Ranieri Martinotti, Czech festival programmer Karel Och, Spanish producer Simon de Santiago Areizaga, French editor Hervé Schneid, Swedish cinematographer Marek Septimus Wieser and director Jasmila Zbanic from Bosnia & Herzegovina — has selected all six advance winners.
"The idea was that a jury composed of representatives of the professions may have another view on the work that has been done," says Döring of the decision to introduce a specialist jury. "We felt what they decided might be more diverse."
Bringing Europe together
One recent innovation that is now a popular fixture is the nominees reception, which is held the night before the main awards ceremony. It is an intimate affair at which the nominees and the known award-winners have a chance to socialise.
"They really don't know each other as Europe is so big," Döring says. "They enjoy being together and this continues on into the ceremony."
She says it is one of her favourite parts of the awards weekend. "You have the feeling, 'Yes, European cinema really does exist. It's not just a concept, it's something that is really happening,'" she explains. "Even though we are all coming from such different cultures, there's so much that we share. There's a lot of emotion."
"The EFAs celebrate Europe," says Paul Webster, who believes the impressive box-office performance of Anna Karenina throughout mainland Europe, particularly in Russia and the CIS ($8.4m) and throughout eastern Europe, including Poland ($1.3m) and Ukraine ($1.3m), is reflected by the film's three nominations (actors Keira Knightley and Jude Law and writer Tom Stoppard) and one advance win (production designer Sarah Greenwood).
"The film didn't do as well as we'd hoped in the English-language territories but very, very well in Europe," he says of the Leo Tolstoy adaptation. "I like to think these awards reflect that."
EFA Awards for Achievement 2013
Pedro Almodovar: European achievement in world cinema award
The Spanish director is one of the world's most successful and cherished auteurs. His latest film, I'm So Excited, is nominated for both European comedy film and the People's Choice award.
Catherine Deneuve: lifetime achievement award
In a career that began nearly 60 years ago and is still going strong, the French actress has collaborated with the likes of Luis Bunuel (Belle De Jour), Roman Polanski (Repulsion) and Jacques Demy (The Umbrellas of Cherbourg) to create some of the finest films made by these legendary directors.
EFA Advance Crafts Winners 2013
Carlo Di Palma European cinematographer award
Asaf Sundry for Fill the Void
European composer
Ennio Morricone for The Best Offer
European editor
Cristiano Travaglioli for The Great Beauty
European sound designer
Matz Muller, Erik Mischijew for Paradise: Faith
European production designer
Sarah Greenwood for Anna Karenina
European costume designer
Paco Delgado for Blancanieves