Screen talks to Steve Hoban, Mark Smith, Axelle Carolyn and Neil Marshall about the recent resurgence of anthologies in horror.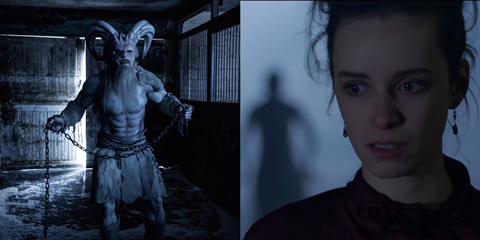 Approaching the anthology format in two different, but equally entertaining, ways, A Christmas Horror Story and Tales of Halloween both received their world premieres at this year's Fantasia International Film Festival.
"There is a certain renaissance going on with anthology films, and I think part of that is people are looking for something new. Even though it's an old thing, it hasn't been popular in quite some time," says A Christmas Horror Story producer Steve Hoban, who also directed along with Grant Harvey and Brett Sullivan.
"We've come to a point where people have Netflix and VoD where if they're not hooked within five or 10 minutes, they move onto something else," expands Tales of Halloween producer Axelle Carolyn, who also directed one of the segments. "It's fun for people to have something to snack on where if one segment is not their thing, the next one might be. Hopefully they'll like all of them but we know everybody will have a different favourite."
Tales of Halloween director Neil Marshall describes anthologies as "a staple of the genre", citing examples from Dead of Night (1945) through to recent efforts such as the V/H/S and The ABCs of Death films: "They carry on the tradition of telling tales around the campfire. Each person takes their turn, just in a cinematic form."
A Christmas Horror Story and Tales of Halloween share the idea of setting all parts of the films within one place and often with characters crossing over between segments, lending them a cohesion that often isn't associated with anthologies. Once in their settings though, the structural approach differs.
Though inspired by the likes of Creepshow and Tales from the Crypt, A Christmas Horror Story cuts between its five segments throughout. "In our minds to still be new and fresh, as opposed to doing what Creepshow did, was to take the Pulp Fiction approach and interweave the stories," explains Hoban. "Trying to line up the plots and the tones was quite tricky because some are a slow-burn while others are much more different pace-wise."
"In the edit, we messed around with the structure so much because it was less about the editing and more about the rhythm of the stories," adds A Christmas Horror Story producer Mark Smith. "Originally, we thought we'd revisit the stories in the same order so the audience would be oriented, but realised it would be more fun to focus on the rhythm and ultimately spend more time with some stories to make it more watchable."
For Tales of Halloween, the challenge was to ensure that though each segment takes place one after the other, the film felt like a "shared universe".
"You couldn't have someone make a film that takes place in the 18th Century because it wouldn't have that sense of unity," explains Carolyn. "We all worked on the film together and during production, it was scheduled like a feature. There was a certain amount of things that remained constant throughout, like sharing the same cameras and line producers."
"It was essential that not only was your own film great, but if there was anything you could do to make sure everybody else's films were great, it was all to serve the whole movie," recalls Marshall, whose segment 'Bad Seed' closes the film and also inspired some of the film's main crossover characters.
"Once I came up with the ending [to 'Bad Seed'], it seemed logical that it was going to be the last one, but I was also one of the first to shoot," outlines Marshall. "I'd introduced these two cop characters and as the other films progressed, we thought we could make them recurring characters. So a couple of the other stories incorporated them into their scripts, even though they play earlier in the film. It was evolving all the time."
Along with a ban on the use of found footage, the only other limit on Tales of Halloween's 11 directors was that each segment lasted a maximum of ten minutes. Time was also something on the mind of the producers of A Christmas Horror Story.
As a result, one of A Christmas Horror Story's original segments will now be a standalone film, explains Smith. "We took it out because it was too long and didn't quite fit tone-wise as there's no fantastical element to it, but it's a great standalone movie."
Hoban expands: "The whole point of the movie is to be fun and there's only so much of that kind of fun you can have. There aren't a lot of two-and-a-half hour long anthology films, and you want the leave the audience wanting more."
Given their positive reactions out of Fantasia, more is exactly what fans of A Christmas Horror Story and Tales of Halloween will likely have with everyone keen to return to their respective worlds dependant on the success of the first films.
"There was a Clive Barker story that was going to be in the first film, but we couldn't afford it so that's one of our main goals [for a sequel]," notes Hoban. "We'd bring back Krampus and other elements, along with original stories. Then we'd have a little more time than we did with the first film and weave those stories together even more."
Carolyn concludes: "It's early days because people are just starting to see it now, but a sequel would be awesome. Any anthology that brings us together again would be so much fun. With horror, you really want to set up a situation and scare the hell out of people. The anthology format allows you to build an entire film around those moments."
Domestically, A Christmas Horror Story will be out on Oct 2 through RLJ Entertainment, while Tales of Halloween will be released on Oct 16 through Epic Pictures. Before that, both films also screen at Film4 FrightFest at the end of August, and A Christmas Horror Story will receive a repeat screening at Fantasia on Aug 5.