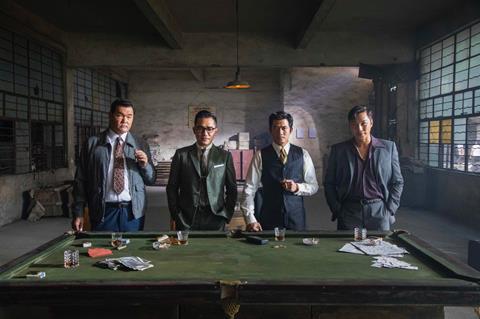 China has just come off a record-breaking Lunar New Year period (February 11-17), during which box office reached $1.2bn (RMB7.8bn), up 32.5% over the same holiday period in 2019. Wanda Pictures' Detective Chinatown 3 headed box office for most of the holiday, but Beijing Culture's time travel drama Hi, Mom later pulled ahead, propelled by strong word-of-mouth. As of March 10, Hi, Mom had grossed $792m (RMB5.16bn) and Detective Chinatown 3 was on $681m (RMB4.44bn).
While China's cinemas were open over Lunar New Year, albeit with some seating capacity and other Covid-19 pandemic restrictions, Hong Kong theatres only reopened on February 18 after closing in December 2020, due to a fourth wave of the virus, so missed the usually lucrative Christmas and Lunar New Year holiday periods. However, with the infection case load lowering and a vaccination programme being rolled out, the Hong Kong film industry is hoping it can return to some normality this year.
Production is back up and running in both Hong Kong and China, but the distribution pipeline is still feeling the impact of lengthy shutdowns last year. Most of the big-budget titles that are currently in production or post-production in China are being lined up for release either over summer or during the National Day holidays in October, with the emphasis on patriotic titles as this year marks the 100th anniversary of the founding of the Chinese Communist Party.
In Hong Kong, various government funding schemes are encouraging the production of independent dramas from new talent, such as Elisa's Day, which received its world premiere at Osaka Asian Film Festival (March 5-14).
Anima
Dir. Cao Jinling
Filmed on location in the Moerdaoga National Forest in Inner Mongolia, Cao's debut feature is set in the 1980s when China had just launched its programme of economic opening and development. The coming-of-age story follows a young man, who has grown up in the forest and struggles to fit into the new societal norms, as he sets out on a quest to protect the forest's few remaining centuries-old trees. Wang Chuanjun (Saturday Fiction) and Qi Xi (So Long, My Son) head the cast of the film, which received its world premiere at last year's Cairo International Film Festival. The crew includes Hou Hsiao-hsien collaborators Liao Ching-Sung (The Assassin), as executive producer and editor, cinematographer Mark Lee Ping-Bing and sound designer Tu Duu Chih. Contact: Gabrielle Rozing, Fortissimo Films
Are You Lonesome Tonight?
Dir. Wen Shipei
Currently in post-production, Wen's debut feature is an atmospheric thriller hinging on the mystery surrounding the death of a man who is knocked over in a traffic accident but whose body is then found riddled with bullets. The cast features Taiwanese stars Eddie Peng and Sylvia Chang. It is produced by Dirty Monkey Studios, the Beijing-based studio of Chinese blockbuster filmmaker and producer Ning Hao. ARP Sélection has taken French rights. Wild Bunch is handling all world rights apart from China, France, Hong Kong, Macau and Taiwan. Contact: Wild Bunch
Chinese Doctors
Dir. Andrew Lau
Lau is reteaming with two stars from his 2019 blockbuster The Captain — Zhang Hanyu and Yuan Quan — on this drama set during the early days of the Covid-19 pandemic in Wuhan. Despite suffering from amyotrophic lateral sclerosis (ALS), the president of a hospital forms a medical team to save patients and fight the virus with limited resources on the frontline. Jackson Yee, who won best newcomer at last year's Asian Film Awards for Better Days, will make a special appearance in the film, which is currently in production and aiming for a release in 2021. The Captain grossed $450m (rmb2.91bn) over China's National Day holidays in 2019. Contact: June Wu, Distribution Workshop
Coffin Homes
Dir. Fruit Chan
Currently in post-production, Chan's satirical horror anthology tells three stories about how Hong Kong's soaring property prices convince some people that it's not so bad living under the same roof with the dead. A real estate broker gets more than he bargained for when he sells a haunted apartment; four sisters have dubious motives in mind when they gather round their dying mother's sick bed; and a landlord's scheme to make more money is sabotaged when a deceased tenant refuses to leave the premises. Produced by Chan's Nicetop Independent, the film stars Wong You Nam (The Midnight After), Susan Shaw (Gallants), Cheung Tat Ming (i'm livin' it) and Tai Bo (Suk Suk). Contact: Esther Yeung, Edko Films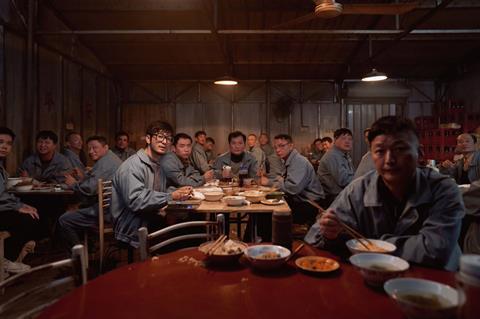 A Cover-up
Dir. Dong Yue
Huang Xiaoming stars in this crime drama about a successful lawyer who once pushed a man into a river during a violent altercation. Haunted by this act, he decides to track down the victim's family to make amends but then realises he too has been tracked down. Currently in post-production, the film is Dong's second feature following crime thriller The Looming Storm, which took $5m at the international box office and won multiple prizes including best new director at the Asian Film Awards in 2018. It is produced by Hong Kong's Emperor Motion Pictures, which handles sales for Asia. Wild Bunch Distribution has taken French rights. WBI has the sales mandate for the rest of the world. Contact: Miriam Cheung, Emperor Motion Pictures (Asia); Wild Bunch (rest of world)
Disconnect'd
Dir. Wong Hing Fan
This action drama, which is the second feature from Wong following I'm Livin' It, reunites him with actor Aaron Kwok and also stars Lam Ka Tung, Megan Lai and Simon Yam. Kwok plays a cyber security engineer who develops an AI programme that has the potential to disable the region's entire networks, but then has to prevent it falling into the wrong hands. Currently in post, the film is produced by Soi Cheang for Sil Metropole and Entertaining Power. Soi Cheang also produced I'm Livin' It, which premiered at Tokyo International Film Festival in 2019. Contact: Esther Yeung, Edko Films
Drifting
Dir. Jun Li
The second feature from Jun after Tracey (2018), this Hong Kong-set drama follows the struggles of a group of homeless people as they fight for their right not to be evicted from temporary DIY shelters. Produced by Mani Man and Flora Tang through the Hong Kong arm of Singapore's mm2 Entertainment, the film stars Francis Ng, Loletta Lee and Tse Kwan-ho and involves major Hong Kong talent such as cinematographer Leung Ming Kai (Suk Suk) and writer/director Heiward Mak (Fagara) who came on board as editor. The film recently received its world premiere in the Big Screen competition of International Film Festival Rotterdam. Contact: Ken To, mm2 Entertainment
Elisa's Day
Dir. Alan Fung
Ronald Cheng (Vulgaria), Hanna Chan (The Fallen) and Tony Wu (The Secret Diary Of A Mom To Be) star in this feature debut, which is financed through Create Hong Kong's First Feature Film Initiative (FFFI). Based on two real cases, it tells the story of a young girl who is arrested for drug possession by a policeman, who soon realises she is the daughter of a woman who murdered her boyfriend many years before. Produced by Wong Yat Ping (The Way We Dance), the film is being lined up for release in May following its world premiere at Osaka Asian Film Festival. Contact: Daisy Wong, Entertaining Power
Flashover (working title)
Dir. Oxide Pang
Currently in production for delivery in the second half of 2021, Pang's latest action drama follows a group of firefighters putting their lives on the line when a mild earthquake ignites an explosion in a chemical plant. The cast is headed by Du Jiang (The Captain), Wang Qianyuan (Saving Mr. Wu), Tong Li Ya (Heartfall Arises) and Han Xue (Cairo Declaration). Pang already has experience with fire-themed disaster movies, as he co-directed Out Of Inferno with Danny Pang in 2013. Contact: Mia Sin, Universe Films Distribution
G Storm
Dir. David Lam Tak Luk
The latest instalment in producer Raymond Wong's hugely successful anti-corruption franchise follows investigator William Luk to Thailand where he prevents a terrorist attack during a symposium held by Hong Kong's Independent Commission Against Corruption (ICAC). Whilst investigating a corruption case in the immigration department, he finds it has links with human trafficking in Thailand. Currently in post-production, the $14m action drama again stars series regulars Louis Koo and Kevin Cheng. Contact: Kat Yeung, Mandarin Motion Pictures
Limbo
Dir. Soi Cheang
This action drama, which received its world premiere in Berlinale Special, stars Lam Ka Tung as a veteran detective and Mason Lee as a rookie cop, who team up to catch a serial killer. Cya Liu plays a young woman who agrees to work on the case as penance for killing the detective's wife and child in an accident, but proves to be both unpredictable and insubordinate. The film is produced by Hong Kong-based Sun Entertainment Culture with China's Bona Film Group and Er Dong Culture. Soi Cheang's credits include Accident (2009), which premiered at Venice Film Festival; Motorway (2012), which screened at Locarno; and more recently The Monkey King series of films, which have been huge hits over the Lunar New Year holidays. Contact: Sun Entertainment Culture
Once Upon A Time In Hong Kong
Dir. Felix Chong
Tony Leung Chiu-wai and Andy Lau, who both starred in the Infernal Affairs franchise, are reunited in this crime thriller, written and directed by Chong, who co-wrote the Infernal Affairs films and has since directed thrillers such as the Overheard series and Project Gutenberg. Produced by Ronald Wong (Overheard series), the film is set in Hong Kong in the 1980s when a stock-market crash causes the sudden collapse of a multi-billion-dollar company. An anticorruption investigator uncovers a criminal conspiracy involving the company's founder, and becomes entangled in a long-running investigation. The cast also includes Charlene Choi (The Lady Improper), Simon Yam (Chasing The Dragon II: Wild Wild Bunch) and Chin Ka Lok (Golden Job). Contact: Miriam Cheung, Emperor Motion Pictures
Rising Shaolin: The Protector
Dir. Stanley Tong
This martial-arts comedy stars Wang Baoqiang (Detective Chinatown series) as a lowlife conman who changes his ways when he finds sanctuary with a monk from the long-lost Shaolin Temple and starts to train in kung fu. When his master is poisoned, he sets out to both avenge him and restore social justice in a city that has been corrupted by greed. Tong's recent action comedies include Vanguard and Kung Fu Yoga, both starring Jackie Chan. Ni Dahong (The Assassin) and Liu Haoran (Detective Chinatown 3) also star in the film, which is produced by Beijing Happy Pictures and was released in China on PVoD at the beginning of the Lunar New Year holiday on February 12. Contact: Rachel Wan, Golden Dragon Pictures
Septette: More Stories Of Hong Kong
Dirs. Nicole Hoi, Frank Hui, Lee Cheuk-pan, Jonathan Li, Derek Tsang, Wong Chun, Vicky Wong
Seven filmmakers are again looking back at the history of Hong Kong in this omnibus, following last year's Septet: The Story Of Hong Kong, which was selected for the Cannes 2020 label and is one of two films opening Hong Kong International Film Festival (HKIFF, April 1-12). But while the first instalment featured seven veteran filmmakers, this round comprises up-and-coming directors offering their unique perspectives. The filmmakers include Frank Hui and Vicky Wong, who both worked on Media Asia's Trivisa; Derek Tsang, whose Better Days features on the Oscars' international feature shortlist; Wong Chun, who won acclaim with his debut Mad World; along with Nicole Hoi (3 Generations 3 Days), Lee Cheuk Pan (G Affairs) and Jonathan Li (The Brink). Contact: Fred Tsui, Media Asia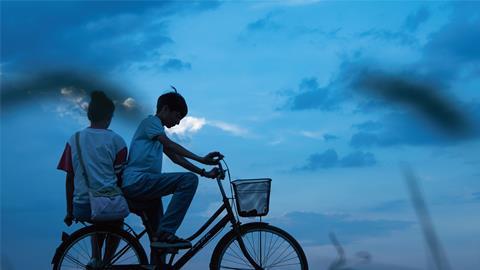 Summer Blur
Dir. Han Shuai
Han's feature debut won the Grand Prix for Best Film in the Generation Kplus competition at this year's Berlin film festival, and was also awarded the jury prize in the Feimu Awards of Pingyao International Film Festival and the Fipresci award at Busan last year. Backed by Factory Gate Films and Dadi Film and co-presented by iQiyi Pictures, the story follows a teenage girl (Tian Huang) who is traumatised by watching a potential admirer drown and is then pressured into dating another boy, who uses her guilt against her. Gong Beibi (Dying To Survive) heads the cast. Contact: Meng Xie, Rediance
Tales From The Occult
Dirs. Fruit Chan, Fung Chih Chiang, Wesley Hoi
Currently in post-production, this psychological thriller comprises three short films from three directors about the hidden horrors that lurk behind the urban landscape of Hong Kong. The cast includes Richie Jen (Breaking News), Cherry Ngan (The Way We Dance), Cecilia So (She Remembers, He Forgets) and Jerry Lamb (Young And Dangerous). Producers John Chong and Mathew Tang are already lining up a second instalment from three further directors. Contact: Fred Tsui, Media Asia
This Day Is Over
Dir. Qi Rui
Set to receive its world premiere in the Young Cinema Competition (Chinese-language) of Hong Kong International Film Festival, Qi's debut feature revolves around a young girl, living quietly in the mountains, who is disturbed by an insulting letter and decides to go look for her father who is working in Shenzhen. Qi used non-professional actors for the film, which is based on real-life events in the mountainous province of Anhui. After studying at Beijing Film Academy, Qi worked as a documentary filmmaker and cinematographer with credits including The Sunflowers (2004). This Day Is Over won the Work-in-Progress jury award at Pingyao International Film Festival in 2019. Contact: Pearl Chan, Good Move Media
Twin Blades
Dir. Eva Jin
Known for hit comedies such as Sophie's Revenge (2009) and One Night Surprise (2013), Jin is turning her hand to cross-cultural action comedy with this project starring Ma Li (Never Say Die) and US actress Beth Behrs (2 Broke Girls). The film follows the daughter of a tech company CEO (Behrs) who gets mixed up in an international conspiracy when she visits Shenzhen for a nightclub opening. Ma Li plays her accidental bodyguard who accompanies her to Hong Kong. Contact: Winnie Chan, Mei Ah Entertainment
Where The Wind Blows
Dir. Philip Yung
Aaron Kwok and Tony Leung Chiu-wai star in this $38m crime action drama, based on the true stories of two notoriously corrupt Hong Kong police officers who controlled Hong Kong Island and Kowloon/New Territories in the 1960s when the city was still under British colonial rule. Previously known as Theory Of Ambitions, the film will open the Hong Kong International Film Festival (HKIFF, April 1-12), along with Septet: The Story Of Hong Kong. Yung previously collaborated with Kwok on multiple award-winning drama Port Of Call (2015). Contact: Winnie Chan, Mei Ah Entertainment
Who Is Sleeping In Silver Grey
Dir. Liao Zihao
Currently in post-production, this drama revolves around a young music teacher living in a small town, who is forced to leave home when she loses her job after having an affair with a married man. She finds herself on an isolated island whose inhabitants cannot speak and where nothing is as it seems. Ma Yinyin (A Cool Fish), Ying Ze (Tracing Her Shadow) and Liu Lu (A Touch Of Sin) head the cast of the film, which is produced by Hainan Flying Sparks Film and Television Co. Liao studied filmmaking in the US and was selected, along with this project, by Berlinale Talents in Tokyo in 2020. Contact: Gabrielle Rozing, Fortissimo Films