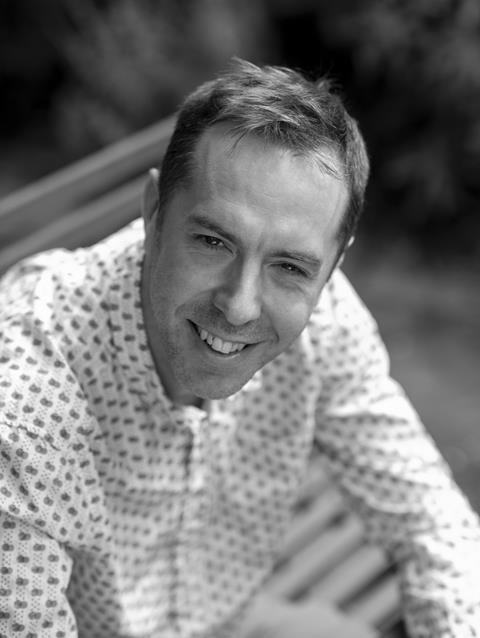 When UK filmmaker Chris Atkins was sentenced to five years in prison for defrauding HMRC in a film-finance tax scam in July 2016, he was immediately taken to London's Wandsworth prison, where he began his sentence. Later transferred to Ford open prison in West Sussex, he was released in December 2018, having served just shy of 30 months.
Since his release, he has seen the publication of A Bit Of A Stretch: The Diaries Of A Prisoner, recounting his surreal experiences during his nine months at Wandsworth, and which he wrote to highlight "the worst UK prison crisis in history". He continues to make an as-yet-untitled documentary feature about pop duo and art pranksters The KLF, which he had started before being sentenced. More than a year after release from prison, he is now ready to reflect on the crimes for which he was convicted.
Atkins' troubles with the law relate to the financing of documentary feature Starsuckers. Atkins had earned success with 2007 feature Taking Liberties, a polemical documentary about the erosion of civil liberties. The film was distributed in the UK by the now-defunct Revolver Entertainment, grossing £75,000; was shown on Channel 4; and netted Atkins a Bafta nomination in the debut British director, writer or producer category.
Starsuckers is a similarly polemical film, exposing corruption in the UK media. Atkins, whose credits also include producing and/or line producing three Richard Jobson narrative features, struggled to finance this new film, which was released in 2009 – generating a series of major splashes in The Guardian, but very little theatrical box office.
"We pitched it to everyone," says Atkins, reeling off a list of companies including Sony, Warner Bros, The Weinstein Company, BBC and Channel 4. The latter broadcaster did eventually acquire TV rights to the film, coming in right at the end as "a negative pickup", says Atkins.
"But this was before the phone hacking story had broken, and even the BBC were terrified of going after the tabloids. The UK Film Council ran a mile from it. I got money from the [UKFC's] New Cinema Fund for A Woman In Winter. I'd been running around that scene with Richard Jobson for years. I had their ear, but they didn't want to get involved with either Taking Liberties or Starsuckers."
Atkins had met financier Terence Potter while working on the 2005 film Bob The Butler, starring Tom Green. Atkins' company S2S Post had provided post-production services to the feature-length comedy. Now Potter (who admitted conspiracy to cheat the public revenue and was jailed for eight years in December 2015) had set up a new financial vehicle that would provide returns to investors by claiming tax rebates in respect of losses on film investments. The scheme took advantage of "sideways relief", which had been introduced by then-chancellor Gordon Brown in 1997 to boost the UK film industry.
"He had a scheme that, on the face of it, could have been legal," says Atkins. "I always come back to that. When I first looked at it, I thought, 'This is right at the edge of the grey area, but it looked probably OK.' Over the two years financing the film, the nature of what he was asking us to do changed over that time and got progressively more bent." Potter's scheme required inflated invoicing from Atkins and his producer partner. (Starsuckers producer Christina Slater was jailed for four years alongside Atkins for her role in the scheme.)
In his book, and talking to Screen, Atkins takes responsibility for his actions. "Look, we signed off on it," he explains, adding that the money that was fraudulently claimed from HMRC was spent on the film, not his own personal enrichment. He calculates that he earned £18,000 from Starsuckers over a three-year period. At this time, he was making a living from his company S2S, creating viral videos for brands including Nokia, and a filmed introduction tailored to American audiences for the 2008 Broadway transfer of Working Title stage show Billy Elliot: The Musical. After Starsuckers, and prior to his arrest in 2014, he made two programmes for Channel 4's Despatches and one for BBC's Panorama. For Channel 4, he also wrote and directed counter-factual drama UKIP: The First 100 Days, imagining a scenario in which the Euro-sceptic UK Independence Party is elected into government.
During his prison sentence, Atkins sold his home to repay just over £100,000 that was defrauded from HMRC, as well as prosecution costs of £109,000.
Prison experiences
Atkins accepts that some will question him now profiting from A Bit Of A Stretch, which Atlantic Books won, reportedly in a seven-way bidding war. Immediately prior to publication, it was serialised in both the Mail On Sunday and The Times, and it has been optioned as an eight-part drama series by Sony co-owned production company Eleventh Hour Films. Atkins is currently creating the series in a writers' room with four other screenwriters.
He does, however, draw a distinction between prison books that profitably glorify crimes, and his own work. "If it was about defrauding the HMRC and the japes we had…" he says, although conceding that not many would want to read that particular account.
"But I did go to Wandsworth prison. And I did sit in a room with an 18-year-old who hadn't eaten anything in three days except razor blades, and I did say to myself, 'This lad does not have a platform, and I will have a platform.' People might not listen to me and tell me to piss off, but at least I've got a means by which I can go and tell people that prisons are warehousing the mentally ill until they commit suicide."
The interaction Atkins describes is one example of his work as a "listener" in the prison. As he explains, "Prisons are so short-staffed, they quickly started asking me to do all these jobs. And you do them just to get out of your cell. They see white-collar people as low threat. They know we're probably not going to abuse the position to sell [illegal intoxicant] spice or run gang rackets or whatever."
The job that is the most difficult to do, but also the one that is rewarded with the best privileges, is the listener role: a prisoner who is available on demand at any time to counsel other prisoners suffering from mental health issues.
These experiences inform the storyline of the TV series Atkins is writing, alongside Richard Gadd, Declan Lawn, Danusia Samal and Pete Jackson. He has not included himself as a character in the series, but "My spirit will be in it." He explains: "My story and my circumstances were so unusual, it wasn't representative of anyone else who had been through the system. The essential idea is that it's around the role of the listener. As you read in the book, the listener is the counsellor to the 'uncounsellable'. Anyone can walk in that room, and you've got to listen to them, and you've got to help them." The series pivots around two main characters: "Two listeners from very different worlds, who are thrown together."
He adds: "We want to try and capture what other prison dramas never ever do: they don't capture the chaos, and the dysfunctionality and the surreal madness. The Catch 22, Kafka-esque side of it, and how darkly funny they are."
Atkins says that prison has changed him: both as a person, and as a creator. "I'm writing now. I wasn't writing before. I've got hard drives with about 15 started books, novels, scripts, none of which are finished, none of which I had the energy or the will or the self-confidence to complete. Stuff flows now in a way it didn't flow before."