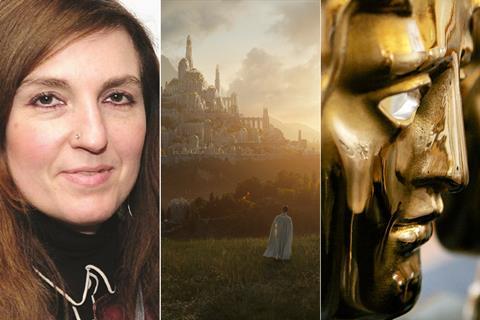 Interesting times for public film funds

Film4, BBC Film and the BFI head into 2022 with the competition for talent and projects fiercer than ever from the US streaming platforms. All eyes are on the BFI with a new Film Fund head in Mia Bays (on a three-year fixed-term contract, unusual for the BFI) and her vision for the Fund will become clearer following a nationwide "listening" tour at the end of last year. Bays is based partly in Nottingham and has promised a less "metrocentric" approach to funding. Her background at the audience-focused gender equality organisation Birds' Eye View and reputation as an industry disruptor suggest she may be open to a more commercial approach too.
The influence of BFI chair, the Vue founder Tim Richards, could become more apparent in 2022, one year into his role.
Meanwhile former BFI Film Fund exec Farhana Bhula takes over from Julia Oh as senior commissioning executive at Film4, joining a refreshed creative team under the eye of creative director Ollie Madden. But Film4 has the possibility of the privatisation of parent broadcaster Channel 4 hanging over its head even though new UK culture secretary Nadine Dorries said in November she hadn't "made [her] mind up" with "a number of issues to consider" and no one quite knows how any potential change could impact the film division.
The waters are comparatively calm at BBC Film, although Dorries has been a regular critic of the broadcaster. It will be hoping for awards success for Jane Campion's The Power Of The Dog, which it developed and backed, as proof of its eye for popular projects.
UK exhibitors face a nervy few months
2022 began promisingly for UK exhibitors, with cinemas open in all the UK's regions (albeit subject to various restrictions), and Spider-Man: No Way Home still pulling in huge crowds. Nonetheless, major challenges remain. With still surging Omicron cases, exhibitors are crossing their fingers that US studios don't shift major releases to later in the year (or next year), with Disney's Death On The Nile, Sony's Uncharted, Warner Bros' The Batman and Universal's Downton Abbey 2 all pencilled in for Q1.
The UK's cost of living rise, fuelled by rising inflation and energy bills, will also pose a challenge to the sector, with 2022 dubbed the "year of the squeeze" by one think tank. Speaking last year, UK Cinema Association (UKCA) CEO Phil Clapp said its research suggested this was already beginning to impact audience decisions on cinema-going.
Another story to watch is that of Cineworld. The UK chain was already under huge financial pressure last year thanks to an $8.3bn debt pile, before being ordered by a Canadian court in December to pay $957m in damages (more than the company's entire market capitalisation) after abandoning its takeover of rival Cineplex. Its shares plunged following the ruling, but have been showing signs of recovery in the new year.
A bright spot for UK exhibitors has been the Culture Recovery Fund, which paid out £33.7m to venues since it launched in May. According to the UKCA, only a handful of venues have gone out of business directly because of Covid thanks to the fund. Cinemas in England can also access an extra £1bn in emergency funding made available to the hospitality sector in December, with the Culture Recovery Fund also topped up by £30m.
Indie producers are increasingly fearful for survival

Powered by the US streamers and studios, the £5bn UK production boom shows no sign of tailing off anytime soon. While this is undeniably great news for jobs and inward investment, independent producers are worried the UK is on track to become simply a service industry for the US giants. The US dominance of crews, equipment, on-screen talent and studio space makes it financially and creatively difficult for the indies to produce films through a UK lens and has compelled some to shift focus to TV. For indies wanting to make more mainstream and commercial features, it can be difficult to find funding within the BFI, Film4 and BBC Film structures.
As Amazon's juggernaut Lord Of The Rings series gears up to move from New Zealand to the UK in the spring, these challenges will only intensify. More training and upskilling programmes will certainly help to plug the crew gap, but it will take time for these benefits to be felt. Increasing the level of tax credit for independent UK films could offer a more immediate remedy – and the call for this to happen is growing louder.
The Global Screen Fund is working to change the UK ecosystem
The £7m BFI-administered UK Global Screen Fund (UKGSF) heads into its first full calendar year, having launched for 12 months in April 2021, then renewed in November for an expected three further years. In replacing the Creative Europe Media funding lost after Brexit, the UKGSF is aiming to halt the slide in the number of UK-international co-productions. The UKGSF has no cultural requirements, and is international rather than European-oriented. It is headed up by former All3Media and Endemol Shine exec Denitsa Yordanova, whose corporate TV background points to an audience-friendly outlook. The UK can also be a minority co-production partner in projects supported by the Fund; whether these factors increase the commercial viability of part-UK projects, or diminish the country's standing as an originator of quality independent content (or both) remains to be seen.
A new team set to lead at Bafta
The search will soon be on for a new chief executive of Bafta as Amanda Berry announced her plans to step down in autumn 2023 after 25 years. It will mark a changing of the guard at Bafta with the departure later this year of long-time COO Kevin Price from the small, tight-knit management team. In the last two years, Berry has overseen the commendably far-reaching diversity review of Bafta's membership and voting practices that was spearheaded by Bafta chair Krishnendu Majumdar. (The board will lead the search for Berry's successor.) One immediate impact was a refreshingly different nominee list at the 2021 film awards that went a long way to banish memories of the #baftasowhite controversy of the year before. The industry is watching to see what the slightly tweaked-again voting process produces later this month.