Ambitious plans to establish a major media hub in Saudi Arabia and host a growing number of films and series were outlined by Neom media exec Wayne Borg at the market.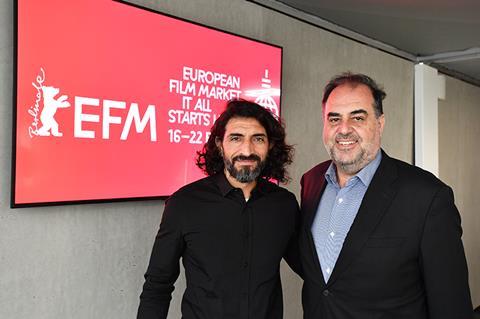 The future of production at Neom, a $500bn megacity being built in northwest Saudi Arabia, was revealed to EFM delegates at a market event on Friday.
The burgeoning media hub will add to its growing number of soundstages, host fresh productions from the region and is in negotiation to accommodate a couple of major international features this year. This was according to Wayne Borg, managing director for media industries, entertainment and culture, who took part in an in-conversation event with Screen International at the EFM's conference lounge.
"We'll have 10 soundstages by the end of 2023, including a volumetric stage," said Borg, adding that its "end-state" media hub will have a footprint of around 1 million square metres.
"We've hosted nearly 30 productions in the last 18 months, ranging from multimedia shoots for Vogue right through to Desert Warrior, a $150m feature film that is the region's largest ever film and on which we had 450 to 500 cast and crew on set every day for nearly six months," said Borg.
Desert Warrior, directed by Rupert Wyatt (Rise Of The Planet Of The Apes) and led by Marvel star Anthony Mackie, is produced by Stuart Ford's AGC Studios and Jeremy Bolt at JB Pictures in partnership with MBC Studios.
"Visual effects have been completed and it's in post right now," said Borg of the upcoming film. "It's due to hit one of the big festivals and markets later this year, so is coming close to its premiere."
Borg explained to the assembled EFM attendees that Neom would be a new jurisdiction within the Kingdom of Saudi Arabia (KSA) and will cover 26,500 square kilometres — about the size of Belgium — with its own laws and regulations. It is located along the coast of the Red Sea in Tabuk Province.
The megacity will host a massive media hub that aims to be a key economic contributor to the region.
"We'll initially have 50 soundstages and studios, tenancy space for industry, gaming studios, industry learning space — we will bring all of that together," said Borg. "We'll create the region's true epicentre for content creation by [being] that focal point and, in doing so, it will allow us to become one of the elite global media hubs."
The executive also outlined Neom's cash rebate of at least 40%, which applies to feature films, TV drama, reality series and documentaries as well as commercials, with producers able to secure a higher percentage based on their "industry development contributions".
These contributions include elements such as the hiring of local production crew and investment in infrastructure, such as set building that can be reused on future projects. A minimum expenditure of $500,000 in Neom must be met to qualify for the rebate.
Addressing questions he receives from producers, Borg said: "There was initially a scepticism that we could deliver productions. But we've now demonstrated that we have the capacity and capability to support a range of productions, from small features to major blockbusters.
"They ask about facilities and I say we've got dedicated cast and crew accommodation today of about 350 units, in addition to the hotels in the area. That's going to continue to grow and we'll have about 500 units by the end of this year. The other big question is access. We've got our own international airport with direct flights to London Heathrow weekly and direct flights to Dubai."
Asked by a delegate if "any subject matter is off the table" when looking to produce in Neom, Borg said: "I'm agnostic in terms of content. What I want is a pipeline of content. The nature of productions we've had, from futuristic and historical to documentaries, is all part of the reform programme of what's happening [in KSA], and part of creating an industry base here and an industry that's operating at a global international level."