The Welsh film-maker talks to Ian Sandwell about the action sequel and teases The Raid 3.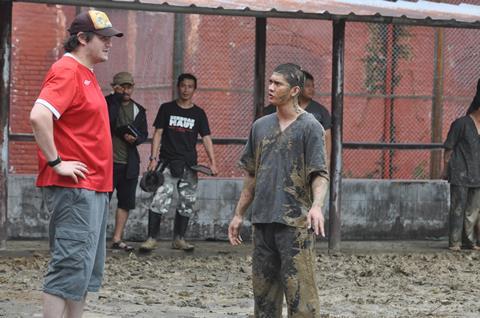 Despite kicking off just two hours after Rama (Iko Uwais) stepped out of the world's deadliest apartment block, The Raid 2 might not have starred Rama at all.
The script was in development before The Raid was even an idea for Gareth Evans, but finance proved difficult so Evans went for something smaller and set in one location in the form of 2012's action hit. Some script adjustments later and The Raid 2 was born, but does Evans think he could have made the film without the experience of The Raid?
"I know that now after shooting it [The Raid 2], I was nowhere near ready for that one. The experience of doing The Raid 2 was so heavy and intense, I don't know if I'd have been able to do that before The Raid. That was intense as well, but it was a much smaller scale."
Favourite shot
Not content with a lengthy production schedule, the shoot also had obstacles for Evans and DoP Matt Flannery to overcome involving the film's numerous set pieces.
One included passing a camera through a moving car, while Evans' favourite shot comes fairly early on as a character goes through a window with the camera going upside-down.
"It's a cool shot, but unless you're there on set, no one has any idea how hard that shot was to do. For Matt to do that, we had two DoPs operating the camera at the same time on a fig rig with the steering wheel. One guy holding each side and they had to tip it together, spin it round, then the other DoP [Dimas Imam Subhono] had to run past Matt so we could turn it round to face Rama."
Baseball Bat Man and Hammer Girl
Perhaps surprisingly, Evans hasn't been put off an epic-scale film though – "there's something deeply satisfying about it" – and the expanding world allowed him to introduce some colourful characters, namely Hammer Girl (Julie Estelle) and Baseball Bat Man (Very Tri Yulisman).
While it's a comparison Evans immediately regrets saying, an analogy that The Raid 2 is like Top Trumps is oddly appropriate when it comes to the wider cast. "You present your characters in a really cool way and showcase their abilities. Then it's like 'OK, now wait until Rama fights them' and you know it's going to happen, it's inevitable. So we wanted to play on that anticipation a bit."
Sadly though, don't expect to see further adventures of Hammer Girl (HG) and Baseball Bat Man (BBM) any time soon. "In theory, I understand why people want it but for me, in the practice of it, too much of them would be too much," outlines Evans, who goes on to describe the back story of the two characters hinted at in the film:
"When they were kids, they were abused by their father. Every night he'd sit them down on a table, spin a coin and if it landed heads, he'd beat up BBM, tails, HG. So one night, it lands on tails and just as he's about to beat up HG, BBM reaches across and flips it. That enrages him and he goes harder and nastier than he ever has been. They snap and take it out on him, killing him. News spreads throughout the village but before police arrive, they get recruited by a young Bejo (Alex Abbad)."
Director's cut?
Even before the release of The Raid 2, Evans released a deleted scene (the blood-soaked Gang War) from the film, but there won't be a director's cut any time soon despite other scenes cut including a four-minute steadicam shot going into more detail of Rama's undercover character.
It's here that Evans speaks positively of producer and sales agent XYZ Films. XYZ founding partner Aram Tertzakian spent the last month of editing with Evans, helping the film-maker decided what to cut: "I had a three hour movie back then and he helped me bring it down. The XYZ guys are really cool as it's not like one vision going down, it's me discussing with them and they've had a big part to play."
The Raid 3
The Raid 3 will exist, set to kick off just before the end of The Raid 2, but Evans is currently developing other projects, including gangster action film Blister. He is also planning on another martial arts film with Uwais, potentially shooting that and The Raid 3 back-to-back in Indonesia.
"The idea is that if I do these projects outside Indonesia, I'm going to learn a lot and I can bring that back to the Indonesian film industry. Indonesia gave me everything, if I hadn't gone off to do that documentary [The Mystic Arts of Indonesia: Pencak Silat], I wouldn't be here today."
And while Evans might not have a ready-made script for The Raid 3, he knows its concept already.
"I've got an idea and I already know what the storyline is, and it's such a departure from the previous two," teases Evans. "I already see it being smaller in terms of duration, but the scope and the scale is still big only on a different level, a bit more controlled. It'll be fun to do."
The Raid 2 is released in UK cinemas through eOne on April 11.