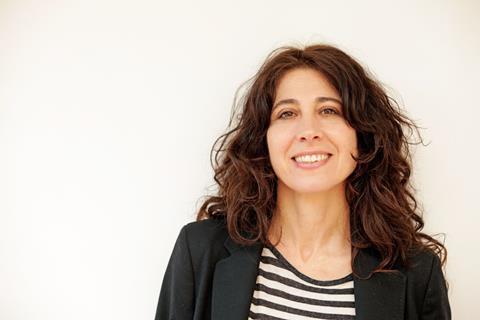 Giornate degli Autori's (GdA) new artistic director Gaia Furrer makes Venice Film Festival history this year.
She's the first woman to take the artistic reins of any of its official or parallel sections across its 70 years of existence.
Furrer admits to having mixed feelings about this achievement, telling Screen: "It's an enormous honour but alongside a sense of pride, I also feel a certain displeasure. In all honesty, I'd prefer to be the 10th, 15th, 30th female artistic director at Venice not the first."
Modelled on Cannes Directors' Fortnight and supported by Italian director bodies Anac and 100autori, GdA focuses on emerging filmmakers as well as established directors trying something different from their past filmography. Its burgeoning programme also spans literature, live events and debate on the future of cinema.
Furrer has collaborated with the section since the first edition in 2004, rising through its ranks to run the programming office and then becoming head of programming. She explains that it was GdA's founder and long-time artistic director Giorgio Gosetti who suggested she moved up into his role.
"He came to me last year and said he wanted to grow someone who had been working hard within the organisation. It was an unusual move for Italy where there's a tendency to make such appointments from outside," she said.
Gosetti remains very much involved in the section as its general director. He says his reason for stepping down as artistic director was two-fold. "Over the years, the section has grown and needs more attention on the organisational front. Secondly. I felt it was time for a new point of view, a fresh eye," he explained.
Furrer likens the new set-up to that of Berlinale's co-heads, executive director Mariette Rissenbeek and artistic director Carlo Chatrian, saying: "I'm Carlo while Giorgio oversees the overall running of the Giornate as well as its partnerships and relationships with the institutions."
She has already put her stamp on the selection process. One of her first moves was to renew the pool of territory consultants as well as the five-person selection committee. On the latter, she is joined by Mazzino Montinari, Renata Santoro, Cédric Succivalli and Andrei Tănăsescu while the new consultants comprise Ela Bittencourt, Teresa Cavina, Hossein Eidizadeh, Gabor Greiner, Raffaele Meale and Antonio Pezzuto.
Furrer emphasises that her promotion to artistic director will not necessarily make GdA's selection more female-focused because the section already paid close attention to women filmmakers under the artistic direction of Gosetti.
"We were looking after female filmmakers long before #MeToo," she said.
She gives the example of the decade-long collaboration with Italian fashion brand Miu Miu on its Women's Tales short film series, under which two short works are commissioned each year and then shown at the Giornate. Past participants have included Ava DuVernay, Naomi Kawase, Haifaa Al-Mansour and Alice Rohrwacher.
This year's shorts comprise Nightwalk by Polish director Malgorzata Szumowska, whose feature Never Gonna Snow Again plays in Competition in Venice, and In My Room by French-Senegalese director Mati Diop, who made waves last year with her Cannes grand jury prize winner Atlantics. The initiative also involves a series of conversations around the topic of female creativity, which kick off today (September 7) with a conversation between Szumowska and Diop.
Furrer acknowledges that pulling together her first selection against the backdrop of the Covid-19 pandemic has been challenging.
"A number of films we were expecting to be ready got stuck in post-production. We also decided not to select films which had the Cannes label. That took a number of films out of the picture," she said. "Another side effect was that lots of big sales companies decided not to send films and to wait for 2021. The upside to this was that it left space for more independent companies."
The selection team paid special attention to East European cinema, she reveals, in response to the cancellation of the Karlovy Vary International Film Festival in early July.
"It's an important festival for Eastern European cinema so when the festival cancelled, many films from the region found themselves without a festival home," she said. "It was a small act of solidarity if you like."
As a result, this year's line-up features GdA's first ever Hungarian selection, Lili Hovát's Preparations To Be Together For An Unknown Period Of Time, Serbian drama Oasis, Russia's Siberia-set The Whaler Boy and Moscow-set political drama Conference. "Four out of the 10 films in the main selection are from the region this year, which is quite high," noted Furrer.
There is still a wide geographical spread with the other titles in the main feature selection comprising Mama (China), 200 Meters (Palestine), Spaccapietre (Italy), Honey Cigar (France), Residue (US) and Tender Matador (Chile).
All the features are in running for the Giornate degli Autori Award which will be decided by 27 young film enthusiasts, presided over by Israeli filmmaker Nadav Lapid under the European 27 Times CInema project. The first films in the GdA line-up are also eligible for the $100,000 Luigi De Laurentiis Lion of the Future prize which is open to all films in the official and parallel selections.
None of the features reflect the recent human drama of the pandemic as they were conceived long before it hit but a handful of shorts in this year's GdA programme tap into the events of recent months.
Diop's short film In My Room was shot entirely in the filmmaker's home during the lockdown while Furrer also highlights Elisa Fuksas's iSola, which plays in the section's Venetian Nights line-up aimed at edgier, more experimental works.
"She discovered at the beginning of the lockdown that she had a tumour. It is an intimate, self-ironic and sincere diary of a women facing illness during the pandemic," Furrer explained. "It's a singular female voice in this tragic period."