Taiwan has reported no domestically transmitted Covid-19 cases since mid-April, and box office has continued to fly thanks to a string of local hits.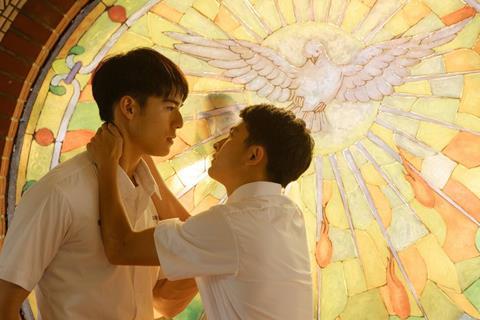 This year has been challenging in so many ways due to Covid-19, but it has also inadvertently laid a path for local Taiwanese productions to post strong box-office performances.
While much of North America and Europe were mired in lockdown, Taiwan exited the pandemic early with no new domestically transmitted cases reported since mid-April and mass gathering restrictions lifted in early June. Cinemas, which had remained open all along but with reduced admission limits, were then able to restore their full seating capacity, maximising the box-office potential for releases.
With the Hollywood studios postponing nearly all of their 2020 release schedule, or sending titles straight to streaming platforms, a global void has been left for cinemas but one that in Taiwan was filled by local titles. Since July, more than 20 Taiwanese features have come out, many of them becoming hits and heralding a local cinema renaissance across a variety of genres.
Success stories
LGBTQ drama Your Name Engraved Herein has become the highest-grossing local film of 2020 to date, taking $3m (nt$87m) as of November 1, followed by college romance Do You Love Me As I Love You with $2.8m (nt$78.98m) and horror film Rope Curse 2 with $2.5m (nt$71.95m). The trio, combined with sports romance A Choo, OCD comedy I Weirdo, quirky comedy My Missing Valentine, coming-of-age film Leaving Virginia, sexual assault drama The Silent Forest and gay-themed family drama Dear Tenantcontributed around $15m to the local box office.
"Without Hollywood crowding the screens, local titles are given the rare chance to have a good run to get the word of mouth out and play longer in the cinemas," says Angelin Ong, North Asia general manager of Singapore-headquartered mm2 Asia, speaking on behalf of mm2 Entertainment Taiwan. "Distributors and cinemas would co-ordinate among themselves to ensure only one big local film would open each week, so they wouldn't run into each other head-on."
mm2 Entertainment Taiwan is co-producer of five of the above-mentioned local titles, including the three highest-grossers. Ong adds that local audiences were happy to return to the cinemas, partly because they cannot currently travel abroad and film offers a diversion. Cinema attendance also benefited from 2 million vouchers worth $22 (nt$600) each that were given away in the summer by Taiwan's Ministry of Culture to stimulate local consumption, post-pandemic. The vouchers could be used to purchase cinema tickets.
Your Name Engraved Herein, Do You Love Me As I Love You and I Weirdo were all picked up and released locally by Sony Pictures' theatrical distribution arm in Taipei, which opened in April 2019. "We believe in the potential of Taiwanese films for their stunning creativity and diversity. The box-office success of these three films has proven our distribution vision and strategy to be quite precise," says Sony Pictures Releasing Taiwan managing director Ken Yu, adding that their distribution strategy for the titles was planned and locked last year prior to Covid-19.
Sony oversees the theatrical distribution and cinema bookings while also consulting on the marketing campaigns, which are driven mainly by the films' producers — in this case Oxygen Film for Your Name Engraved Herein, Sky Films for Do You Love Me As I Love You and Activator Marketing for I Weirdo. Sony and the producers set up more than 450 post-screening Q&As for the three titles across cities in Taiwan, something currently unthinkable in many countries worldwide due to social distancing and travel restrictions.
The number of local hits has taken many industry executives by surprise. In recent years, only one or two local films tended to break out annually. In 2019, game-to-film horror title Detention became a mega hit with $9.1m (nt$259m), but that year's second-biggest local film, The 9th Precinct, made only $1.9m (nt$56.8m).
"Even with the lack of big titles, local films might not be able to deliver such outstanding box-office results if they were not good," notes veteran festival and sales agent Chang Sanling. "What a pure coincidence to have a strong local line-up this year. The films are diverse, accessible and watchable. It's rare to have so many successful local titles around. The feeling is amazing."
Two local films unexpectedly hit a chord during the pandemic, while causing a stir outside Taiwan. I Weirdo (which Chang represents) was shot on an iPhone and tells the story of a couple with OCD who wash their hands and wear masks all the time; it won five prizes including the Netpac award at South Korea's Bucheon Fantastic Film Festival, and audience awards at Udine's Far East Film Festival and Montreal's Fantasia Film Festival.
Get The Hell Out (Greener Grass) is a horror comedy about an infectious zombie plague, and has been invited to more than 20 film festivals in Europe and the US after premiering in Toronto's Midnight Madness in September.
The next wave of local releases is heading to the cinemas in November and December, and includes Little Big Women, Classmates Minus and ALeg, all of which are multiple nominees of the Golden Horse Awards, which will take place as a physical ceremony on November 21.