Family and relationship dramas are pulling focus for the Taiwanese filmmakers with new projects available at the online AFM.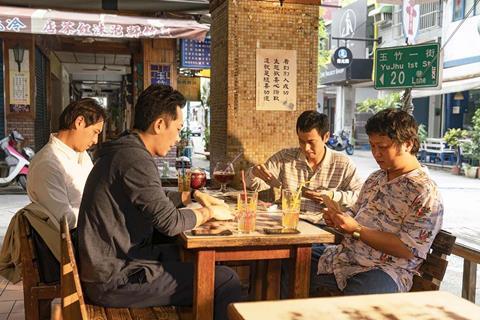 Taiwan has been relatively unaffected by Covid-19, with cinemas open and production continuing throughout the year. At time of writing, the territory had only 531 cases of infection and seven deaths. As a result, a crop of local films have had more room to breathe during their domestic release without competing with the usual Hollywood fare. Hits included Liu Kuang-Hui's gay-themed drama Your Name Engraved Herein, which had grossed more than $3m by November 1 to become the highest-grossing LGBT-themed local film ever in Taiwan.
On the international front, the industry is receiving a boost from the Taiwan Creative Content Agency (TAICCA), which has been participating in markets throughout the year to promote Taiwanese content and will be hosting a pavilion at AFM Online. The upcoming Golden Horse Awards (November 21) and film festival will also provide a platform to showcase the current strength of local production.
A Leg
Dir. Chang Yao-Sheng
Chang's directing debut is produced by Taiwanese filmmaker Chung Mong-Hong, with whom he co-wrote last year's award-winning drama A Sun. The film stars Gwei Lun-Mei and Yo Yang as a husband and wife who meet while ballroom dancing. When the husband dies following a leg amputation, his wife has to fight hospital bureaucracy to keep his body intact. The film has been selected as one of two titles to open this year's Golden Horse Film Festival.
Contact: Sharleen Liu, Mirror Fiction
The Bridge Curse: Ritual
Dir. Lester Shih
The sequel to hit Taiwanese horror The Bridge Curse, which was released locally in February, reteams Shih with JC Lin and Summer Meng who starred in the first film. The story again revolves around a group of students at Taiwan's most haunted university, testing out various legendary curses in the hope of going viral. Currently in pre-production for an early 2021 shoot, the film is produced by Taiwan's Lots Home Entertainment, Double Edge Entertainment and Pegasus Entertainment.
Contact: Nelson Mok, Endeavor Content
Classmates Minus
Dir. Huang Hsin-Yao
Huang's highly anticipated follow-up to his successful narrative debut The Great Buddha+ (2017) is a Taiwan-set drama about four old friends in their forties who ponder their aspirations, life and fate through a series of trivial events. Set to premiere as one of two opening films at this year's Golden Horse Film Festival, Classmates Minus is produced by Chung Mong-Hong and Yeh Jufeng and stars Cheng Jen-Shuo, Liu Kuan-Ting, Nadow Lin and Shih Ming-Shuai. An award-winning documentary filmmaker, Huang is known for his satirical tone and humorous portrayals of the absurdities in life.
Contact: Joy Chai, Applause Entertainment
Dear Tenant
Dir. Cheng Yu-Chieh
Cheng's fourth film explores the concept of family after Taiwan became the first Asian territory to legalise same-sex marriage in 2019. Nominated for six prizes at the Golden Horse Awards, it follows a young man who takes care of the mother and son of his deceased boyfriend and the legal challenges he faces when the mother dies. Cheng's credits include Do Over (2006), selected for Critics' Week in Venice; Yang Yang (2009), which screened in Panorama at the Berlinale; and Panay (2014), which opened Singapore International Film Festival.
Contact: Sanling Chang, Filmosa
Little Big Women
Dir. Joseph Hsu
Starring and executive produced by Vivian Hsu (The Devil Fish), this Taiwanese family drama revolves around a matriarch and her relationship with her three daughters during a time when she is planning a funeral for her long-lost husband. Veteran actress Chen Shu Fang (Taipei Story) plays the matriarch, while the cast also includes Hsieh Ying-Xuan, Sun Ke-Fang and Ding Ning. Hsu is making his feature debut after directing several award-winning short films. Released in Taiwan on November 6, Little Big Women is produced by Jacqueline W Liu and Tiffany Chen, while Liao Ching-Song also executive produced and acted as editor.
Contact: June Wu, Distribution Workshop
My Missing Valentine
Dir. Chen Yu-Hsun
Taiwanese filmmaker Chen's latest comedy follows a female post-office clerk who decides to skip Valentine's Day celebrations and sets off on a journey to find true love. Released theatrically in Taiwan in September, the film is produced by Yeh Jufeng and Lee Lieh and stars Patty Lee and Liu Kuan-Ting (A Sun). Chen's credits include Zone Pro Site: The Moveable Feast, which was a huge hit in Taiwan in 2013, and The Village Of No Return (2017), which scored a theatrical release in China.
Contact: Desmond Yang, MandarinVision