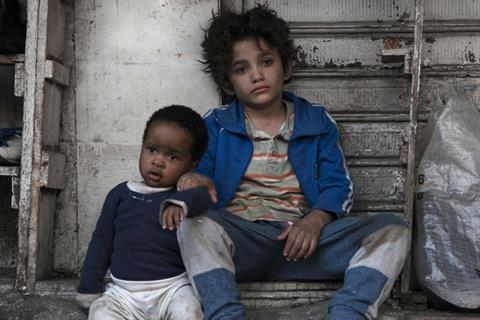 Influential Chinese social media platforms Douban and Tik Tok contributed to the huge box office success of Nadine Labaki's Capernaum in China, according to distributor Cai Gongming of Road Pictures. But he adds that equally important was the style and subject matter of the film.
"The film is touching and has a straightforward story about the plight of two young children," says Cai, who acquired the film from Wild Bunch. "That's why it was able to overcome cultural and language barriers and drew a strong emotional response from the Chinese audience."
The Lebanese drama, which won the Jury Prize at last year's Cannes, crossed the RMB300m ($44m) mark at the Chinese box office on May 15 just 16 days after its April 29 release.
After building word-of-mouth on social networking site Douban, which draws an upscale cine-literate audience, Road Pictures used short form media platform Tik Tok (aka Douyin) to widen the audience for the film.
By creating short videos of people, including grown men, crying while watching the film, Road Pictures was able to reach the much larger audiences in third and fourth tier cities. Within two days, the videos had been viewed 14 million times.
"The Chinese audience is becoming much more sophisticated and open to stories from other cultures," says Cai, who also acquired Hirokazu Kore-eda's Shoplifters and Paweł Pawlikowski's Cold War from Cannes last year. Kore-eda's Palme d'Or winner was released in China last August and grossed $14.5m (RMB100m).
Road Pictures only had official confirmation of Capernaum's release date two weeks in advance, but fortunately Labaki was in China at the time promoting the film at the Beijing International Film Festival. It also played at last year's Shanghai International Film Festival, along with Shoplifters. Opening just five days after Avengers: Endgame, it has become one of China's most successful cases of counter-programming.
"The Cannes jury prize and Chinese festivals also helped us," says Cai. "This gets the attention of the Douban audience, who are incredibly knowledgeable and helped raise interest in the film."
Cai adds that ten minutes was cut from the film to speed up the pacing for the Chinese audience, while censors asked for a cut of a breast-feeding scene.
Set in Beirut, the film follows a 12-year-old boy who runs away from his family and moves in with an Ethiopian migrant worker and her infant son. The boy is played by Syrian refugee Zain Al Rafeea, who grew up in the slums of Beirut, but resettled in Norway after making the film.
Chinese audiences were moved by Al Rafeea's real-life story and the local release included a 'bonus credit' of TV footage documenting his new life in Scandinavia. "Chinese audiences like to leave the cinema feeling some hope, otherwise the film might have been too sad, too heavy," Cai explains.
Although the Chinese box office has made Capernaum the highest-grossing Arabic-language film of all time, Cai cautions that it's an exception that won't be easy to repeat.
"Everything came together for this film – the lead time, the marketing and the content itself. We had one whole day to build word-of-mouth before the May Day national holidays. You can't always plan this way in China. Usually things just happen and you have to know how to react."
He adds that not all arthouse films can be marketed to third and fourth tier cities, which are currently the main drivers behind big box office numbers in China. "We can't expect every movie to perform like Capernaum. We need to build China's arthouse market in a professional way over the long-term, step by step."
In addition to being one of the most sought after Chinese buyers on the Croisette, Cai is also attending Cannes as a delegate of Bridging The Dragon's Sino-International Company Meetings, which takes place in the Palais on Sunday, May 19.