On the eve of Hong Kong Filmart (which is taking place online from August 26-29 after postponing its physical event in March), the film industry has been looking to the Asian success story of Peninsula, Yeon Sang-ho's follow-up to 2016 hit Train To Busan.
Selected in June for the Cannes 2020 label, the South Korean zombie thriller emerged as the first standout box office release since the Covid-19 pandemic closed cinemas in countries around the world earlier this year.
Budgeted at $16m (KW19bn), Peninsula opened on July 15 in South Korea, Taiwan and Singapore, with countries around Asia and Europe (including Nordic markets and the Netherlands) following closely behind, and within that four-week-plus timespan it has already clocked up more than $48m in worldwide box office, according to Contents Panda. The Seoul-based sales company has been coordinating for months with overseas partners and the film's domestic investor-distributor NEW to give this fledgling franchise a resounding lift-off.
While it might have difficulty matching Train To Busan's pre-pandemic global box office of $140m, Peninsula is already a distribution achievement, its trajectory fuelled in no small part by its predecessor's profitable journey from buzzy sales title at Filmart 2016 to bombshell world premiere as a Cannes midnight screening two months later.
Lim Teck, managing director at Clover Films, which bought both films for Singapore, Malaysia, Vietnam and Indonesia, says: "I saw the promo in Filmart 2016 and was the first buyer of Train To Busan. I told [Contents Panda], 'You must sell the next movie to me first because I'm your good-luck charm.'
"I remember in Cannes, I met with a group of buyers and talked about Train To Busan but they said, 'Oh, Korean movies are not really in now'," continues Lim. "That was the day before the screening. After the screening, the whole world went crazy and Danny [Lee, head of international business at Contents Panda] was closing deals in Cannes at 3am."
Working together
Contents Panda went on to sell Yeon's zombie thriller to 160 territories, and had already pre-sold Peninsula to 150 countries in the run-up to May 2020, when the Cannes Film Festival was originally scheduled to take place.
NEW and Contents Panda had Train To Busan in mind as they mapped out an optimal release strategy for Peninsula. It would start, the partners hoped, with another buzzy world premiere in Cannes' midnight section followed by a summer blockbuster release in Korea. This time, though, they also wanted a more coordinated plan for other territories, with release dates either simultaneous or fairly close to that in Korea.
"Before, there was a sense in the industry of, 'How well can a Korean film do overseas anyway?'. Train To Busan was the first film to break through that," says Danny Lee. "Our top executives saw what kind of overages came from Train To Busan becoming a hit. So this time, we were able to prepare further ahead of time, working with the domestic teams and coordinating overseas [campaigns] and release dates not just for the film but trailers, posters and other marketing materials."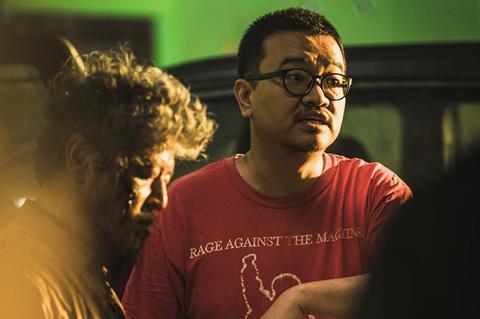 But then came the pandemic, threatening to disrupt those best laid plans. Cannes was forced to cancel its physical edition – although Peninsula ended up selected for the Cannes 2020 label – and several countries went into full or partial lockdown.
Even cinemas in countries such as South Korea that had relative success containing the spread of Covid-19 implemented strict distancing measures with low-seating ratios. Audiences, as well, just naturally chose to stay home.
But as studios kept pushing back tentpole releases like Tenet and Mulan, NEW and Contents Panda decided to plough ahead, relying on the trusted distribution partners they'd found success with in 2016.
"Because about 80% of our partners were distributors that had also handled Train To Busan, we worked together well and had definite trust," says Lee. "We were already cooperating and communicating closely, so while other films were hesitating, we decided to boldly cut the tape to restart internationally in the pandemic.
"Singapore, Taiwan and Malaysia opened the same week as Korea, and the week after Vietnam and others followed. We saw unprecedented opening figures as cinemas reopened with no other new films to screen. It brought back life to the cinemas and I've heard that Hollywood studios were carefully watching how this release did, asking their local branches for updates."
In Singapore, where the original film clocked up $3.65m, Peninsula has so far made nearly $2m. In Vietnam it has grossed $3.5m and in Malaysia $2.2m. Taiwan has accounted for Peninsula's strongest overseas performance thus far with $11.4m (surpassing the first film's $11m total), with local partner Wayne Chang, CEO of GaragePlay/MovieCloud, praising Contents Panda's nimble approach.
"Some sales companies have very strict policies about promotional materials and can take a very long time to review your own local version," he notes. "But Contents Panda is very fast. They can respond with a review of everything in one day. Sometimes they tailor material for international use. That helps a lot since we won't be able to do all creative artwork ourselves."
Esther Yeung, head of sales and distribution at Edko Films, echoes his observations. "The local market in Korea is already so big, so overseas markets are often secondary to a lot of Korean companies," she says. "But after [seeing the success of] Train To Busan, they are more open to overseas markets.
"With Contents Panda, their [international] team works more closely with the domestic team and shares more with us. After Train To Busan, Along With The Gods and Parasite, everyone is improving and they can see that success in overseas markets will help them in building word of mouth in Korea as well."
Edko Films released Train To Busan in Hong Kong and Macau, where it became the market's highest grossing Asian film of all time with $10m. Peninsula had been set to open day-and-date with Korea, but Edko was forced to postpone when Hong Kong went back into lockdown the same day.
Different strokes
Early on, the film was called Train To Busan 2 in some territories. While Yeon subsequently clarified that Peninsula wasn't a direct sequel, only taking place in the same universe four years later, some distributors still preferred to market it as a new franchise instalment.
"We've called it Train To Busan Presents: Peninsula. Like Fast And Furious Presents: Hobbs & Shaw. Peninsula is part of the Train To Busan world, but with its own separate story and identity," says Doris Pfardrescher, president and CEO at Well Go USA Entertainment.
Well Go USA's original focus was to have a large theatrical release for the company's stable target audience of Korean diaspora plus the additional fanbase from Train To Busan "that is much wider than any of us experienced before". That fanbase helped Train To Busan deliver a $2m gross in the US and Canada, earn top spots on the DVD and VoD sales charts, and perform "phenomenally well" on Netflix, notes Pfardrescher.
The pandemic has left things up in the air in terms of Peninsula's US release, which is still set for August 21. But the film did open at the top of the Canadian box office on August 7, grossing $118,647 in three days for the company. (Peninsula also sold to AMC-owned horror streaming site Shudder, with release details under discussion.)
In Taiwan, MovieCloud's local distribution brand GaragePlay released the film day-and-date with Korea.
"The reviews and everything from Korea help us, but in Taiwan, the audience topology is a little bit different, and when we saw the film we realised it is totally different from Train To Busan," says Chang, who cites a split in Taiwan between Taipei audiences more drawn to drama and festival-driven titles and audiences outside the city that are more drawn to action fare.
"Outside of Taipei represents 80% of the market, and there we marketed it with a sort of Fast And Furious: Zombie concept. People loved that. It's car chasing and racing and you can hit all the zombies. And so many more zombies compared to the first one where you only had one train of zombies. So outside Taipei, we said, 'Oh man, you want to enjoy this on the big screen!'"
In Thailand, distributor Sahamongkolfilm International held private screenings for critics and industry right before the Korean release.
"They said, 'It's like Fast And Furious meets Mad Max', so we promoted it as that," says Gilbert Lim, the company's executive vice president. "We had a lot of positive feedback from critics and did guerilla marketing with students dressed up as zombies, walking around in the streets and malls." The film has clocked up $1.38m in Thailand.
In Korea, Train To Busan had 11.56 million admissions on local release. With double the production and marketing budget, the follow-up would have needed 5.42 million admissions locally to break even. But thanks to hefty pre-sales, the film's break-even point was 2.5 million admissions, and even with pandemic distancing and other restrictions at cinemas, it has already surpassed that and currently sits at 3.7 million admissions.
Theatrical releases are now pending in the UK, France, Germany, the Middle East and other parts of the world.
"It's not just about box office, it's also about the industry – the industry needed something big as a morale booster," summarises Wayne Chang of GaragePlay/MovieCloud. "Peninsula is important not just in terms of box office but to give the cinemas some hope."