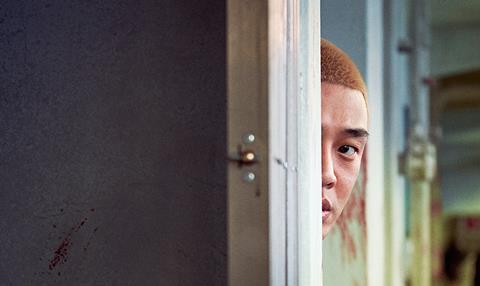 South Korea's film industry is watching carefully as zombie thriller #Alive raises hopes that the local box office is turning a corner in the pandemic, heading into the summer high season.
The film is the first to pass the 1 million admissions mark since February when Covid-19 began dissuading audiences from going to cinemas.
Starring Yu Ah-in (Burning) and Park Shin-hye (The Royal Tailor), #Alive was released by Lotte Cultureworks nationwide June 24 on 1,662 screens (with a peak 1,882 screens on Saturday).
As of July 1, it brought in 1,194,983 admissions and $8.27m, according to the Korean Film Council (KOFIC). The film's production budget is estimated at $6.14m (KW7.4bn), according to production/investment company Spackman Entertainment Group.
"We believe that the opening performance of #Alive is a test case that shows audiences are returning to theatres despite Covid-19, and we believe there is pent-up demand for movie consumers. As the weekend daily number of moviegoers exceed 400,000 in Korea, we do see there is a hope for a revival of the theatrical film business. Theatres provide audiences with a more dynamic experience due to better visual and sound effects compared to home TV screens," says Kay Na, president of Spackman Entertainment Group.
"You could say the box office is taking a stretch of sorts although it's not perfect," says Hwang Jaehyeon, an analyst and PR team leader at CJ CGV, the country's leading multiplex chain, also speaking to Screen.
"June box office is down about 84% compared to last year. In May, it was down 92%, so the width of decrease is getting smaller. We're hoping as the traditional summer high season of late July and early August approaches, box office will spread its wings wider. We're hoping Peninsula will be a sort of bridge to going back to normal," he adds, referring to Yeon Sang-ho's highly anticipated Train To Busan follow-up.
Starring Gang Dong-won and Lee Jung-hyun, the big-budget zombie thriller, which has pre-sold to a total of 185 countries, is set for local release on July 15 by NEW.
In addition, Warner Bros Korea yesterday announced Christopher Nolan's Tenet will open in local cinemas August 12. Disney's live-action Mulan is also reportedly looking at an August release.
Along with Peninsula, two other films are considered to be in the local film summer trifecta – CJ Entertainment's crime action drama Deliver Us From Evil, which is expected to open in August, and Lotte Cultureworks' political action thriller Steel Rain 2: Summit, which just announced it will open July 29.
"Last year, about 21 million people nationwide went to the cinema in July, but this year, we are hoping for less than 50% of that at about 10 million," says Hwang. "We're being cautious but #Alive does give us hope."
Safety measures
As of July 1, South Korea recorded a total of 12,757 confirmed cases of Covid-19 (of which 51 were added in the past day) with a total 282 deaths since January 3, according to the Central Disease Control Headquarters.
The country has never had a full lockdown and as experts note, although certain cinemas were shut down (and later reopened) after infected people were traced to having visited them, none have been identified as infection vectors in the spread of the novel coronavirus.
"Preventative measures on the part of cinemas are important, but so are audiences' preventative efforts such as wearing masks, refraining from eating, and individual hygiene," said Tak Sangwoo, research professor at Seoul National University's Institute of Health & Environment and a former epidemiology investigator at the Centers for Disease Control and Prevention (CDC) in the US, speaking on a KOFIC committee for safety management in the pandemic.
In South Korea, it is de rigueur for customers to take temperature checks, wear masks and make contact information available in case of the need to trace infections. Theatre operators provide hand sanitiser, distance between seats, disinfect the facilities and put anti-bacterial film over buttons in elevators. A limited number of multiplexes have also put into place zero-contact measures, which were actually being developed before the pandemic as a way to streamline customer services.
But one thing stands out in the safety of local cinemas, which Xangdean Jung, CEO of arthouse cinema Artnine and distributor Atnine, notes: highly regulated heating, ventilation, and air conditioning (HVAC) systems.
"I think it's different in Korea from the US or Europe in that to get authorisation to run a cinema or performance hall in a sealed space, you have to have follow very strict HVAC system regulations. It's not just about heating and air conditioning, but tremendously reinforced guidelines for control of air flow and ventilation of outside and inside air. Korean cinemas have much safer systems than restaurants or cafes. That's the reason why we've not had to shut down during the pandemic – even if infected people have visited cinemas, no one has gotten infected at a cinema. Everyone wears masks and is facing forward," says Jung.
"We can freely control the air flow from outside with a motor. All the other cinemas have these systems, too, and they're good – HEPA filters for fine dust pollution, and air control to stop fires and more. Korean cinemas all get tested for air quality twice a year and the standards are on par with hospitals. We should be promoting this fact more," he adds.
Looking for alternative screening methods, Artnine, which has a café/restaurant and terrace with an overhanging roof, is also installing a large LED screen for outdoor screenings.
"The government is talking about drive-in theatres as an alternative in the pandemic, but there is a legal responsibility when you have a car engine idling for more than three cycles. It's not like in the '90s when cars only had FM radio – now we have GPS navigation systems, rear-view cameras and a lot of electric usage," he says, pointing out the pollution and energy waste factors.
"That's why we are also preparing an outdoor rooftop LED screen – because it's not projected, but like a TV, you can show films outdoors in the daytime as well as at night and since we have a roof, it's also possible in the rain. CJ CGV and Lotte World tower each have one LED screen apiece and it's gotten more affordable," he explains.
Jung, who is also festival director of the DMZ International Documentary Film Festival (DMZ Docs) and chairman of the Association of Korean Buyers & Distributors of Foreign Films (KBDF), says he is planning a Ten Years of Cannes retrospective with association members [who hold local rights to many Cannes titles]. It is set to start at the end of July on the LED screen which is being installed at Artnine this weekend.
"If it goes well, the Busan International Film Festival might be able to do the same. The Busan Cinema Center also has a roof over its outdoor screen, but because they use a projector, they so far have only been able to have night-time screenings. If they put in an LED screen, they could have daytime screenings, too, and get in more audiences even with distancing between seats," he adds.
Like many others in the pandemic, Jung says he has been hard-pressed to keep his business going, but that has spurred him to come up with innovations and take matters into his own hands.
"We used to have about 130,000 admissions a year, so more than 10,000 admissions a month, but these days it's embarrassing since only about 20 people come a day. But we can't close because it would be a betrayal to our audiences. When we closed for [originally scheduled] renovations recently, we took the opportunity to install UV filter lighting in the hall. It's supposed to kill germs after 10 seconds and we leave it on when we leave for the night," he says.
He adds he thinks he might be the only theatre-owner in the world to have sprayed disinfectant in his cinemas himself to save money.
"It costs KW1.5m ($1,246) a day to have it done, so I started a movement with other theatres to just buy the disinfectant equipment. It costs about KW500,000 ($415) and the disinfectant liquid costs KW20,000 ($16.62). I've used it myself at Artnine. We used it at the DMZ Docs and lent it out to the Pyeongchang International Peace Film Festival and the Seoul Independent Documentary Film Festival and are going to lend it to the upcoming Jeongdongjin Independent Film Festival and Bucheon International Fantastic Film Festival, too," he says, noting he wished KOFIC would be taking care of this sort of service instead of him having to lead the effort.
The government-funded organisation that supports and promotes the local film industry has previously helped with some disinfecting services and provided hand sanitiser to cinemas. Most recently it spent $7.48m (KW9bn) on funding movie ticket discount coupons worth KW6,000 ($4.98) each, a move that has been seen to help stimulate audiences going back to theatres along with releases such as #Alive since last month.
Although South Korea has been handling the pandemic relatively well, local industry professionals working internationally also worry about the situation in other countries.
"I've sent about 12,000 masks to overseas film industry friends and acquaintances so far. Because we can't have them dying. We all have to make it out of this together alright," says Jung.
CJ CGV, which has cinemas in the US, China, Vietnam, Turkey and Myanmar has seen most of its cinemas shut down, with the exception of Vietnam starting up again recently.
"Looking at the cases overseas really makes you realise how much of an effort Koreans are making in our everyday lives to deal with this pandemic. It's because everyone has been actively participating and continues to do so voluntarily that we are able to enjoy our cultural lives and I think cinemas can provide some of the stress release and healing that we need," says Hwang