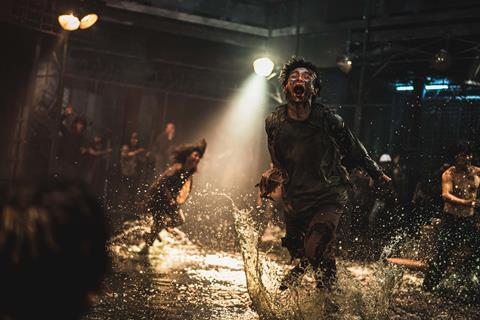 South Korea's Contents Panda has announced it has now wrapped deals for a total of 185 countries for upcoming Train To Busan follow-up Peninsula.
One of the Cannes 2020 Official Selection, director Yeon Sang-ho's highly-anticipated zombie action thriller, starring Gang Dong-won and Lee Jung-hyun, is set for July 15 release locally, with July and August theatrical releases in territories where the Covid-19 pandemic and other circumstances allow.
"Taiwan, Hong Kong and Malaysia are going to open the film in July, almost at the same time as us in Korea, in the same first week," said Danny Lee, Contents Panda's director of International Business, speaking to Screen.
"Distributors in other countries also want to release the film quickly after us in July and August, but there are so many places where the cinemas may or may not be opening, and then Tenet has been pushed back, so some are wondering if they should pull their releases forward or not. Many countries will give it an August release. We'll know definite dates closer to our local release."
On the heels of the virtual Cannes market, Contents Panda closed additional sales to Russia, CIS and the Baltics (Provzglyad), Italy (Tucker Films), MENA (Empire Networks), Mongolia (The Filmbridge) and Scandinavia (Mis. Label), bringing the film's total of countries sold to 185 with more to come, according to Lee.
Contents Panda previously announced pre-sales deals on the title to North America (Well Go USA), France (ARP SAS), Latin America (BF Distribution), Hong Kong (Edko), Taiwan (Movie Cloud), the UK (StudioCanal), Japan (Gaga), Spain (A Contracorriente Films), Germany and Benelux (Splendid Film), Australia and New Zealand (Purple Plan), in-flight (Emphasis), Philippines (Pioneer Films), Thailand (Sahamongkol), India (Kross Pictures) and Singapore, Malaysia, Indonesia and Vietnam (Clover Films).
Peninsula is set four years after the outbreak of the zombie epidemic seen in Train To Busan and follows Gang's character, who has escaped the devastated Korean peninsula to live in exile in Hong Kong, as he is given a mission to go back and retrieve a truckload of cash left abandoned in the streets of Seoul.
When he and his team are ambushed by a militia known as Unit 631 and vicious zombie hordes, he is saved by a woman (Lee Jung-hyun) and her family who formulate an ultimate plan to escape the peninsula.
Train To Busan, which premiered in Cannes' Midnight Screenings in 2016, clocked up worldwide box office of $140m, with $58m of that coming from international territories, including $10m from Taiwan alone.