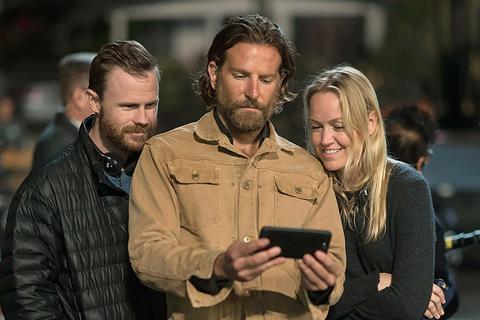 In the annual onslaught of UK media coverage for homegrown talent being recognised in the Oscar nominations, one woman's name may have escaped attention: Liverpool-born producer Lynette Howell Taylor, who scooped her first for Bradley Cooper's A Star Is Born. One reason may be that while Howell Taylor has produced more than 20 films since 2006, she has shot only for a total of two days in the UK. The first was a pick-up for 2007 thriller The Passage; the second a day at the Glastonbury music festival for A Star Is Born.
"It feels a little surreal, but it's wonderful," she says, speaking to Screen International a few hours after the nominations were announced, her Liverpudlian accent "eroded" by 18 years in the US.
Howell Taylor's association with Cooper dates back to Derek Cianfrance's The Place Beyond The Pines (2012), in which Cooper co-starred alongside Ryan Gosling and Howell Taylor was one of four credited producers. "He called me when he was adapting the [A Star Is Born] screenplay," she says. "I think he recognised the movie was incredibly ambitious — we only had 42 days to shoot and a pretty modest budget for a studio film — and he was looking for an additional person to come on board and be with him."
Howell Taylor joined the project as one of three credited producers, alongside Cooper and Bill Gerber. "I was on set every day, sitting at the monitor, giving Bradley feedback when he needs it and when he wants it," she explains of her role. "That's been the same on every movie — I work very closely with filmmakers. The thing I love most about producing is balance, being able to sit in a budget meeting and figure out how to make something, through to putting the movie out into the world. I look at every poster and give feedback on campaigns. There's not a single part of the movies I make — A Star Is Born included — that I don't touch in some way."
After graduating from the Liverpool Institute of Performing Arts, Howell Taylor cut her teeth in London theatre before being offered a job in the US when she was 22 by billionaire businessman Louis Gonda and his wife Kelly — investors in stage productions including a 2006 musical version of Grey Gardens. "It wasn't until I got to Los Angeles that I realised there was a film industry that maybe I could be a part of," she says. Once in Los Angeles, Howell Taylor gathered some friends and financing, and made a short film. "I said, 'I'll produce it for you,'" she recalls. "'I've never done this before but let me figure out how to put this together.'"
Her theatre-world connections put Howell Taylor into contact with wealthy individuals interested in investing in feature films, one of whom wanted to launch a slate of low-budget independent films and tasked her with finding scripts. "I spent six months looking for scripts to finance and produce," she says. "I found the script to Half Nelson, brought my investor to the table and I learned how to produce [a feature] by just doing it."
Half Nelson, directed by Ryan Fleck and co-written by Fleck and Anna Boden, starred Ryan Gosling, who received an Oscar nomination for his performance. "I got very lucky," she says. "It allowed me to meet a lot more filmmakers — especially first-time filmmakers." Since then, Howell Taylor has amassed an eclectic set of credits, working mostly in independent film as well as producing Captain Fantastic and Tim Burton's Big Eyes. A Star Is Born is her second studio assignment for Warner Bros after The Accountant.
Multiplatform venture
Howell Taylor recently launched 51 Entertainment — its name "a nod to the fact the female population in the US is 50.5%" — which she describes as a "platform-agnostic, filmmaker-driven company". "In this day and age, content can exist anywhere," she says. "Instead of automatically assuming, as I have for the past 13 years, 'Is this a movie?', there's an incredible opportunity now to say, 'Could this be a six-part limited series? A stage play? Is this a streaming film?' We can work with anybody and in any media."
While 51 Entertainment has a first-look TV deal with MRC, makers of House Of Cards and Ozark for Netflix, Howell Taylor prefers to remain independent when it comes to films. "I like to maintain my ability to pair my filmmakers and my projects with the right fit, both from a financing and distribution perspective. I've always put my movies together, then found partners for them."
Howell Taylor is currently in post on Tara Miele's Wander Darkly starring Sienna Miller and Diego Luna. The film, financed by ShivHans Pictures, will be seeking distribution once complete. She is also in prep on I Know This Much Is True for HBO. Adapted from Wally Lamb's novel by Derek Cianfrance, who will also direct, the six-part limited series will star and be executive produced by Mark Ruffalo.
As for returning to native soil, Howell Taylor says it is circumstance rather than any conscious decision that has kept her Stateside. "It has nothing to do with anything except I've been more exposed to filmmakers in the US," she says. "But I would love to shoot something in the UK. I've been trying to do it for years."