It is too early to talk of an Indian film wave, but certain indie titles from the country are gaining recognition among international buyers. Liz Shackleton looks at the challenges they face in finding a global audience.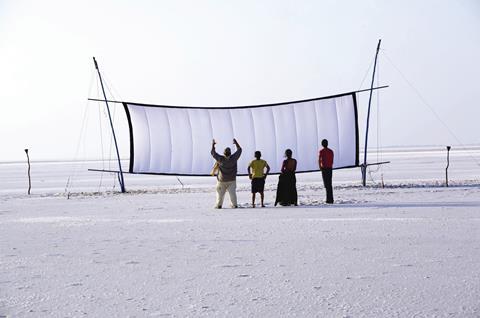 Over the past six months, there have been some subtle shifts in the way independent Indian films are being perceived and marketed on the international stage. At Cannes, Fortissimo Films picked up its first Hindi-language titles — documentary Children Of The Pyre and Dev Benegal's Road, Movie.
"One of the major problems with Indian films is that they're too long, so difficult to schedule"

Carey Fitzgerald, High Point cofounder
In June, the UK's High Point Media Group formed an alliance with Mumbai-based Pritish Nandy Communications (PNC), under which it will handle international sales of some of the company's films. Indian cinema also had a strong showing on the autumn festival circuit, with films such as Road, Movie, Buddhadeb Dasgupta's Janala and Anurag Kashyap's Dev D playing at multiple festivals.
In addition, The Man Beyond The Bridge, a Konkani-language film produced by India's National Film Development Corporation (NFDC), won the Fipresci prize in the Discovery section at Toronto. While none of these developments amount to an Indian wave — Indian films still don't have the profile of some other world cinemas, such as Chinese or Iranian films — they do point to increasing interest among film festivals and sales agents as they seek the 'next big thing'.
Length can be a problem In terms of distribution, there is still a huge disconnect between Indian cinema and international markets. This is partly because India's output is huge — around 1,000 features are produced annually in Hindi, Tamil and Telegu and dozens of other languages — and wading through this avalanche is a daunting task for both sales agents and distributors.
The problem is also due to India's style of film-making. Production values are improving, but more often than not, Indian films can't travel because either their narrative techniques are not comprehensible to Western audiences, the acting is not naturalistic enough, or the subject matter is not universal.
There is also the age-old problem of length. "One of the major problems with Indian films is that they're too long, so difficult to schedule," says High Point cofounder Carey Fitzgerald.
"Also, because of the piracy issue, many films are not finished until just before they're released, so you can't show them to festivals. In addition, sales agents describe the phenomenal success of Slumdog Millionaire as a double-edged sword.
"Buyers have an interest in indian films, in part because of Slumdog, but the challenge is to translate that into sales"

Colleen seldin,Us marketing veteran
"On one hand it raised interest in Indian culture and society for people who didn't have previous knowledge," says Fortissimo Films chairman Michael Werner.
"But it also set the index at such as high level, that it's difficult for people to accept that your film might be something else." Indian films are often classified as Bollywood, crossover or arthouse — all of which should, in theory, be marketable — but with so many countries now producing high-quality arthouse cinema, it has become harder than ever for Indian auteurs to carve out a niche.
Earlier this year, Mumbai-based Reliance Big Entertainment (RBE) launched a slate of arthouse films from established film-makers such as Dasgupta, Shaji N Karun and Rituparno Ghosh. The films received wide play on the autumn festival circuit, but sales have been slim. Working with international partners "Buyers do have an interest in Indian films, in part because of Slumdog, but the challenge is to translate that into sales," says US marketing veteran Colleen Seldin, who is acting as a consultant to RBE.
"We've seen other waves of interest following Indian-themed hits, but that sub-sides after a while, and you have to get people to keep coming back." However, sales agents say the challenges are not insurmountable. Often the solution is to persuade Indian film-makers to work with overseas producers and sales agents much earlier in the process, so they can receive input on what works overseas.
For example, Benegal's Road, Movie was produced by US-based Susan B Landau and Ross Katz,with backing from India's Studio 18. "Dev is a special case because he understands international cinema language," says Fortissimo's Werner. "But it also helped that he had international producers on the project from the get-go. They infl uenced the story, the pacing and the marketing of the film."

Road, Movie had its world premiere at Toronto and has since sold to several territories, including Germany's Senator and Australia's Madman. This strategy of working with Indian film-makers earlier in the process is also behind High Point's tie-up with PNC.
Fitzgerald is working closely with the company on an international cut of its upcoming drama Last Chance Mumbai, which will be ready for next year's festivals.
She is also helping the company to create a series of Indian horror films, beginning with Abhijit Chaudhiri's The Accident, which can be marketed as an identifiable global brand along the same lines as Japan's J-horror. As collaborations such as these increase, it is likely the volume of marketable Indian films will start to grow.
Not everything that India produces will be sold internationally — the world will probably never be ready to absorb 1,000 Indian films per year — and there is no reason why it should. But there is already a growing number of film-makers with more international sensibilities. The challenge for them will be to keep making films that connect with international audiences and not get pulled into the Bollywood machine.