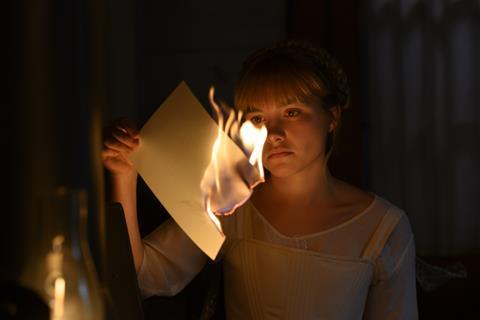 Greta Gerwig first noticed Florence Pugh in Lady Macbeth, William Oldroyd's 2016 low-budget Brit flick.
"I thought she was gobsmackingly good and was amazed by how young and confident she was. She seemed unafraid of anything," says Gerwig, who thought of Pugh when casting her adaptation of Louisa May Alcott's 1868 literary classic Little Women — for a role that critics have described as "pugnacious", "hot-headed" and "vain". "I had this hunch she was my Amy, but I didn't know for sure. There were all these images of her online, at different events, and she had a way of standing and confronting the camera, of total self-assurance, that I thought, 'That's my Amy.'
"And it is who she is," continues Gerwig. "As an actor, she's completely grounded and completely powerful, and I was so determined she be my Amy we ended up moving the shoot for her. I knew she was an actor who could punch in the same weight class as Saoirse Ronan, which is not easy."
"We did a sit-down meeting and, at the end, she mentioned she would be very happy to work with me. I had no idea it had got to that point," laughs Pugh, 23, who was still filming Ari Aster's Midsommar in Hungary when Gerwig was in Boston rehearsing with her Little Women castmates. "Rehearsal time, or that whole part before you start filming, is one of the most important, and I wasn't there for that. You worry you might not be caught up in the same speed that everybody else is, but I couldn't really be thinking about that because I was burning my boyfriend in a temple. But I knew Saoirse was a good egg, so I wasn't worried I was going to be left out of anything."
Sound and rhythm
To keep her in the loop, Gerwig recorded the rehearsal sessions and sent them to Pugh. "Greta is really keen on you knowing your cues. So a couple of weeks beforehand that's what they were doing, they were going over the really fast scenes, getting used to the rhythm and speed of things. Greta would be playing Amy, and I would be in a field [in Hungary], wearing my flower dress, tears sobbing down my face, watching and listening to these audios and sending them selfies back.
"It was an interesting time. I asked Saoirse, 'What do I need to know about Greta's form of directing?' and she said, 'You need to be really hot on your cues and you need to know your lines back to front.' So I made sure I came prepared."
Once on set, just outside Boston, Pugh found Gerwig's style of direction fascinating and thrilling. "She is very into the music of a scene and the way a scene sounds, and the way the texture of a scene can build. It was obviously mad on set because we had so many people with amazing and loud personalities, so every single scene that has more than four people in it was a crescendo of noise, and that's exactly what Greta wanted to create. It was like [that game] jump rope. You were waiting for someone to make a mistake, to start again, because when it started, the speed of it would snowball into this massive scene and you would hope you weren't the one slacking on your cues."
Off camera, Pugh and her on-screen sisters — Ronan, Emma Watson and Eliza Scanlen — spent much of their time together. "Saoirse, Eliza and I were living in one mews and Emma was down the street, so we would do dinners round each other's houses, or go for tea and a chat and a gossip or order a Chinese takeaway. We were 40 minutes outside Boston so we couldn't do some clubbing on a Friday night, so we had to do our own little dinners. It was lovely, we all really looked after one another."
Since Lady Macbeth, the Oxford-born Pugh has scarcely stopped working, starring in wrestling comedy Fighting With My Family, John le Carré miniseries The Little Drummer Girl, Midsommar as well as Little Women, which Sony began rolling out on December 25 in North America and on December 26 in the UK. She will next be seen in Marvel's Black Widow, directed by Cate Shortland, playing Scarlett Johansson's younger sister Yelena Belova who, in the comic books at least, becomes the second Black Widow. Speaking a few days after the film's trailer dropped, Pugh says she was "so happy to see it because it looks so cool and gritty and dirty and real, and that's what it felt like when we were making it".
How much action did she get to do? "If you're up for it, you're allowed to do a lot, which I am, I'm up for it," she laughs. "Ever since Fighting With My Family, I love being involved with the mechanics of stunt work. I'm also aware that I'm not a stunt woman, so you have to keep reminding yourself it's all well and good when you can do it, but they have hired someone to do the hard job for you. The first couple of days we were shooting the fight scene [that appears] in the trailer. I didn't know Scarlett that well and by the end of the week I was throwing her into a cabinet and she was choking me and we'd tried to kill each other a hundred times over, and we came away best buds."
With Little Women generating awards buzz, and Black Widow promising to be another Marvel-sized smash, Pugh's star is in the ascendancy, although she has no movies currently lined up for 2020. "I think I'm going to have some time off because I'm quite tired," she admits. "I've been going since Lady Macbeth. I would love to do another indie film, something small again. That's probably next on the agenda, but I'm really wanting to dip my toe into theatre. I know that's not the obvious move, but I would like to give that a go.