When Greta Gerwig heard Sony was planning another big-screen adaptation of her favourite book, she fought her way into the room to pitch her vision. The Little Women filmmaker explains her passion to Screen.
Louisa May Alcott's literary classic Little Women has been adapted for the big screen on six previous occasions in the century-and-a-half since its publication, most notably George Cukor's 1933 version starring Katharine Hepburn and Gillian Armstrong's 1994 film with Winona Ryder. Initially published in two volumes and inspired by the author's own family upbringing in Concord, Massachusetts, Alcott's book, which follows the March sisters — Jo, Meg, Amy and Beth — from teenagers to adulthood, has been a beloved text for countless generations of women. Among them is writer/director/actress Greta Gerwig who, in 2015, hearing that Sony was planning another adaptation, implored her agent to get her a meeting with the studio.
"I was not on anybody's list to direct this film," explains Gerwig who, two years later, scooped director and original screenplay Oscar nominations for her solo directing debut Lady Bird. "It was something I wanted to do because it was the book of my youth, of my childhood, of my heart, of my ambition, of what made me want me to be a writer, and also what made me want to be a director.
"I had re-read it in my 30s and felt it was so modern and so urgent and so unexplored in terms of how much it was relevant to today," she continues. "I had this pretty clear idea of what I wanted to do with it, so I fought my way into that room and, luckily, they hired me to write it, and then, ultimately, said I could direct it. I was hell-bent on it, because I felt there was something that was so deeply moving, but also revolutionary."
Gerwig's adaptation reframes Alcott's well-told tale by starting with Jo (Saoirse Ronan), Meg (Emma Watson), Amy (Florence Pugh) and Beth (Eliza Scanlen) as adults, "then having childhood be a kind of snow globe, the halcyon days they're trying to get back to, to rediscover what made them brave," she explains. "Once they're all separate, they're never actually all together again. the thing they loved so much, that was so formative for them, is already over. I thought that had a poignancy and an emotion that was exactly right for how I was perceiving the book as an adult."
When it came to Ronan's aspirant writer, Gerwig combined Alcott's Jo with the author herself, shooting on location in Massachusetts where Alcott lived, and weaving elements of her life, letters and journals into the script. "She had a wicked sense of humour and I gave a lot of the lines she had written, in another context, to Saoirse. One thing that was fascinating [about] Louisa May Alcott was the difference between her life and the life of Jo March. There were similarities, obviously. She had three sisters, she wanted to be a writer, but so many things were made tamer in the novel. The Marches are the genteel poor, but, in reality, the Alcotts were wretchedly poor, she had to work when she was very young, and they moved many times because they had no money. Jo March gets married, has children and stops writing; Louisa May Alcott never got married, never had children, kept her copyright, became fabulously wealthy and never stopped writing."
Given how decidedly autobiographical Lady Bird was, it is perhaps no surprise to discover Little Women is also deeply personal, with Ronan's character as much a reflection of Gerwig as Alcott herself. "Because I grew up loving Jo so much, I don't know if I was like Jo, and that's why I loved her, or I loved her and so I became like her," she says. "But who I am, and who Jo March is, are so linked, even though the book was written 150 years ago, and even though I didn't grow up in Massachusetts as one of four sisters, it feels like I did, it feels so much a part of who I am.
"More literally, the young woman trying to sell a story and figuring how much she needs to change it to be economically viable could have been me, yesterday, talking to a studio head," she continues. "It's something I understand and is embedded in the fabric of who I am. And, as I've gotten older, it's become more relevant to who I am as a filmmaker."
World in motion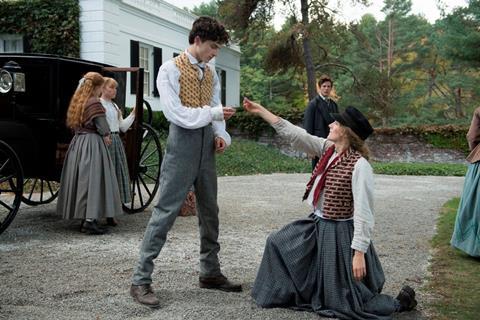 The film opens with Jo selling a story to a New York publisher, played by Tracy Letts, before Ronan rushes through the bustling streets. It is a scene reminiscent of Gerwig's breakout moment in 2012's Frances Ha, a film she co-wrote with her partner Noah Baumbach, where her character runs through Manhattan to David Bowie's 'Modern Love'. The similarity was wholly intentional. "I always loved watching women on the move, and I wanted to echo what we'd done in Frances Ha with what I'm doing now. To me, Louisa May Alcott/Jo March was the first woman on the move."
In fact, Gerwig's women, with the possible exception of Scanlen's sickly Beth, are constantly in motion, her camera and dialogue finely tuned to their movement, the lm managing to feel both modern and authentically of the period.
"We wanted it to feel like you were totally immersed in the realities of the time," she says. "But we didn't want anything to feel like it was nailed to the floor. I wanted it to feel like it was controlled chaos. That it was choreographed cacophony. That it was utterly light on its feet. So, for example, I didn't change the language from the book. I didn't make it more modern. I wanted them to say it as it was, but at lightning speed. Because I thought, if you throw these lines away as if they were you and your sisters talking, suddenly it seems so much more fresh and exciting. It's that strange thing where going back to the source infuses it with a modernity that seems like you've made it up. And that was something we were excavating in every department."
Ronan has described Gerwig's style as "musical", and she even showed her cast and crew several Hollywood staples to get them in the mood, including Meet Me In St. Louis ("it's gorgeous and has a very particular feeling I was going for here") and Gigi ("the beginning is what we modeled our Paris scene on"), as well as the waltz sequence in Heaven's Gate. "Movie musicals were the first thing I ever loved and it informs my filmmaking to a degree that is hard to overstate," Gerwig says. "I understand film almost musically or as a choreographer, and I continue to make films like that because it's what I understand. I'm always looking to hear the rhythm, and looking for it to be embodied, as if my actors are dancers."
While Little Women reunites her with Lady Bird lead Ronan and co-star Timothée Chalamet, who plays Jo's best friend Laurie, Gerwig did not have either in mind when writing the script. "I wrote the initial draft before I directed Lady Bird, so I was just thinking of characters. But as soon as I knew Saoirse and I knew Timothée, it was so ridiculously obvious they were Jo and Laurie, and I was lucky they wanted to come play with me again. Saoirse is, in so many ways, my filmmaking partner. She's a real auteur in and of herself, and, to be perfectly honest, she told me she was going to play Jo. We were at an event for Lady Bird and she said, 'Listen, I know you're working on Little Women, and I would like to play Jo. And I will play Jo.' And she was correct. It was the first instance of Jo speaking through her, because she told me later she'd never done anything like that before. And as soon as she declared herself, I knew it was Timothée."
Ronan was not the only person to declare herself to Gerwig, with Meryl Streep insisting she play the siblings' rich Aunt March during a lunch with producer Amy Pascal. "The book had been very important to Meryl, so she wanted to be involved. The truth is, if she had said she wanted to play Laurie, I would have given Timothée the boot. But she said, 'I want to be the battle-axe. Write me some good lines.' And I said, 'Yes, ma'am.' She had such a deep understanding of the material and the possibilities for the film being a reimagined post-modern, feminist epic, grounded in the 1860s but speaking to the moment. She gave me so many insights, some of which I took wholesale and put in the film. She's not only a genius actress but is wildly smart, so having someone like her was like Christmas morning."
In addition to promoting Little Women, which Sony released in the US on Christmas Day and the UK on December 26, Gerwig is preparing to act again, in an off-Broadway production of Three Sisters, as well as co-writing a Barbie movie with Baumbach for Margot Robbie. "So it's Chekov and Barbie for me," she laughs. "I can't really talk about Barbie because, honestly, it's too early, but the essence of it is I love Margot Robbie and she came to me and Noah and said, 'I'm interested in doing this. What do you guys think?' And I just really wanted to get a chance to work with her as a collaborator and a producer. I have no idea what it's going to be, or even if it will ever exist, but isn't it fun to know that we all tried.