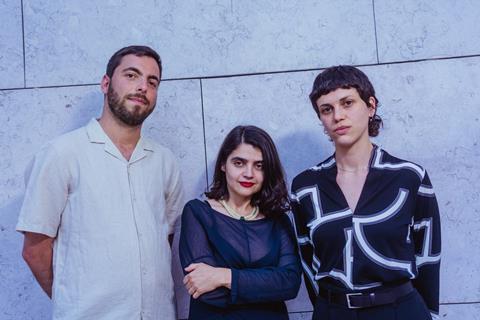 Doclisboa opened this week as a physical event taking place in the Portuguese capital. It is screening close to 250 features and shorts and hosting an array of international guests, with two major retrospectives on the work of Ulrike Ottinger and Cecilia Mangini.
The festival is running from October 21 to 31.
The international competition features new work from Ukrainian director Eva Neymann in Pryvoz, about one of the oldest and largest European shopping markets, and Brazilian directors Thiago B. Mendonça and Aline Lata and Helena Wolfenson with world premieres of Short Journeys Into Night and The Safest Place In The World respectively.
There is also a Portuguese competition of 11 local films.
The festival's three co-directors Miguel Ribeiro, Joana Gusmão and Joana de Sousa reflect on what they learned from their innovative pandemic-era 2020 festival that ran over six months and explain what will be happening in the coming days.
Doclisboa has three festival directors. How do you divide duties and complement each other?
MR: Doclisboa is organised in a very horizontal and collective way. The programming of the festival is headed by us but it comes from a very, very long process of watching films together, discussing them for many months. This idea of having three directors, of course, we all have different perspectives but [what we do] is for the sake of the collective experience. It's three people with different backgrounds but Doclisboa more than anything is a process of [being part of] a way larger collective.
What were the lessons learned from extending the festival over six months or so last year?
MR: We learned how much the cinema screen, the theatre room and the collective experience of cinema is fundamental to the festival. That is where we really feel the festival happens. In regard to [industry programme] Nebulae and the industry space, we learned digital tools can be extremely helpful to create a really diverse and inclusive space where people can participate from wherever they are.
JG: It was a difficult year but I would also underline the positive experience of our industry programme and the quantity of people we could reach because it was online. Taking that experience into account, that was why we decided this year we are going to have a hybrid industry event maintaining an online presence but also the onsite presence.
What role does Doclisboa play on the international doc festival circuit?
MR: Doclisboa is recognised by filmmakers a place for freedom, where we can have open discussions about the films and where there is a very engaged audience.
JdS: We try to explore the possibilities of non-fiction cinema and cinema in general. That makes Doclisboa stand out. It's a space for freedom but also for exploration and experimentation.
JG: Besides the great quality of the programme, something which is recognised by everybody is that this is a festival which takes care of people - of the filmmakers and [their teams]. We curate it very carefully.
How does the festival help introduce documentary films to Portuguese audiences?
MR: Doclisboa is now in its 19th edition. For some years now it has been playing this role of creating dialogue through films and [building] bridges with the local audience. That is done through the festival but also through a lot of activities that Doclisboa has along the year. We have a programme in which we release six films in two cinemas, one in Lisbon and one in Porto. We have our educational projects. There is this idea that the festival can help in this larger work of the film community in Portugal of creating these bridges between documentary cinema and the audience.
JG: It has been quite a beautiful journey to follow all these filmmakers who started showing their films in Doclisboa and have developed very, very interesting careers.
JdS: Of course, we are an international film festival and we show films from many different territories but we also have a strong presence [in the programme] of Portuguese cinema. That enables us not just to promote Portuguese themes and filmmakers' work. It reinforces the possibilities for young filmmakers. We also have the 'Green Years' section which is a way for us to give a platform to people taking their first steps into filmmaking.
What are you each personally most looking forward ahead of this year's festival?
JdS: For me, it is that the festival is able to return to being a place of meeting. It's not only [about] showing films but it is a place for people to share ideas, share experiences…I am just so happy that the festival is becoming again a real place to meet people and see films together. We are happy that a lot of filmmakers are able to come, present their films and share what was the process behind then.
JG: The re-encounter with the filmmakers and the audience is a huge part of the film festival. We are really looking forward to it - the rush of a film festival, this concentrated 11 days where you are so permeable to all these experiences. It is not just seeing a film but everything that surrounds it. We have a great programme this year. We have two major retrospectives. We are really, really looking forward to sharing this with our audience.
MR: I share these views. There are some filmmakers whose work we have screened in the previous edition and we had amazing Q&As with them on Zoom and it is very special that now they are coming here… it's this idea that these people that we had on little squares on our computers, having really interesting conversations which built a connection, are coming back with their films - and their bodies.