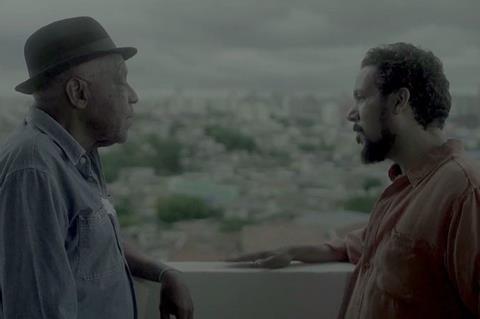 Films from Ukraine, Brazil and Russia are among seven world premieres selected for the international competition of Doclisboa, taking place as a physical event in Portugal from October 21-31.
Ukrainian director Eva Neymann's Pryvoz about one of the oldest and largest European shopping markets will be screening, while Brazil is represented in this year's line-up with two world premieres: Thiago B. Mendonça's Short Journeys Into Night and Aline Lata and Helena Wolfenson's The Safest Place In The World.
Mendonça's film follows six musicians from Sao Paulo seeking to make a name for themselves in the world of music, while Lata and Wolfenson's debut portrays Marlon, a victim of a great socio-economical tragedy when his city Bento Rodrigues, known as "the safest place in the world", was buried after the collapse of the Samarco dam.
Meanwhile, Russia's Vadim Kostov will be presenting his latest film, Winter, which follows on from two other autobiographical works Orpheus (2019) and Summer (2020), and he will also have a world premieres of his Narodnaya trilogy, Narodnaya, Comet and After Narodnaya screening in Doclisboa's Heart Beat sidebar.
The other world premieres are Romania's Sebastian Mihailescu's You Are Ceausescu To Me, which had been shown to festival programmers and sales agents at a closed industry screening during the Romanian Days in Cluj in August, Basque first-time director Arantza Santesteban's 918 Nights recalling the time she was held in prison in 2007 for alleged links with ETA, and Thunska Pansittivorakul and Phassarawin Kulsomboon's German-Thai co-production Danse Macabre centring on a dance that explores deaths both remembered and forgotten in history.
Portuguese titles
The national Portuguese competition will feature 11 titles, of which eight are world premieres, including Tiago Afonso's Distopia, following the changes in the social fabric of the city of Porto over 13 years from 2007 to 2020, and co-directors Pedro Figueiredo Neto and Ricardo Falcao's Yoon following a Senegalese man's 4,000-kilometre perilous and lonely journey between the two places he calls home, Portugal and Senegal.
Additionally, there will be retrospectives of the German director Ulrike Ottinger and Cecilia Mangini, the pioneer of Italian post-war documentary cinema, who passed away earlier this year at the age of 93.
Other highlights are set to include a sidebar focussing on Egyptian Women in Cinema: Perspectives from 1970 to today, a programme dedicated to the Brazilian Cinematheque in the "From The Earth to the Moon" section which is also showing Oh Dear Sarah, a portrait of the first female taxi-driver in Afghanistan, and Vitaly Mansky's Gorbachev. Heaven taking stock 30 years after the end of the Soviet Union.