With 22 Oscar and Bafta nominations under her belt — four of them for playing British monarchs — Judi Dench is in contention again with Victoria & Abdul. Screen speaks to the much-feted actress.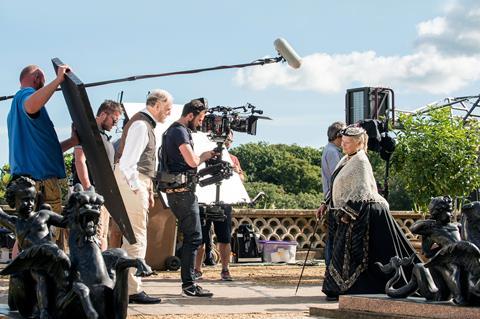 Even discounting her Bond franchise appearances and a supporting turn in Miss Peregrine's Home For Peculiar Children, Judi Dench is a phenomenally reliable box-office star. Her presence in the likes of Philomena and a pair of Best Exotic Marigold Hotel films is vital for the connection with an upscale global audience, and especially in the UK where she is — as comedian Tracey Ullman has memorably spoofed in a series of TV comedy skits — a national treasure.
Dench, of course, is too modest to see it that way. Asked if she feels pressure when she is sent a script such as Victoria & Abdul — knowing it will definitely get made if she says yes, whereas turning it down would throw the project into question — she is firm in her rebuttal: "Oh no, it would have been made anyway. It's too good a story."
This does, however, raise the question: who else could play Queen Victoria in the last 13 years of her life, from age 68 to 81? Additionally, given that Dench was Oscar-nominated and Bafta-crowned for playing the monarch in 1997's Mrs Brown, it would be a brave actress that would portray an elderly Victoria at this point — comparisons with Dench are unlikely to flatter.
For the 83-year-old actress, a big attraction to the project — which is adapted by Lee Hall (Billy Elliot) from Shrabani Basu's book Victoria & Abdul: The True Story Of The Queen's Closest Confidant, and produced by Beeban Kidron and Tracey Seaward with Working Title's Tim Bevan and Eric Fellner — was its director. Dench first worked with Stephen Frears on TV dramas Going Gently (1981) and Saigon: Year Of The Cat (1983), then teamed up with him again for Mrs Henderson Presents (2005) and Philomena (2013).
The warmth of this creative partnership helped thaw any reluctance to — essentially — play the same role twice, but so did the intrigue of the little-known story, in which Victoria faces down opposition from the royal household to pursue a friendship with an Indian servant (Ali Fazal).
"I don't usually go back to roles," she says, "although I've done A Midsummer Night's Dream so many times, but it's not usual. I didn't expect to come back to visit her again, but there was a whole bit of her life that I didn't know about, and it was such a fascinating story." Dench's performance has already been rewarded with a Golden Globe nomination for best actress in a musical or comedy.
As she tells it, Frears is much like he was when he first directed her. "He hasn't changed much, Stephen," she says. "He doesn't say very much but he has a very watchful, sharp eye. Nothing goes unnoticed. Sometimes he says, 'Would you like to go again?' That usually means he would like to go again. If he doesn't say anything and just walks away, then I think, 'Oh, that's it.'"
Although Dench has a sole directing credit (for a 1989 TV adaptation of John Osborne's Look Back In Anger, starring Kenneth Branagh and Emma Thompson), she has no producing credits — executive, associate or otherwise — and she clearly has no interest in asserting her box-office power in the development of projects. "No, no, no!" is her shocked response when asked if she had casting approval on her co-stars, and nor did she participate in a chemistry read for the casting of Indian actor Fazal. "Oh no! They cast him! I was sent a message."
She did, however, suggest a meeting in advance of the shoot. "I said we ought to just meet quietly for lunch," says Dench. "And I got there very early, and he walked in and that was it. When you meet somebody you're on the same wavelength as… we never drew breath."
Frears did sound out Dench's opinion, albeit not for her approval, of his choice of actor for one role — that of Victoria's son Bertie, the future Edward VII. "He asked me if I knew Eddie Izzard, which I did," she says. "Michael [Williams], my husband, when he was alive, and my daughter Finty and I, are absolutely avid fans. I said, 'Do I know him? I absolutely worship him.'"
Thoughts on a scandal
Dench is speaking to Screen International not long after the Harvey Weinstein revelations, just as the wider extent of abuse in the industry and politics was beginning to be exposed. At the time, when asked if she had ever suffered from such behaviour, she replied: "It's never ever happened to me, thank goodness. Harvey was responsible for me having a film career.
"It's very, very sad indeed. Serious abuse is something that must be addressed."
In November, Dench filmed a two-week stint on Trevor Nunn's Red Joan ("somebody who was uncovered as one of the Cambridge spies — I'm the old [version of the character]"). Next on her to-do list is Artemis Fowl, reteaming with her Murder On The Orient Express director Branagh, and adapted from Eoin Colfer's young-adult fantasy book series, for Walt Disney Pictures.
"It's just terrific to be asked," she says. "If you're asked in your 80s to do another part, I'm really grateful that it happens. I always think, 'Oh, this is going to be the last thing, I won't be employed any more,' but I just want to go on as long as I can."
Awards history
Academy Award nominations
BEST Actress
2014: Philomena
2007: Notes On A Scandal
2006: Mrs Henderson Presents
2002: Iris
1998: Mrs Brown
BEST Supporting Actress
2001: Chocolat
1999: Shakespeare In Love
Bafta Film Award nominations
BEST ACtress
2014: Philomena
2007: Notes On A Scandal
2006: Mrs Henderson Presents
2002: Iris
1998: Mrs Brown
BEST Supporting Actress
2013: Skyfall
2012: My Week With Marilyn
2002: The Shipping News
2001: Chocolat
1999: Shakespeare In Love
1989: A Handful Of Dust
1988: 84 Charing Cross Road
1987: A Room With A View
1986: Wetherby
Bafta Most Promising Newcomer
1966: Four In The Morning
Bafta Academy Fellowship