Dir: Glendyn Ivin. Aust. 2009. 96 mins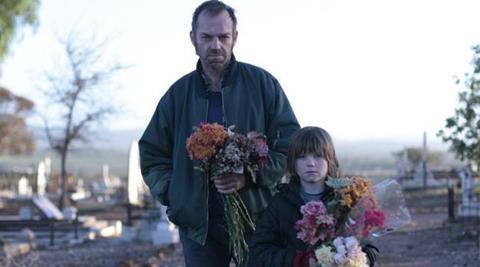 A gritty father-son road movie, Last Ride goes down some of the bumpiest, least-travelled roads in Australia. With Hugo Weaving on top form as the aggressive, unpredictable father, and impressive 10-year old newcomer Tom Russell as his at-risk son, Last Ride delivers considerable dramatic tension amidst some amazing locations. Going out in Australia on July 2, it should also gain traction in the international theatrical marketplace with the right marketing support: commercially, this treads a line between 2006's Little Fish ($3.2m internationally, of which $2.7m came from Australia) or another taut tale set off Australia's beaten track, 2003's Japanese Story ($4m internationally, $2.8m of that at home).
Greig Fraser's cinematography is exemplary
This is director Ivin's debut feature following his delightful, self-funded Cracker Bag, which won the Palme D'Or for Best Short Film at Cannes in 2003. Now backed by two producers, including The Quiet American's Antonia Barnard, a $2.6 million (A$4m) budget and a major actor, he spent seven weeks on a constantly-moving 5,500 kilometre shoot to some very remote places, shot to maximum wide-screen effect by Greig Fraser.
Last Ride starts out with ex-con Kev (Weaving) and his untamed son Chook (Russell) on the run in inland South Australia. At first nothing is explained: it's a part of the movie's ratcheting tension that we pick up bits and pieces of the backstory as we go, and what we learn only adds to our growing discomfort. They steal flowers from a graveyard early one morning to help Kev cadge breakfast from Maryanne (Hegh), a former lover and, we learn, a teacher at his last prison. She's not fooled by the flowers, but she can't resist the macho Kev and easily resumes a bond with the confused Chook.
Continuing their flight, Kev and Chook break into a country museum, stealing clothes and artefacts, thieve from shops, swap cars, and basically do whatever is necessary to survive one day at a time. 'We're mongrels, us,' says Kev, displaying increasing signs of cruelty and despair and visited by flashbacks of the nasty events which sparked this deadbeat trek. By the time they arrive at a weirdly exotic salt lake, Chook fully realises the real danger he is in.
This sequence, shot on the cosmic flatness of Lake Gardener, is stunning. The lake is only a few centimetres deep throughout. The car moves across a watery waste where the sky and the ground are seamless; the small boy seems doomed in this alien vastness.
Mining an Australian mythology of nomadic masculinity, exemplified by such classics as The Sundowners and The Shiralee, Last Ride depends greatly on the powder-keg force of Weaving's mean, troubled Kev, and the actor delivers. With little dialogue, young Russell gives Chook a rich inner life as he is forced to confront what's really best for both of them.
Fraser's cinematography is exemplary. Paul Charlier's discreet music does much to heighten the tension.
Production companies
Talk Films
Screen Australia
Film Victoria
South Australian Film Corporation
Adelaide Film Festival
Distributors
Madman (Aust)
ContentFilm International
+ 44 (0) 207 851 6500
Producers
Nicholas Cole
Antonia Barnard
Screenplay
Mac Gudgeon, from the novel The Last Ride by Denise Young
Cinematography
Greig Fraser
Production Designer
Jo Ford
Main cast:
Hugo Weaving
Tom Russell
Anita Hegh
John Brumpton
Sonya Suares