Sherlock Holmes is one of the most famous fictional Londoners, so the team behind Holmes And Watson was keen to shoot in the capital and show off its unique locations. Wendy Mitchell reports.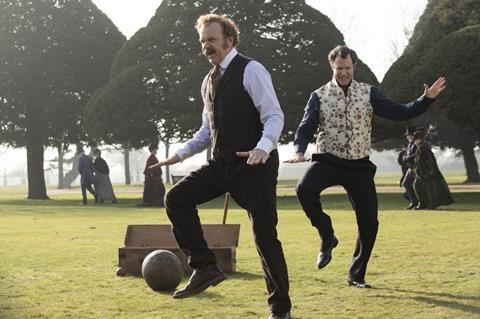 Etan Cohen's Holmes And Watson, a comedic update of Arthur Conan Doyle's famous detective Sherlock Holmes (played by Will Ferrell) and sidekick John Watson (John C Reilly), is set in the novels' classic Victorian era, which is still possible to find in the capital, says supervising location manager Chris Moore. "There are challenges to find period London, but there is still a wealth of it out there," he says.
Holmes' famous abode at 221b Baker Street, for example, was not actually filmed on Baker Street itself, which is now too modern and busy with tourists, but a quieter street in Bloomsbury. A set was built at Shepperton Studios for the interiors that, says Moore, gave production designer James Hambidge "the free will to design his own version of Baker Street".
During its 10-week shoot, the big budget Columbia Pictures production shot in London and at Shepperton, with a few days at Pinewood and in the nearby home counties. It was the capital, however, that provided the crew with some truly iconic locations including Somerset House, Kempton Steam Museum in Feltham, Hampton Court Palace and the National Trust-run Osterley Park.
"The National Trust were excellent to deal with," says Moore, "if you know how they work and you go in with the understanding that you are working in a period property, and you treat it with respect."
One of the most historic locations used by the production was the Tower of London, which, notes Moore, "really embraces filmmaking. I had only filmed outside before [on other films], and it was particularly great to go and film inside. They were incredible to give us such access while they were still open to the public."
One thing the production could not easily re­create in modern London was Victorian-era street scenes, but the shoot was able to decamp to Chatham Historic Dockyard downriver in Kent.
Rich rewards
Moore, who has worked on films including Solo: A Star Wars Story, Transformers: The Last Knight, Jason Bourne, The Da Vinci Code and The Woman In Black, has a great deal of experience working in London, and knows that challenges and rewards come with the territory.
"The biggest challenge is that it's a capital city, and with that comes a lot of people, a lot of authorities and businesses to deal with," he says. "You may be [filming] on one street, and dealing with three authorities and a dozen businesses."
But shooting in the capital is now much easier, Moore notes, thanks to help from the region's dedicated agencies. "I'm always in communication with Film London and the British Film Commission," he says. "They help out so much with questions, regulations or if you need a letter of support to use a location. I've worked with them a lot over the years. I'm a big fan."
Of course, shooting in London also means dealing with individual local councils, which Film London can facilitate. "Every borough
has different sets of rules and regulations, and different lead-in times, from 12 weeks to five days," says Moore. "But they are all very easy to communicate with."
Holmes And Watson was released in the US on November 9 2018 and the UK on December 26 2018 by Sony Pictures.


The UK. First for world-class film and television production. The British Film Commission provides free, tailored support, from development through to delivery.