Evolution, not revolution, is the watchword for the 2023 BFI London Film Festival, with the arrival of Kristy Matheson at the creative helm. Screen talks to the BFI festivals director about her inaugural London event and plans for the future.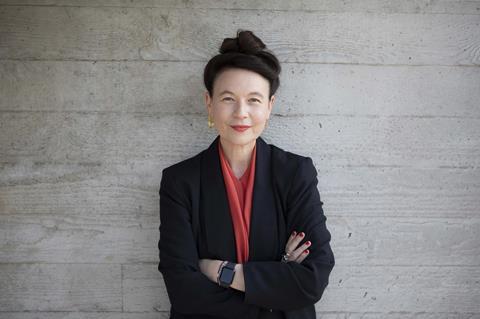 Brisbane-born Kristy Matheson attended the BFI London Film Festival (LFF) for the first time in October 2017, when a holiday to the city happened to coincide with the event. Six years later she is presenting the 67th LFF, her first as festivals director, having succeeded Tricia Tuttle in the post in April.
"What struck me was the scale of audiences," remembers Matheson of her first experience of the London festival. "Similar to both Melbourne and Sydney film festivals, which have very feverish and large audiences, and also audiences that represent the whole demographic of the city."
Matheson gained a closer insight into LFF last year when she served on the jury for the First Feature Competition — doing so from her vantage point as creative director of Edinburgh International Film Festival (EIFF). She had joined Edinburgh in September 2021 from a career spent largely in film festivals and cultural institutions in Australia, including most recently as director of film at ACMI, the country's national museum of film culture.
Close attention was paid — by Screen International, at least — when Matheson revealed the programme for her inaugural London festival, particularly in regard to any changes in the structure and format of the event. After all, Matheson's compatriot Clare Stewart initiated major revolution when she unveiled her first LFF edition in 2012, trimming the duration of the festival from 16 to 12 days, rearranging the bulk of the programme around themed strands, expanding the venue footprint, grouping the various competition titles for the first time within their own sections in the programme and awarding gala or special presentation status to significantly more titles.
Tuttle — initially covering for Stewart's sabbatical in 2018, there­after as festivals director — put fresh emphasis on other areas, notably a focus on drama series and the new LFF Expanded immersive strand, a rethink about the role of the industry programme, a rolling out of a portion of the festival via a network of 10 regional cinemas, and wider public access through LFF For Free. But she left Stewart's programme structure pretty much intact — and it has now served for 11 editions.
Make that 12 editions, as Matheson has opted to retain the format and scale of the 2022 festival (with 167 features) — as well as the venues clustered in London's Leicester Square and the South Bank, including the Southbank Centre's Royal Festival Hall for galas and special presentations. Arriving in April, with just four months to lock a programme that would be announced in late August, the festivals director has — unsurprisingly — plumped for continuity.
"When I arrived, everyone was already working," explains Matheson. "Coming into this role, I walked into a festival that was humming — a beautifully maintained ship with a full crew." That said, no titles had been confirmed for the programme until Matheson was in post, she says. The festival opens with Emerald Fennell's Saltburn, which Amazon Studios acquired at the 2022 Cannes market and Warner Bros will release in the UK, and closes with the world premiere of Kibwe Tavares and Daniel Kaluuya's Netflix production The Kitchen; the third major slot, the gala for title sponsor American Express, is likewise a UK film — James Hawes' One Life — produced by See-Saw Films and a recent world premiere at Toronto.
The 2023 edition, explains Matheson, is the penultimate in a five-year plan that finishes after 2024's festival. "I feel privileged to come in at a time when we can run the festival's current structure, and I get to see that unfold, and then have time to decompress with the team and think about, 'Okay, that was the last five years, what does the next five years look like?'"
Building blocks
Matheson grew up in a suburban Brisbane family with a bus driver father and teacher's aide mother, and accessed early film culture via the local drive-in cinema and the "gamechanger" Special Broadcasting Service showing diverse, original-language films on Australian television. She feels instinctively collegiate in her approach. "I could come in and make a whole lot of sweeping changes just for the hell of it," she says. "I would rather think carefully about what we all want to build as a team, and what does that represent? Not just for the LFF, but what does the UK industry need? What do cinema audiences want? These are things we can think about as we're building that next five-year plan."
Meanwhile, from Matheson's perspective, the format she inherited is working. "It's a very handy structure to programme into — it organises films in a way that allows you to be quite playful and allows you to take risks," she notes. "But it also gives audiences signposts of how they might be able to interpret such a large programme. Otherwise, it's just one big bag of films."
When departing festivals director Tuttle spoke to Screen one year ago, she did so at a time of bud­getary uncertainty — continued UK government support for LFF from the Department for Digital, Culture, Media & Sport (DCMS) and the National Lottery remained unconfirmed. Conversations continued into 2023, and confirmation of £1.7m ($2.1m) government backing for the 2024 edition of the festival was not announced until June this year. For the 2023 festival, government funding — via BFI grant-in-aid and National Lottery — is at a significantly reduced level. A £500,000 ($612,000) award from the National Lottery's Audience Projects Fund will support the festival's audience-broadening aims, including the UK-wide programme, reduced-price ticket offers and the LFF Expanded programme.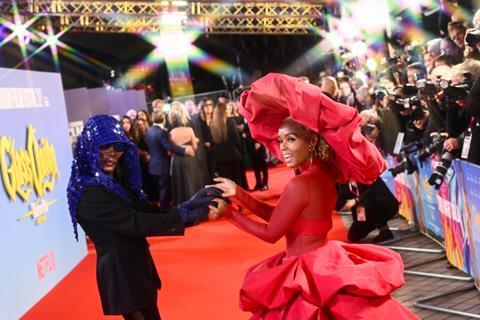 As many festival directors previously experienced during the peak years of Covid, this meant beginning to plan an event without knowing what the budget would be. "Colleagues were constantly having those conversations [with UK government] and getting a sense of how the bid was looking," explains Matheson. "And we have a production set-up where we're able to scale. As awful as Covid has been for the sector, it has made festival producers very expert at understanding how you plan for many different scenarios — and the team here are exceptionally good at it."
With the programming team, "We just thought, 'Okay, we know that we're going to need some films. We can't not have any films.' We just put our heads down and got busy with that."
LFF Expanded — encompassing immersive art and extended reality — is complicated to mount relative to audience size, but, in every budget scenario, the strand was never viewed as discretionary. "Expanded is not a nice-to-have, it's very much part of the dialogue around contemporary screen culture," says Matheson. "It's not inexpensive to put on, but none of the festival is."
Although Matheson does not disparage Scotland's Centre for the Moving Image — the body that employed her as creative director of EIFF — it is evident she appreciates the support and professionalism of where she has now landed, a job portfolio that also includes running the BFI's annual LGBTQ+ festival Flare. Key BFI festival team members include head of business and operations Anu Giri, festival producer Olivia Howe and — working across the whole BFI — director of busines partnerships and enterrprise Liz Muggeridge.
In contrast, in October 2022, two months after delivering her first Edinburgh event, the Centre for the Moving Image went into receivership, also shuttering the Filmhouse cinemas in Edinburgh and Aberdeen.
"It was challenging," offers Matheson. "The hardest thing was that I'd come to Edinburgh, I'd left a terrific job, and I took this big risk to take on Edinburgh. Together with the team, we put together a programme that we were so proud of. When the festival finished, we were like, 'There's lots of work to do but we've got something here.' So to have that all pulled away…"
Asked if she was aware the parent charity had financial troubles, she replies: "Not to that catastrophic extent, no. That situation made it feel like the whole thing had been a complete failure, which it hadn't… to be clear, we did not sink the ship."
Matheson was retained by Screen Scotland to lead an appraisal investigating how a film festival in Edinburgh might return in a new iteration — work she handed over to Kate Taylor, who was revealed as EIFF programme director the same March 2023 day the BFI announced its appointment of Matheson. Taylor presided over a vibrant six-day festival this August.
Matheson pays tribute to her successor's achievement — "They did an incredible job" — while, perhaps with the benefit of an outsider's perspective, also highlighting the collective Edinburgh festivals as "such a special and unique thing" for the UK. "So many cities around the world have tried to replicate that and have not succeeded."
Matheson arrives at LFF at a time of relative stability: healthy DCMS support agreed for 2024; buoyant ticket sales in 2022 giving confidence for this year's event; and a vibrant sponsorship scenario. The festival has secured new sponsors in BMW, Cunard, Reddit, Sunbelt Rentals, The Walt Disney Studios and Sea Containers London, which is the festival's partner hotel. And supporting the festival through their role as new BFI supporters are Apple TV+, Comcast NBC Universal Sky, Netflix, Paramount, Prime and Warner Bros Discovery. American Express is in its 14th year as principal partner of the LFF.
"We are very happy with where we're at," comments Matheson, who adds that the festival budget derives 76% from self-generated revenue and in-kind support (including sponsorship and ticket sales), with 24% coming from BFI grant-in-aid and National Lottery funding.
The sponsorship revenue is vitally important given the cost-of-living crisis. "Our business is not unique, everyone knows that things are costing a lot more than they were," acknowledges Matheson. However, ticket prices are rising only "minimally". (The standard price for evening and weekend screenings has gone from £16 to £17.) "We are a public-facing festival, we understand that everyone is feeling the same pinch, and we want audiences to be able to join us."
One cost saving is that BFI Player will have a diminished role within LFF this year, having provided a key online platform in 2020, the first year of Covid, and continued to do so in 2021 and 2022. Last year, Tuttle acknowledged the challenges: it is expensive to replicate the festival online, BFI Player audiences had been declining and rights-holders were proving reluctant. This year, BFI Player will participate only by hosting shorts in the For Free programme.
Matheson says the development is in line with global trends. "Trying to replicate the festival online and in cinemas is not something that many festivals have been able to maintain," she suggests. "We are committed to that in-cinema experience, and are putting our weight behind that here in London and with LFF on tour as well." The latter will see a selection of 14 LFF titles play across nine UK regional cinemas — a reduction from 10 last year, since the closure of Edinburgh Filmhouse.
Awards potential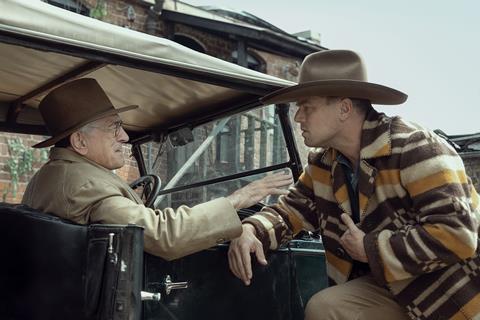 At Edinburgh, Matheson joined a festival that had increasingly struggled to make its mark, with no edition in 2020 and the 2021 event overseen by guest programmers. In London, the BFI event has capitalised over the years from its October position in the calendar at the start of awards season, as well as the status of the UK capital as a major global city.
In 2022, titles that played LFF — including The Banshees Of Inisherin, The Whale, Women Talking, Living, Guillermo Del Toro's Pinocchio, Causeway, Triangle Of Sadness and Argentina, 1985 — went on to win or be nominated for Oscars, and 2023 looks likely to be no different.
"I don't have a crystal ball, but I feel confident we have a number of films in the festival that will end up being in the awards race," says Matheson. "They are there because they're great films. It's great that audiences here are getting to see them early on in the conversation, alongside voters and press."
Given the ongoing SAG-AFTRA strike, however, the red carpet looks set to be missing the usual contingent of A-list US stars. Matheson points out almost 70% of the talent visiting the festival in 2022 came from countries other than the US, while also acknowledging, "Everyone obviously wishes this was not taking place. By the time all of this happened, we were very far into the programming process."
Matheson is keen to underline she made no adjustments based on the likely availability or unavailability of talent. "We've dealt with the things that are in our control, and we've tried not to get too distracted and stressed by the things that simply are out of our control," she says. "We would love the film teams to be here with the films, but we've put up a programme that we think audiences are going to respond to. We have complete confidence that these films will speak for themselves."