Rebecca Cremona's Simshar — Malta's first fully fledged home-grown feature — marks a turning point for the indigenous film-making community. Melanie Goodfellow reports.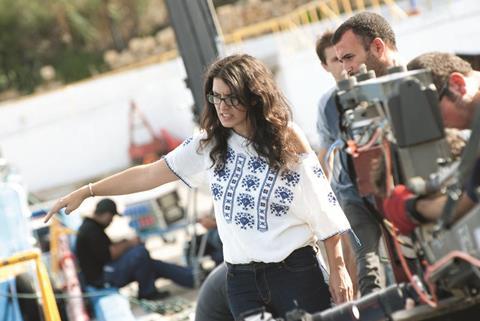 Malta may have welcomed scores of foreign film shoots to its shores over the past century but it has had surprisingly few indigenous film productions of its own. At least until now.
Having spent decades servicing foreign productions, the local film-making community has increasingly branched out into producing and/or directing its own projects. This has been spurred on by the boost to the tax incentive scheme and planned co-production fund aimed at encouraging local productions, which was announced by the film commission last April.
Leading the way is Rebecca Cremona's debut feature Simshar. The film is inspired by the 2008 real-life disappearance of a fishing boat — carrying three generations of the same family — after it caught fire off the coast of Malta. The drama intertwines the true story of the crew as they attempt to survive in the sea, with the imagined tale of a group of illegal immigrants who have been picked up from the water in a separate incident.
The film, budgeted at $1.4m (€1m), was shot entirely in Malta over 29 days between November 2012 and April 2013 at Mediterranean Film Studios, in open water and further island locations. Developed long before the recent drive to bolster local productions, it took Cremona five years to bring the film to fruition.
She raised the budget through Malta Film Commission's Malta Film Fund, private investors and the island's tax incentives. She was also able to draw on local crew. "I really wanted to bring this story to the screen but it's been a real labour of love. Everything else has been on hold," says Cremona.
'Our way of working is quite American - especially when you look at how we work with assistant directors and call sheets'

Rebecca Cremona, film-maker
The film features a cast of mainly local actors as well as crew normally employed in the local film services industry, including first assistant director Robert Bonello and editor Daniel Lapira, who have worked on foreign productions including the recent Sinbad TV series.
"We all got our training through the services industry. It's interesting because our way of working is quite American — especially when you look at how we work with assistant directors and call sheets," explains Cremona, who has also studied film in the UK and Los Angeles.
Watershed moments
Former Malta Film Commission chief and film finance consultant Luisa Bonello describes the film as the most ambitious Maltese feature ever and a watershed moment for the local industry. "There has never really been anything on this scale before out of Malta," she says.
Bonello recently boarded the film in an executive producer role and she is working to help Simshar secure an international festival slot as well as a sales company.
Like many in Malta's film-making community, Cremona's initial fascination with cinema grew out of the big-budget foreign productions hitting the island during her childhood and adolescence. "I remember Cutthroat Island [1995] shooting here when I was a kid. Later, when Gladiator [2000] came, my friends and I would drive around the island looking for its base camps and try to sneak our way on set," says Cremona.
She is among a growing number of Maltese film professionals attempting to develop and produce their own projects.
Respected line producer Katryna Samut-Tagliaferro, for example, is taking part in European Audiovisual Entrepreneurs (EAVE) Producers Workshop this year — through which she is developing the family film Moo. Samut-Tagliaferro is the first Maltese producer to participate in EAVE with a project.
The $4.4m (€3.2m) project, about a farm girl and her pet cow, is written by successful Maltese children's TV writer Marie Briguglio.
"It is hard to co-produce out of Malta. We're not part of Eurimages and because there's no history of Maltese films it's hard to tap into the MEDIA funds, but the commission's co-production fund could be a step in the right direction," says Samut-Tagliaferro, whose production manager credits include Asterix And Obelix: God Save Britannia and Captain Phillips.
Pierre Ellul, who produces and services under the Falkun Films banner, is also developing a trio of fiction features including the provisionally titled Sunday Mass, set against the backdrop of 1960s Malta. He also previously produced and directed documentary Don Dom, about local political corruption.
Ellul, whose recent production manager work includes Kon-Tiki, also took a producer credit on holiday comedy Malta All Inclusive, from Denmark's Hella Joof, alongside Oscar-winning lead producer Mie Andreasen.
"I mix servicing and my own projects. I enjoy both and it also works financially," Ellul says.
Successful local TV producers Abigail Mallia and Carlos Debattista of Take Two, a youthful TV production company with a slew of hit local comedies under its belt, plan to shoot their debut feature, a political satire entitled Limestone Cowboy, in September.