England's racial divide is probed in Sam Mendes's 1980s-set Empire Of Light. Actor Micheal Ward tells Screen about the bittersweet film's toughest moments, romancing Olivia Colman and getting butt naked.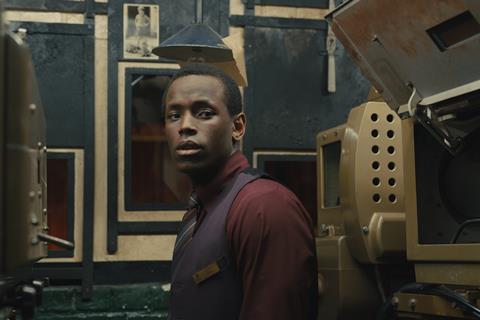 When Jamaican-British actor Micheal Ward was growing up in Romford, Essex, he had a choice.
"My friends and I would go to the Vue or the Premiere cinema, depending on how much money your mum would give you," recalls Ward of his formative big-screen experiences. "We used to go to the Premiere a lot because it was cheaper — you'd get £3 tickets! We'd watch a dance film and leave, copying the moves. Those things are vivid to me."
These trips gave Ward an insight into the power of storytelling — a valuable sentiment for his coming-of-age role in Sam Mendes's Empire Of Light, which launched at Telluride in early September. Inspired by Mendes's own life, the Searchlight Pictures-backed film depicts the workings of an independent cinema in an English south-coast town in 1980-81. Ward plays Stephen, a cheerful new employee who grows close to Olivia Colman's repressed, troubled duty manager Hilary.
Ward first met Mendes at the Bafta Film Awards in 2020, when the Blue Story actor won the rising star award and Mendes's 1917 picked up seven prizes. "[1917] was the first film I saw where afterwards, I went and researched how they'd done it," says the actor. When Ward first read the Empire Of Light script in summer 2021, he was gratified by Mendes engaging him in the character development — before he had even secured the role. "Sam asked me loads of questions — how I felt about it, what would I like to see in there, what wouldn't I like to see that's already in there," recalls Ward. "He didn't have to do that; he was just wanting to understand for a Black person, how it was reading that script."
When filming began in February this year, Ward and Colman's differing processes dovetailed neatly. Ward "had done a lot of work to understand Stephen — I knew the text and was super-prepared". Colman "is incredibly raw — we go to set and read it once or twice, and she just knows it. It's electric."
The production brought in intimacy co-ordinator Ita O'Brien (TV's Sex Education) to guide the duo through several sex scenes. "It felt like a dance routine," says Ward. "We would do counts — 'and one, and two'. If you were getting too invested to the point where I'm becoming Micheal rather than Stephen, you just go back to the counts. It's quite magical."
This rhythm helped Colman overcome initial nerves about the scenes, which the actors again approached from differing perspectives that mirrored their characters' emotions. "Olivia was so uncomfortable that I felt nervous for her," remembers Ward, "so [the counts] got us to a place where we could tell the story in the most amazing way." Conversely, Ward had few qualms about the scene where Stephen sprints naked onto an empty beach. "I'm there for the story," he laughs. "I watched The Talented Mr. Ripley with Jude Law. He's got an arse scene — if Jude Law can do it, I can do it mate!"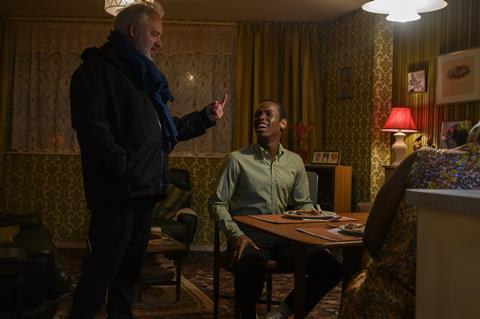 Race dynamic
Through Stephen's experiences, Empire Of Light considers racism of different stripes in 1980s Britain. Ward says his most traumatic scene was not where his character is beaten brutally by a skinhead gang but a more insidious moment, when a belligerent white man is prejudiced towards Stephen in the cinema, and fellow staff members including Hilary fail to stand up for him.
"That is the biggest letdown," says Ward. "Someone he has an intimate relationship with and is also the manager of the cinema has the power to tell [the customer] not to come in. She tries to bounce around the situation — what that does for people that are racist, it allows them to feel that what they've done is okay. I remember thinking a lot of my people would have gone through an experience like this and never felt supported."
That is why Ward believes the film's racial dynamic has relevance today. "It's always easier to tiptoe around situations," he says. "No-one wants to address these things. But to move forwards, you have to."
Prominent Black British actors have often had to leave the UK for the US to further their careers. UK-based Ward sees the conversation as one about openings. "There are a lot more opportunities in America — more channels, more people; everything is 10 times the size," he says. "If more opportunities are created here, then more people will stay. I want to be with my family, have a base, then work around the world. I want to have the opportunity to tell stories that I'm passionate about."
Although he broke through on a streaming show — Netflix's Top Boy — Ward is a proud advocate of the theatrical experience depicted in Empire Of Light, which lands in North American cinemas on December 9 and in the UK in January. The communal big screen has only become more important after being closed for long periods during the pandemic, he believes. "When you leave a cinema, you've left with an experience. You start talking about it — how you felt, what you did and didn't like, who you loved. It's important to have moments and memories to look back on."
Spurred on by collaborators such as Mendes and Gina Prince-Bythewood — who directed him in 2020 thriller The Old Guard — Ward is keen to work behind the camera, with an emphasis on producing. He is drawn towards stories that will stand the test of time. "I want to be able to do that for people in 100 years who want to understand how I used to live."
More immediately, he will star in Thea Sharrock's Netflix sports drama The Beautiful Game as a footballer competing in the inaugural Homeless World Cup. The film, which shot last autumn and will release next year, gave Ward "a lot more sympathy" for people in that situation. He would love to work again with the man he calls "my brother" — Reinaldo Marcus Green, the US director of King Richard who cast Ward in Top Boy — although with regard to any role in Green's upcoming Bob Marley biopic, he offers only: "I ain't saying nothing."
Since Daniel Craig's departure, there is a prominent vacancy in a role that will look at emerging British actors. "I want to be part of great things," says Ward of the James Bond question, noting the role "means so much to the place I live, and so many others. Sam [Mendes] loved working on it — he told me a few of his experiences." Ward has not had conversations with anyone at producer Eon — and time is on his side having only recently turned 25. "I don't think it will happen for me in the next 10 years — maybe the next cycle. What's going to keep my love growing and keep me working is telling stories that I'm passionate about."