Michelle Williams packs a powerful punch in Kenneth Lonergan's awards-season front-runner Manchester By The Sea, despite very limited screen time.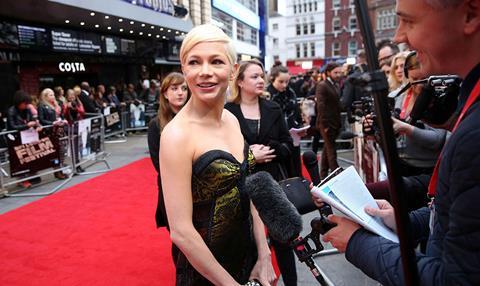 Pound-for-pound, Michelle Williams packs arguably the biggest punch of anybody on screen this awards season.
Although she is barely seen in Kenneth Lonergan's drama Manchester By The Sea, when she does appear, as young Boston mother Randi, the power of her devastating shared past with Lee (Casey Affleck) hits hard and lasts long.
"Pretty darn minimal," a chuckling Williams says of her screen time, which has earned her a Golden Globe nod.
"I definitely spent more time in the area or rehearsing or prepping or thinking than I spent shooting, and now I've spent more time talking about it than I spent preparing, thinking, researching and shooting. It's such a funny thing about being an actor; it's very odd."
Williams has been good at exploring the nuances of character throughout a career that has garnered three Oscar nominations, for My Week With Marilyn, Blue Valentine and Brokeback Mountain.
Now the Montana-born talent, whose gentle delivery belies immense power, is on the cusp of what many believe will be her fourth nod for her turn in Manchester, which played across the festival circuit after premiering at Sundance, where Amazon Studios snapped up North American rights and partnered with Roadside Attractions on the December 16 theatrical release.
Studiocanal will release in the UK on January 13.
Assured direction
Williams had admired writer-director Kenneth Lonergan from afar but was "so shy and nervous" when he invited her to do a stage play reading about 10 years ago that she turned him down.
"I was afraid that I just wouldn't measure up," she recalls, "but when this came around, I really jumped at the opportunity."
Aware there was "not a lot of time and not a lot of information" about Randi, Williams visited the Boston area from her nearby home in New York to get a feel for the locale.
"I had this incredible luxury of being able to go up there for a day or two at a time and kind of investigate the area, talk to people, listen to people, go shopping to pick out what my character might wear or go see where she might get her hair done - just these tiny little things that ultimately can give something a feeling of truth and honesty," she says.
Williams broke out on the US TV series Dawson's Creek in the late 1990s and has gone on to work with the best in the business, from Ang Lee (Brokeback Mountain) and Martin Scorsese (Shutter Island) to regular collaborator Kelly Reichardt (Wendy And Lucy, Meek's Cutoff and Certain Women).
Reichardt's latest recently combined with Manchester to land Williams a New York Film Critics Circle supporting actress win.
Lonergan, Williams asserts, has qualities that are very rare in a director.
"He's not really observing you from the outside; he is internalising the scene with you," she says. "He doesn't pass any kind of judgment. He's literally sitting with you, trying to resonate with the experience."
The actress also relished the experience of working with Affleck.
"He was pretty quiet then [during filming], and now he's kind of playful and loose. He was like somebody who was always trying to figure something out."
Lonergan's exquisite writing helped Williams and Affleck through a key scene: a tour de force passage towards the end of the film when their characters run into each other after many years and unwittingly open old wounds. It is the kind of scene for which supporting actress Oscars are made, and rips your heart out.
"Good. I'm glad," Williams says of the reaction. "It ripped our hearts out to make it. When I read the script for the first time and I finished that scene, I didn't know what I was going to do. I didn't know how I was going to do that. I thought, 'That's just an unwieldy beast and how am I ever going to tame it?' I started thinking about it and never really stopped until we shot it.
"Casey and I were both a little bit scared of that scene and wanted to do it justice," she adds.
"But when you get to work with flawless dialogue like Kenny's, it's actually pleasurable. There's a kind of flow. There's a perfect rhythm; a rootedness, an authenticity, a believability, a musicality that will actually carry you. And that's what I found working on that scene. I found the more we did this scene, the more I wanted to do it."