Following its 2012 restructuring, post-production firm Molinare has a sharpened focus on high-end TV drama as well as feature film post work, and is readying itself for growth. Wendy Mitchell reports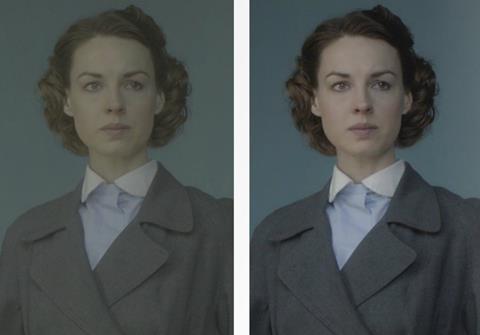 Molinare, the film and TV post production firm, celebrated its 40th anniversary in November. Behind that impressive longevity is also a story of renewal. The company had gone into administration in 2012, but was saved in the middle of that year as former CEO Steve Milne and new executive Julie Parmenter pacted with Next Wave Partners to buy the assets and relaunch the company.
Parmenter, former head of global sales operations at Rolls-Royce Motor Cars, was named managing director; and The British Film Company's Milne returned as executive chairman. In April 2013, Saphir Capital Partners also invested in the company. Milne and Parmenter currently own a combined 40% of the company, with Saphir and Next Wave each owning 30%.
"It's completely different ownership and a completely different structure, but the brand Molinare had to be seamless. The fact that the finance structure has changed, hopefully that's irrelevant for the clients," Parmenter says. "Everybody recognises the brand… To survive 40 years of business in Soho is something quite special."
The expert team is key to that, she adds. "In all of the change over the last two years we didn't have a single key staff member leave, we didn't have a client leave either. The clients don't leave because the staff don't."
Film and TV clients The revamped Molinare is certainly busy, with top clients coming in at the moment - that includes the BBC's The Musketeers and Call The Midwife and Sky's Fleming and The Tunnel on the TV side, and films such as The Grand Budapest Hotel, '71, God Help The Girl and The Two Faces Of January (all four Berlinale selections).
Milne, who worked on The King's Speech at Molinare, is an independent producer via The British Film Company but he still devotes several days a week to Molinare. He had first bought Molinare in 2003 but left in 2010 due to differences of opinion with new owners Century Communications of India.
"I had no hesitation leading the 2012 buyout again, and second time around it's particularly satisfying to see Molinare working routinely on the very best feature films as well as Sunday evening peak-time drama," he says.
"We had four documentaries at SXSW, and for feature documentaries, I believe we are now world renowned. We'd similarly also been involved in five films that screened in Berlin including The Grand Budapest Hotel which utilised our flagship grading theatre."
The company specialises in grading and digital intermediates, sound, editing, VFX for broadcast, and workflow management. Recent innovations include upgrading to the latest generation of Baselight hardware and software systems. In April 2013, the company revamped its main dubbing theatre for film to use Dolby Surround 7.1.
There are currently 120 employees working in two buildings off Carnaby Street in London's Soho, with a facility boasting 40-plus offline edit rooms, seven online editing suites, three projection theatres, two TV grading suites, eight audio suites, plus an ADR suite and four voiceover booths. The company works digitally but uses CineLabs when clients need film-based assets.
Driving Forward
Parmenter had worked with Milne and former Molinare MD Mark Foligno 30 years ago at Tetra Pak. She was familiar with the business, although not a film business veteran. She sees some connections with the automotive world (she also worked on the Mini and BMW brands in addition to Rolls-Royce).
"For a Rolls-Royce customer, that car wasn't a mode of transport, it was their dream. For a film or TV programme, that's the same, it's someone else's passion and idea. We have to facilitate it and make it happen and be the best it can be. So the ethos is similar," she says.
"Also, there's BMW's efficiency and delivering on promise, doing what you say you're going to do, on time. That's what the TV world wants, efficiency. They trust you to get on with it."
She is known as a practical executive. "I like to be hands on. When I worked at Rolls-Royce I spent two weeks on the production line building cars… I was the only senior manager to ever do that. Unless you've done it, you can't value what someone else is doing. At Molinare it's different, I can't do grading, I can't do audio, but I can learn the kit and what tools the artists need. And what the clients need."
Mix of projects
The company's TV-film split is about 70-30, which Parmenter says is a smart mix. "Film is so up and down and TV is more repeat business," she says, noting recent TV projects recommissioned such as The Musketeers and Yonderland. "We want to do film but to do it as more than 30% of our business is not stable for our team," she notes.
Other recent film projects include Belle, Kick-Ass 2, The Selfish Giant and The Invisible Woman.
One area of specialisation that has emerged is work on theatrical documentaries. The four documentaries Molinare had in selection at the recent SXSW film festival included: Angus Macqueen and Guillermo Galdos' drugs cartel story The Legend Of Shorty; George Hencken's Spandau Ballet history Soul Boys Of The Western World; Florian Habicht's Britpop story Pulp; and Charlie Paul's For No Good Reason, with Johnny Depp paying tribute to Ralph Steadman.
Molinare has developed a strong reputation in theatrical documentary work after working on the likes of Man On Wire in the past. For example, the Australian Broadcast Corporation came to Molinare to work on Lance Armstrong documentary Stop At Nothing because of the company's expertise in working on archive footage. "The audio talent we have on theatrical documentaries is very high; that audio team has been nominated for Baftas.
And especially when you're cleaning up archive material, you need those strong theatrical experts," Parmenter says.
She continues: "A lot of documentary houses don't do theatrical, only TV, so you need to know it stands up for theatrical. We have a theatre to view it in, and the audio team that has the expertise." Because the film VFX market is so competitive, especially in the UK, Molinare decided to scale back its film VFX work and instead concentrate on VFX for TV only.
"We were a tiny VFX house. To put in a bid for James Bond would be laughable. So we pulled right out. But because we do so much high-end drama we realised we could do VFX for the dramas." The shift in VFX approach was just one of a number of changes that came with the company refinancing. "That was pruning back the branches and making it a much stronger base," Parmenter says.
Future aspirations include doing more work for the big American companies.
"We're hoping with the success of The Bible and Dracula it will give the big US studios the confidence that we can deliver that level of quality," she says. Molinare has a strategic partner in LA, Modern VideoFilm, so it can run as a 24-hour facility for US partners.
The Bible has been a unique project for the company - the hit US TV series was also adapted into a hot-selling feature, Son Of God. It is a model other producers should consider, Parmenter notes. "That shows if you do a drama at a very high end, it can be easily recut as a feature film. That's a good way to recoup investment. With us doing everything in-house it's easy to sit down and reshape it. We've got all the materials."
After its refinancing, the company is in a stable place (and indeed working at capacity so it had to turn down projects for summer 2014) and can now be ready for growth, by growing its own team or considering acquisitions down the line.
"At the moment we are recruiting to grow the business," Parmenter says.
One key area of recruitment is to entice young people to work in the post-production sector across all areas. "We need more management to help with growth, but we want to support the new talent," she says.
"It's so hard for youngsters to get on the ladder… You need all the skill sets within the company, not just a mixer and a grader, but IT, engineering, HR, finance, administration."
They will also hire one VFX junior through Skillset's Trainee Finder scheme.
Parmenter says: "Young people need to know it's an exciting industry to join."