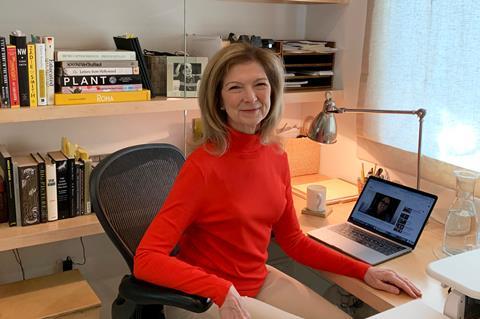 Los Angeles-based Dawn Hudson was named CEO of the US Academy of Motion Picture Arts & Sciences in 2011 after serving two decades as executive director of Film Independent — the non-profit arts organisation whose activities include the Independent Spirit Awards. Before that, she had a career in journalism and graduate work in political science after gaining a degree from Harvard University.
At the Academy, Hudson has overseen an inclusion mandate that has doubled membership among women and people from under -represented ethnic and racial groups over the last four years, and grown international membership and its reach into 68 countries. Next year's Oscars have been pushed back due to the pandemic to April 25, 2021.
What is the first thing you do when you start work at home?
Make a cup of tea, then read and respond to my emails. Many, many emails. Many cups of tea.
How did your career bring you to the Academy?
I started my career at Film Independent, helping to build a community of diverse filmmakers from all across the US. Now at the Academy, many of these same artists are continuing to build a deeply connected community but now on a global scale, and I couldn't be more thrilled.
Some have praised the plan to introduce inclusion standards for the best picture category at the Oscars in 2024. Others say it doesn't go far enough. Why did the Academy introduce this, and why will it start in 2024?
The change started the day we announced our intention to create inclusion standards. Our film community had already been questioning hiring and funding choices, and the Academy's announcement accelerated that conversation. We worked on them with input from our entire film community with the goal of changing our ingrained patterns of business-as-usual. It's starting in 2024 to allow time for filmmakers to prepare for the changes that will need to happen to be eligible. Movies being filmed now may not come out until 2022, so we wanted to make sure people had the most opportunity for success.
Films that debut on streaming or digital platforms are eligible for Oscar consideration this season. Will these rules stay in a post-coronavirus world?
Covid-19 has a constantly changing and unknowable timetable, so it's probably wise for us to hold off on making any definite pronouncements for the time being.
Who do you look up to in the industry and why?
All the female role models in my life who taught me by example that being a mother and an executive were not mutually exclusive. Their loyalty and expertise have, to this day, given me something to strive for.
What is it that you like best about your job?
The company party every year is not too shabby.
What is the biggest professional mistake you've made?
I'm sorry, we suddenly seem to have a bad Zoom connection. Besides almost answering this question? Nice try! Next question…
What are you most proud of on a professional level?
The two things that were most important to me when I first came to the Academy were assembling a membership that includes all of the talented artists who had been overlooked in the past, and helping to create a museum that would allow movie-lovers to experience every aspect of the filmmaking process. We assembled a massive team of people who have been able to realise these dreams, and I can't wait for the ribbon-cutting on April 30, 2021 — save the date.
Have you adopted or indulged in any hobbies during lockdown?
I've baked more food than I could eat in several lifetimes. Do you fancy some genuine Arkansas Razorback cornbread?
What was your favourite film growing up?
The Sound Of Music. Don't judge.
What job would you do if you didn't work in film?
It's too scary to think about.
What book are you currently reading?
The Undying: A Meditation On Modern Illness by Anne Boyer. Boyer is a poet who survived cancer and writes a takedown of the medical system and our capitalist culture. Well-written, astonishing and surprisingly funny.
What do you do to unwind?
Jog on my treadmill, change my mind, eat chocolate, and watch Three Days Of The Condor.
Who would play you in the biopic of your life, and who would direct it?
Jodie Foster — and she could direct it too, of course.
What is the first thing you will do when lockdown is lifted?
See a movie in a real theatre with real people and eat popcorn with real butter.
What will the 2021 Oscar ceremony look like
You'll have to wait and see.