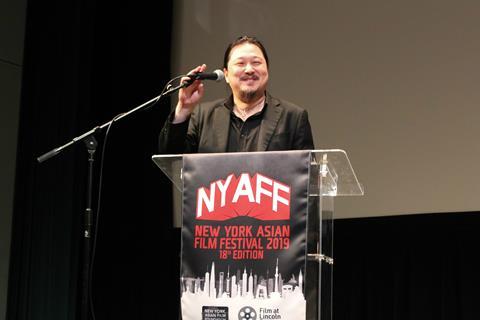 In the New York Asian Film Festival's 18th year, executive director Samuel Jamier disussses the line-up, why programmers need to work harder, and what might lie ahead for the event.
The festival opened on June 28 with Bernard Rose's Samurai Marathon and will close on July 14 with Herman Yau's The White Storm 2: Drug Lords. Japan's Nama Komatsu and South Korea's Ryu Jun-yeol are this year's Screen International's Rising Star Asia Award recipients. For details of this week's screenings, click here.
What striking observations do you have about this year's festival?
This year is a lot about the new generation of filmmakers. We had a lot of first-time and second-time directors. Of the actors we bought over, a lot of them were quite young including the two Screen International Rising Star Asia Award recipients – Nama Komatsu from Japan (Samurai Marathon), and South Korea's Ryu Jun-yeol (Money) – so that part was quite exciting.
We want people to make personal discoveries. We're showing a lot more independent films than usual. Our aim was always to showcase a couple of films in Asian markets that can cross over into America. This year we have a lot of good, strong independent voices, particuarly from South Korea and China. We have films of course from Japan incluidng one by SABU [Jam screens in the festival], who seems to have constantly reinivented himself over the past decade. He's one of the best Asian filmmakers and incomprehensibly underrated.
You just announced the closing night selection, action thriller The White Storm 2: Drug Lords with Andy Lau and Louis Koo. What attracted you to it?
It's a super well-made Hong Kong action film. It's fascinating to see a Hong Kong film perform so well in China [it opened last weekend on approximately $60m]. It's had a great response in China and stars two Hong Kong stars and shows the resilience of Hong Kong cinema. We have others from Hong Kong including Lee Cheuk-pan's [directorial debut and animation crime drama] G Affairs – it's a divisive selection and I think it's great.
Tell us about the opening film, from Candyman director Bernard Rose
Samurai Marathon. It was interesting this year that we opened the festival with Bernard's film. I went into it blind at a market screening in Berlin and I had no idea it was not directed by a Japanese guy. Around the end there's a scene where a praying mantis climbs over the face of a dead guy and I knew it wasn't a Japanese movie! The soundtrack is really unusual and it's by Philip Glass. First-rate filmmaking. I was pleasantly surprised. It's Bernard's best movie to date and he's really humble about it."
How's turnout this year?
The attendance is really quite good and it's about the same level as last year. I'm always surpeused what works. We used to show a lot more genre films – pure genre films are few and far between right now. we've found more art house films this time. We mostly got what we wanted – about 90% – and that's a positive sign. We've been here for 18 years and have done some serious promotional work for these Asian artists.
Is US distribution important?
It matters to me if the release cycle doesn't match with our plans. [Otherwise] it doesn't bother me too much. Even if a film hasn't done as well as distributors would have liked, I will show it if I think it's a good film. The premiere game is a vanity play. It's helpful for media coverage, but at the same time it shouldn't matter so much. We're doing the screening of The White Storm 2 at the same time as the US theatrical release. I've always felt the films should be bigger than the festival itself. You're only as good as the films you're showing, but at the same time every film has a big team behind it and you want to do justice to each film and justify your choice.
How does your programming team operate?
I've got four programmers working with me, one of whom travels extensively with me, depending on the year. We go to the teritories and do the research and talk to big companies and small companies. It's a work of exploration. I'm shocked every year to see how many programmers don't watch films. It's like industrial fishing: cast a wide net and pick up lots of films. In this day and age we're painting ourselves into a very small corner because the streaming platforms do that job a lot better. They say, 'Here are 10,000 films.' We all need to find ways to be more selective and be more demanding. Every year we try to be more demanding with the films we show to make sure it's different and impactful and so on and so forth. We travel extensively most of the year in China, Japan, South Korea, southeast Asia. I hate it when someone says there's nothing good coming out of a country: how lazy. Yes, a national industry can have a crisis [in any given year], but if you don't like what's coming out of country, you look much, much harder or you go somewhere else and you look and search some more.
What changes might you introduce in furture editions?
We should be more nurtring of the local film commnunity. There's a lot of Asian-American filmmakers and I'm hoping to build more bridges with them. A lot of them are intersted in what we're doing and I'm trying to strengthen those ties and build more of a filmmaking community around the festival itself. Maybe a laboratory of some kind.
We screened the pilot of season 2 of The Terror [this year]. It's produced by Ridley Scott and is set in a Japense internment camp. It's highly topical and it's an Asian-American work, with Asian-American cast. George Takei is one of the engineers of the story. We showed It's Already Tomorrow In Hong Kong by Emily Ting about two years ago. The film is set in Hong Kong but is very Asian-American. The film is about Hong Kong. We should allocate a space [for Asian-American work]. I don't claim to offer a solution; I ask the question, 'What is Asian?'
Have you come up with any answers?
For a long time we neglected southeast Asian and South Asian cinema. There were some practical issues around south Asian cinema for my predecessors more than ten years ago. When I came in, we focused on east Asia and northeast Asia in particular. But we should create a space for them. A lot of the issues we face are practical rather than ideological. It's about finding the space in our line-up, the venue, the funding.
As the director of the festival I want to create a whole new narrative. I want to promote the films themselves, great stories in general, cinematography, the craft of filmmaking. Each film has it importance, but at the same time when you start showing, as in our case, between 50 and 60 films, you see a conversation that appears between the films. You start seeing convergence, similar concerns cross cultures. Around the end of the programming cycle we ask if we have too many types of stories like, say, coming-of-age. At some point it's no longer about the film itself; it's how it integrates itself in the year, in the general conversation. It's quite different from what other festivals do. Often I get the impression you have a team of programmers with their specialties [in countries] and it's very territorial. We don't own filmmakers, but I fight to show some films specifically because in some cases we're a better platform and show a film in a context that makes more sense.
You mentioned The Terror – was that the festival's first TV show?
It was the first. I'm thinking about TV more and more. AMC Networks came to us with The Terror. We're seeing companies come to us now, which is nice. Cinema does not just beling in theatres; you can watch it anywhere. Something that can be shown on a small screen can be show in the cinema and that's why our selection needs to be more open and more demanding.