Dir. Bahman Ghobadi. Iran. 2009. 101mins.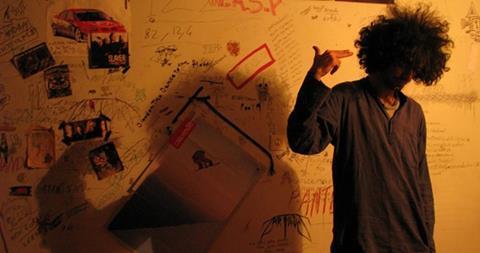 Anyone who considers the Iranian Kurdish director Bahman Ghobadi solely a practitioner of long-take chronicles about rural Kurdish life needs to reconsider. Here he ventures brilliantly into new territory, the urban jungle, highlighting Tehran's underground community of rock and heavy metal musicians who borrow melodies from the West but sing their own politicised lyrics. In the film, a love/hate letter to Tehran itself, he blends the genres of concert film, social drama, comedy, and thriller into a cohesive faux-documentary, adjusting his style to insure a snug fit.
Although it's hardly a mainstream effort, this film's fast pacing and hip soundtrack are potential draws for the youthful audiences distributors crave
Calm, painfully beautiful pastoral scenes appear between rapid, sometimes manic sequences—montages as gorgeous as they are critical of the status quo. No One Knows About Persian Cats affords Ghobadi the opportunity to wade into more commercial waters. Although it's hardly a mainstream effort, this film's fast pacing and hip soundtrack are potential draws for the youthful audiences distributors crave.
The opening film at Cannes' Un Certain Regard, Cats is a rendering of the true, tragic tale of two young musicians, Negar (Shaghaghi) and Ashkan (Koshanejad), who attempt to put together a rock/heavy metal band after being released from prison. They had committed the crime of playing western music in an inflexible, dogmatic Islamic society. (The situation is worse for Negar, because women are not allowed to perform any kind of music.)
They also seek passports and visas for themselves and the band mates they hope to find in order to emigrate to a country with freer artistic expression. The documents are expensive, with Ghobadi making the point that there's a crass material culture existing beside the country's religious one.
The pair hooks up with Nader (Behdad), a lovable, fast-talking operator and music promoter of sorts who promises to get them the papers, a dangerous undertaking. He occupies the comic centre of the film—the scene where he convinces a policeman to reduce his punishment for possession of American DVDs and alcohol is hilarious.
Ghobadi himself begins the film singing in a recording studio where others talk about how he was unable to receive permission from the government to shoot a film. He then shifts from this self-reflexive mode, taking us into the fiction. He structures Cats as a search, indeed a suspenseful investigation, following Negar, Ashkan, and Nader through the city on a motorbike while they struggle to complete their mission before a deadline only a few days away.

The motif of movement runs throughout: Characters constantly run up and down stairs (most illicit groups practice surreptitiously in basements), for example. The strongest shots of all, however, are the aerial views of Tehran, which not only entice but also prefigure the film's tragic finale.
Ghobadi shot Cats underground in a mere 17 days with an S12K camera. In Iran, 35mm equipment is owned by the state. The title refers to a law that bans dogs and cats from being outdoors.
Production companies
Mij-Film
Mitosfilm
International sales
Wild Bunch
Tel: (33) 1 53 01 50 20
Producers
Bahman Ghobadi
Mehmet Aktas
Screenplay
Bahman Ghobadi
Roxana Saberi
Hossein M. Abkenar
Cinematography
Turaj Aslani
Editor
Hayedeh Safiyari
Main cast
Negar Shaghaghi
Ashkan Koshanejad
Hamed Behdad