It is easy to imagine that Noah Baumbach may have mined his personal experiences of divorce to write and direct a film like Marriage Story. After all, in 2005 there was a strong autobiographical note to The Squid And The Whale, which partly reflected Baumbach's childhood experience of watching his parents separate. Then in 2013, Baumbach and actress Jennifer Jason Leigh, who have a son together, divorced.
The Netflix-backed Marriage Story, which premiered this year at Venice Film Festival and enjoyed a limited theatrical release in November, tells the story of theatre director Charlie (Adam Driver) and actress Nicole (Scarlett Johansson). With their marriage collapsing, Nicole abandons their New York home and Charlie's off-Broadway theatre group for the sunny climes of California in pursuit of a TV career, taking their son Henry (Azhy Robertson) with her.
No doubt personal experiences played their part but, speaking with Baumbach, it is clear his method for writing Marriage Story was a much more collaborative process.
"Having Scarlett, Adam and Laura [Dern] at the early stages was really important for me," says Baumbach. "It wouldn't be this movie without them playing those parts, but it also wouldn't be this script [without them] at the beginning as guides, and thinking of them playing the parts."
Baumbach is keen to stress that, as much as he is collaborating with his cast as actors, they are also friends who share their own life experiences in order to develop the story arcs of the characters. "We talk about life and relationships, and these things end up in the film, but aren't necessarily to do with their characters," he says. "I think it's good to have a blurry line between those worlds [personal and professional], because it's all part of the same thing."
This method of working is especially true in the case of Driver, with whom Baumbach has now teamed on four feature films, beginning with Frances Ha in 2012.
"Adam and I are in a non-stop conversation about what we are going to do next," says Baumbach. The pair keep a scrapbook of ideas and anecdotes that they share, with ideas they want to use in future collaborations. "It either remains a note or it finds a way into the movie," he says. One of the key points in the scrapbook was Driver singing 'Being Alive' from Stephen Sondheim's 1970 musical Company. "I've half-joked that I reverse-engineered the entire plot of the film so I could get Adam to sing that song," says Baumbach.
The actors worked together more like a theatre troupe than a film cast, hashing out the finer details of their characters. "We were at dinner one night, and Adam and Laura were talking, and I said, 'That would be really good in a script.' Laura added to it, then Adam did, then I was like, 'Can someone please write this down?' Adam started writing everything down on his phone."
New relationship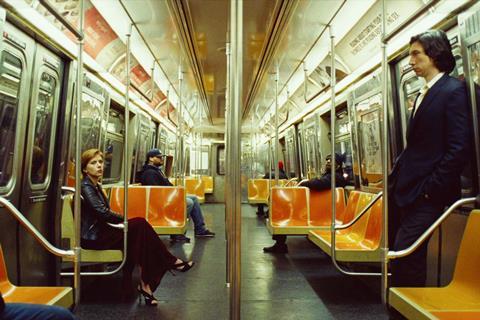 Marriage Story is the first time Baumbach has worked with Johansson, but the same process applied on set. In a seminal scene, the actress delivers a moving seven-page monologue. Baumbach's decision to film on 35mm meant the scene was shot in single takes with the camera magazine changed after every take. "Afterwards, if she had an idea or I had a note, we would redo. It was like watching an athlete doing something that only they can do — it was thrilling."
This methodology also applied to his crew. Baumbach collaborated with DoP Robbie Ryan to devise a guidebook for how they would approach this film. "We had these rules so we could break them later on."
Blocking for each scene was the result of meticulous planning, involving long conversations about perspective and how the audience would empathise with each character. "We aren't doing a 'he-said-she-said'," notes Baumbach. "It's naturalistic, we aren't distorting anything. It's honest. When you're with a character, it is natural to take their point of view, and then when you shift back, you might think differently about them."
Then there was the choice to shoot on 35mm. Baumbach has used digital (Frances Ha, While We're Young and Mistress America), but explains his rationale for using film this time. "I'm paraphrasing [filmmaker] Walter Murch, but say you have a room with a chair and the door is open, if it's shot on film you think someone is about to enter, but if it's shot on digital it feels like someone has just left." For Marriage Story, he wanted the tactile feel of film or, as he puts it: "So much of what I am doing is connected to the kid who loves movies and loves seeing them. I don't see them the same way if they are digital — they feel different. Film feels like something you can crawl into."
Another collaborator on this production was Randy Newman, with whom Baumbach worked on his 2017 Netflix production The Meyerowitz Stories (New And Selected). "We talked a lot about Georges Delerue, whose music I had stolen for Frances Ha," recalls the director. "I needed a big romantic score, because I felt I had to honour the characters and show that, however contentious things got in the movie, we could still convey a sense of love that exists alongside them."
This is Baumbach's second film with Netflix, a studio he romantically describes as "like working with an older studio, or what I fantasise working with United Artists being like". But it is his first collaboration with UK producer David Heyman of Heyday Films. "David and I have known each other for years, and are good friends," says the filmmaker. "It's scary the first time you work with a friend, because you never quite know how it's going to go."
The concern is understandable, but given Heyman's track record with the 10-time Oscar-nominated Gravity as well as the Harry Potter and Paddington franchises, there must have been some comfort. What Baumbach appreciated was Heyman's sensitive handling of his script, and for investing in the creation of an environment he could work in. Again, it comes back to the right collaborators and friends, and the blurred line where creativity flourishes. (Heyman has two films chasing awards glory this year, as he is also a producer on Quentin Tarantino's Once Upon A Time In… Hollywood. Meanwhile, Baumbach's partner Greta Gerwig has Little Women being pushed for the attention of Oscar and Bafta voters.)
All filmmakers are collaborators with cast and crew, but for Baumbach it is vital to his films. It is a philosophy founded in organically developing the story he wants to tell. While he has always championed this approach, the writer/director feels Marriage Story was something different. "Often when I'm done with my movies, I can't watch them again," he says. "But with Marriage Story I feel I can watch it, because it feels like it's their movie as much as mine."