Colin Brown highlights 12 online services aspiring to assist with everything from financing and rights management to screenings and networking.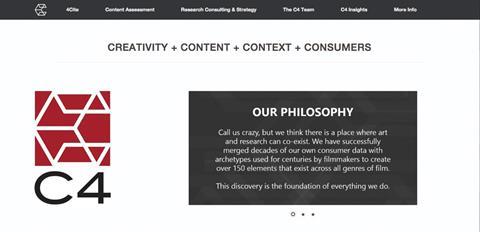 After 15 years in the entertainment research game, including years spearheading OTX and Motion Picture Group, Vincent Bruzzese created C4 last year, convinced that the film industry remains behind the curve when it comes to understanding consumers. The company, which is backed by the film producer Michael Benaroya, brings a Silicon Valley 'big data' sensibility to the business of script analysis, screening research, tracking and advertising testing.
"I don't believe that one can apply an algorithm to art," says Bruzzese, "but I do believe that the expectations and demands of audiences can be predicted at early stages in the film's development. People consciously and subconsciously have expectations from the genre/sub-genres of content that they enjoy. And as such, these triggers need to be met/exceeded, however the film-maker wants to accomplish this, creatively.
"Through our examination of viewers' wishes from content, we are able to identify what they want and therefore we can help the content creator to create commercially successful work. If the creative community was equipped with this information at an early stage, they could better develop and protect their vision."
Launch date 2014
Key executives Vincent Bruzzese, CEO; Kristen Simmons, chief information officer; Miriam Brin, EVP of content.
Cost to users Undisclosed.
Ownership structure Privately owned with backing from producer Michael Benaroya.
Business model Research consultancy aimed at Hollywood studios and large production companies.
c4-rd.com