Colin Brown highlights 12 online services aspiring to assist with everything from financing and rights management to screenings and networking.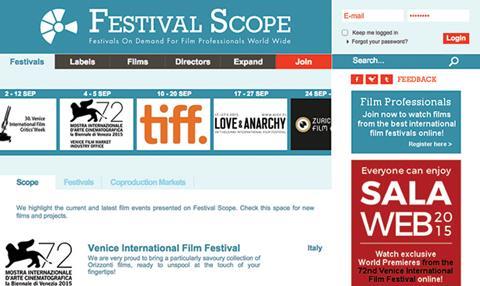 As an online viewing platform, Festival Scope is for film professionals only, allowing buyers, programmers and critics on-demand access to programming from selected festivals on the international circuit. Rights-holders and film institutes can arrange 'private' screening rooms for their high-profile films, even before their international launch, as well as request detailed screening reports and contact viewers directly.
Access is also granted to producers looking for new talent both in front of and behind the camera. "One key differentiating element of Festival Scope — that still remains unique — is the curated approach, enabling users to discover films," say founding partners Mathilde Henrot and Alessandro Raja. "It enables rights-holders to combine their 'push' sales strategy with our 'pull' strategy, and hence enhance distribution and promotion opportunities."
Following several requests, Festival Scope implemented an 'online video library' service for festivals, allowing industry and press guests at a festival to access a selection of films for free during or immediately after the festival. It has also ventured beyond B2B into special event consumer-facing initiatives like the online theatre Sala Web with this year's Venice Film Festival: 15 films in the official selection were made available as secure streams from the day of their world premiere and for a limited time for a worldwide audience of 400 people per film.
The next step is mobile. "We are going to launch our iPad application very soon. It took us a while but it's beautiful and addictive," say Henrot and Raja.
Launch date 2010
Key executives Alessandro Raja, CEO and founder; Mathilde Henrot, founding partner.
Cost to users $78 (€70) per year or $10 (€9) per month, excluding VAT.
Ownership structure Privately owned, and supported by the MEDIA Pilot Projects and the RIAM network (Research and Innovation in Audiovisual and Multimedia), co-financed by CNC and Oséo.
Business model Subscription service aimed at film professionals.
www.festivalscope.com