Colin Brown highlights 12 online services aspiring to assist with everything from financing and rights management to screenings and networking.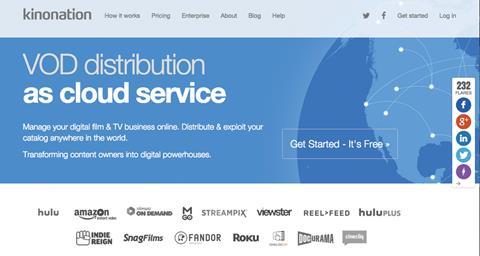 Kinonation is very much a technology company first, says co-founder Klaus Badelt. "We're doing distribution 'as a website', operating entirely in the cloud, with no old-school post-production, sales or accounting departments. Instead, we're aiming at making VoD distribution as simple as an app, globally accessible and infinitely scalable. The cost to distribute a title is minimal with our technology, thus we can take on virtually every title. It's this combination of tools, infrastructure and philosophy which shapes our unique IP."
A noted film composer, Badelt sees parallels with what happened in the music industry when power shifted to consumers and cloud services arose to accommodate them. In his mind, the film industry has not caught up with this new paradigm. "While we see lots of activity in the greater segment of online film services, most seem to run the actual service offline. We are a technology platform and are 'competing' with a decades-old chain of manual systems. They still handle hard drives, enter data and do laborious manual work. You need to run this technology-only, or your cost is similar to the old-world industry and you're just another distributor or lab.
"Also, aside from traditional film and TV content, lifestyle and speciality formats can now be distributed —something the old distribution industry mostly couldn't afford to risk doing, but it's now an exploding market. We're also seeing rapid growth with thousands of DVD publishers now seeking to migrate their catalogues to VoD. We offer them worldwide distribution for zero conversion cost — it's a huge leap forward for them."
Launch date 2012
Key executives Roger Jackson, Robyn Klein & Klaus Badelt, co-founders.
Cost to users The basic service is free.
Ownership structure Privately owned.
Business model Kinonation takes a 20% cut of VOD revenues from films on its distribution network. Users can choose between this simple revenue share or a one-time service fee.
www.kinonation.com